What is RMM?
RMM is short for remote monitoring and management. RMM software is used to do two things: a) gather information from remote endpoints and networks to assess their health, and b) perform various remote IT management tasks on them without disruption.
RMM solutions are most widely used by managed services providers (MSPs). These professionals provide IT support to clients in different locations, and they need a fast, reliable way of doing that without having to be physically present in client offices providing on-site support.
With workforces becoming increasingly distributed, however, it's also becoming more and more common to see internal IT departments also utilizing RMM tools, which makes sense since they combine many of the core functions of IT into a single solution.
The history of RMM
The original way IT teams dealt with issues as they occurred follows the break/fix model. When hardware or software, broke or malfunctioned, technicians would have to go on-premise to investigate what caused the problem and eventually resolve the issue, which could take a lot of time. The break/fix model also lacked contracts or subscriptions to provide technicians with a steady income, and customers lacked continuous support from technicians. Break/fix was a lose-lose situation for both end users and service providers.
Then RMM software was introduced, which enabled technicians to actively monitor and manage IT assets from a completely different location. Rather than providing reactive services, technicians could proactively work to fix issues that arise. RMM software gives technicians the information and tools they need to provide preventative maintenance for their users' IT assets.
What is RMM used for?
Key capabilities of RMM Software
RMM solutions offer an array of functionality, but in essence, IT pros use them to get three core jobs done:
Real-time remote monitoring and alerting: RMM solutions can monitor the health and performance of individual systems and entire networks 24/7. IT pros can be alerted to potential issues before they become disruptive problems, create automated workflows to deal with those alerts, and generate reports that provide clear visibility into network activity, asset inventory, compliance, and the direct value of IT support.
Behind-the-scenes remote maintenance and remediation: With RMM software, technicians can deploy software, manage updates, run scripts, and remotely connect to machines to troubleshoot and fix problems without interrupting the end user.
Automating routine IT management: RMM software unlocks the ability to streamline workflows and automate a wide variety of common IT tasks, from installing patches to running scripts to creating and responding to tickets with predetermined policies and actions.
In addition to these core capabilities, RMMs are also commonly used to deploy and actively manage third-party endpoint security products and backup solutions.
With all that functionality, it's no surprise that more than half of MSPs consider their RMM to be their most critical application.

Benefits of RMM
Under the right conditions and management, RMM can help IT providers completely transform their operations, making them more efficient, more effective, and — in the case of MSPs — more profitable. Here are a few of the benefits of using RMM software that IT providers value most:
Complete visibility and control from a central location:

That makes it possible for even small MSPs or IT departments to support, secure, and manage large numbers of systems no matter where they're located.

Comprehensive IT management via a single pane of glass:

Thanks to integrations with endpoint security, backup, PSA, and other software, RMM dashboards can serve as a central control panel, dramatically cutting down on the number of screens techs and admins have to toggle back and forth between during the day.

Automation makes support scalable:

Streamlining and automating workflows frees techs from time-consuming manual tasks and empowers them to support more users and endpoints.

Proactive rather than reactive support: RMM software allows service providers to escape the disruptive cycle of constantly putting out fires, and instead helps them get ahead of potential issues and avoid downtime and disruption altogether (find out how the right RMM can help you transition from providing break/fix support to generating recurring revenue with managed services).
"NinjaOne gives us the ability for just a few technicians to manage hundreds of endpoints from anywhere in the world with real-time insight."

— Nate Davis, Crossroad IT

See the benefits of a modern RMM for yourself: Start a free trial
Grow your MSP
5 easy-to-follow recommendations to grow your business.
How Does RMM Work?
RMM works by deploying RMM agents onto endpoint devices, which include desktops, laptops, servers, tablets, smartphones, workstations, and Internet-of-things (IoT) devices. The agent enables technicians and those using the RMM software to get real-time data on how endpoints are performing, manage devices, deploy and apply patches, automate repeatable tasks, and more.
Evaluating RMM Software: Key Criteria
As with any software, evaluating RMM options is highly dependent on specific needs and priorities. The majority of RMMs offer many of the same core features, but reliability and performance can vary. While one tool may excel in some areas, it may lag behind in others. That's one of the reasons why it's so important to take advantage of free trials to see for yourself whether an RMM's strong suits match up with your top needs.
In addition to product features, RMM users also factor in crucial things like ease of use, product stability, and customer support.
RMM Feature Requirements
Monitoring and alerting: In addition to workstations and servers, a good RMM should be able to monitor SNMP devices such as routers, switches, firewalls, printers, and more. Cloud monitoring, including application servers and websites, is another capability to look for, and all monitoring data should be delivered as close to instantaneously in real time. Alerting should be easy to set up and customize, with options to receive alerts via SMS or email and/or have them create tickets in your ticketing system.
Remote access tool:

Speed and reliability are the two big factors here. Many RMMs provide remote access via integration with third-party software such as TeamViewer or Splashtop, and performance can vary. Other options include Connectwise ScreenConnect (formerly ScreenConnect) and establishing connections over cloud-enabled RDP.

Patch management tool: An RMM should be able to help automate patching for Windows, as well as third-party applications, allowing techs and admins to easily schedule updates on off hours to avoid disrupting end users.
Reporting: There should be a wide variety of reliable reports you can easily generate, from detailed patch compliance and asset inventory reports to network performance overviews and high-level executive summaries.
Scripting: The ability to launch and schedule scripts (with the appropriate privileges) is critical to unlocking automation opportunities and increasing efficiency.
Integrations: In addition to backup, remote access, and endpoint security products, RMMs are expected to integrate with tools like Professional Services Automation (PSA) solutions, documentation software, and more.
Other Key Criteria
Ease of setup: This can vary significantly, with some RMMs requiring considerable implementation training and fees. In fact, there is an entire ecosystem of implementation consultants that have sprung up around particular legacy RMM options. In contrast, other RMMs are designed to be intuitive and cut down drastically on ramp-up time and costs.
Ease of ongoing administration: The true cost of any software isn't limited to the licensing fee — you also have to factor in the time, effort, and level of expertise necessary to manage it.
Stability and reliability: With RMMs serving as a central management portal, any downtime can be extremely disruptive and detrimental.
Customer support: How important is it for you to have access to responsive, knowledgeable support?
The Importance of RMM Customer Support
Customer support is a crucial factor to consider when choosing RMM software. Since RMMs serve as a central management portal, any downtime can be extremely disruptive and detrimental to your operations. Having access to responsive, knowledgeable support can make a significant difference in quickly resolving issues and minimizing disruptions. Additionally, the ease of setup and ongoing administration can vary significantly between RMMs, further underlining the importance of quality customer support.
RMM Software Ratings
NinjaOne ranks as one of the top easiest to use in RMM software by G2 Crowd and as the emerging favorite by Capterra.
The following ratings were collected from third-party review sites G2 Crowd and Capterra. The "-" indicates the particular data point was either unavailable at the time of collection, or the product did not meet our cutoff of having three or more reviews.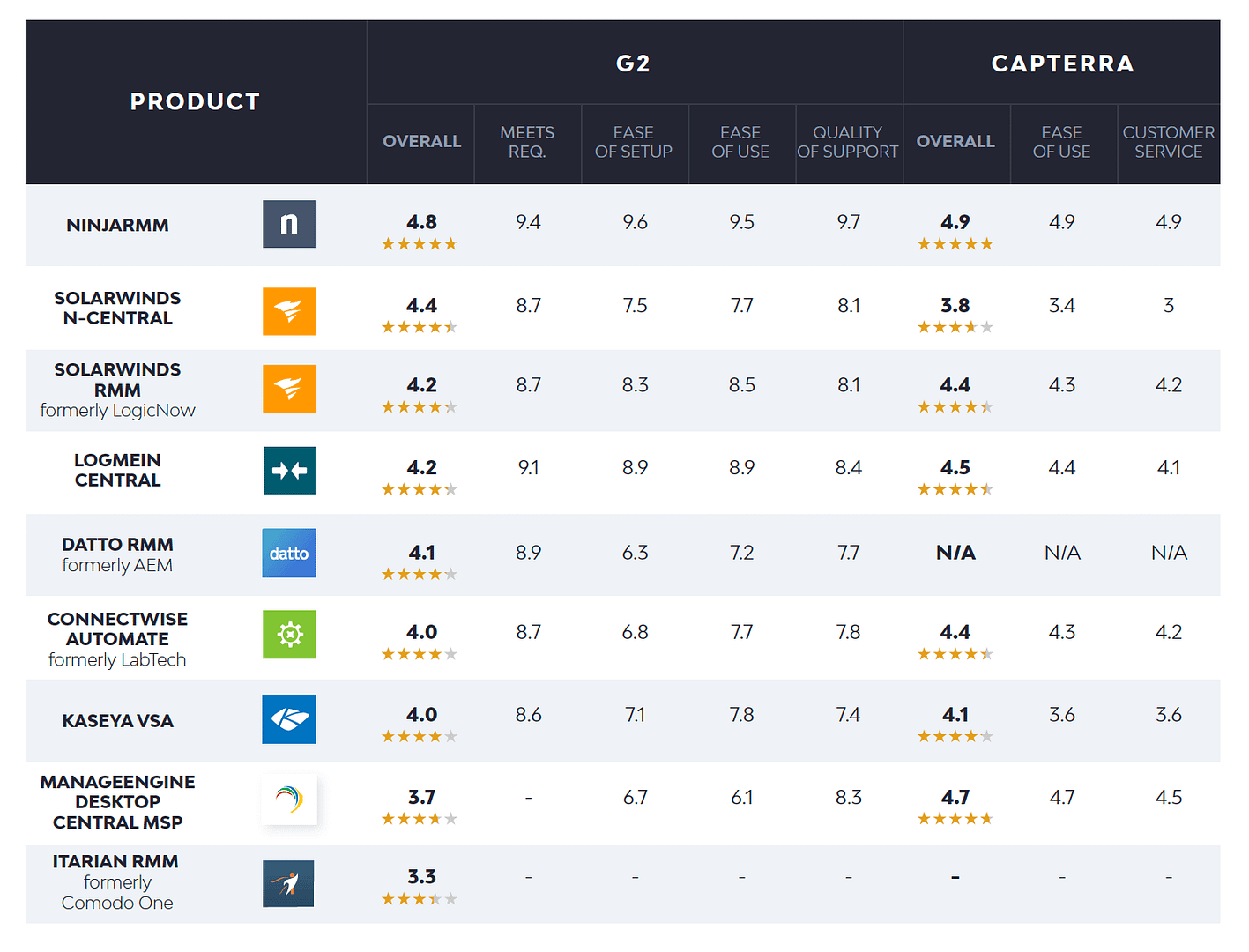 See why IT pros are choosing NinjaOne

Ratings via G2 Crowd
NinjaOne was founded with a mission to help IT providers accomplish more by simplifying their workdays. We believe RMM platforms should make things easier, not more complicated. That's why we're dedicated to providing a more modern solution that combines powerful functionality, intuitive ease of use, and unbeatable support. Start a free trial today.