With the surge of remote workers and a need for increased flexibility, the traditional workplace is a thing of the past. According to Slack's Future-Forum Pulse Report, the percentage of people working in hybrid and remote arrangements has increased to 58% in the United States. This means that organizations will need to adapt to a hybrid model to maximize employee productivity while supporting collaboration in and out of the office.
As organizations adapt to the new hybrid work model, what does this mean for IT teams?
Fewer endpoints are physically in the office, with many never entering the office
Employees are distributed and could be working from a variety of locations, including their home, the office, or the field
More employees will need to utilize a VPN
A distributed workforce creates additional security concerns
These IT challenges mean that traditional backup is often no longer possible or not a good fit for many organizations.
Backup flexibility is critical in the hybrid work world. Employees expect that their data will be backed up and quickly recoverable as they transition from working on-site to their home office. Traditional, on-premises backup solutions often come with costly and complex architecture with additional hardware, maintenance, and labor costs.
To aid in the transition, we've put together a few tips on how you can adapt your backup strategy to a hybrid workforce and save some money along the way.
Learn more about changing backup trends in our free guide Backup Solutions for a Changing Workplace.
1) Utilize a cloud-first backup solution
Cloud backup gives IT professionals the ability to remotely recover from any event, whether it's a cyberattack or accidental data loss. Cloud-first models are infrastructure free, infinitely scalable, lower risk, and provide seamless backups as endpoints transition from on-site, at-home, and office networks without a VPN.
On-premises backup solutions rely on hardware for local backups, which means that a catastrophic natural disaster could destroy local devices and cause essential data loss. Data backed up in the cloud ensures that essential data could be recovered quickly to avoid costly downtime.
This reliance on hardware also means that on-premise backup must be maintained and eventually upgraded to ensure the fastest recovery time objectives. With cloud backup, an organization does not have to worry about the cost of hardware maintenance, the cost of monitoring your backup hardware, or the hassle of purchasing new hardware to stay in compliance and up to date.
Cloud backup gives you the flexibility to fully automate your backup strategy, manage backups remotely, and choose from local-only to cloud-only storage options depending on the needs of your organization.
2) Use file and folder for most laptops and workstations
What type of backup to use on what systems is a commonly asked question. Image backup offers a more complete disaster recovery solution if critical systems are compromised and need to be restored quickly. But, when backing up a single laptop or workstation, file and folder backup will be a more efficient way to backup and recover the data.
When backing up your laptops and workstations with image-only backup, you'll also include any of the applications and OS along with important business data. In most cases, critical business data on end-user endpoints is only a very small portion of the total utilized storage.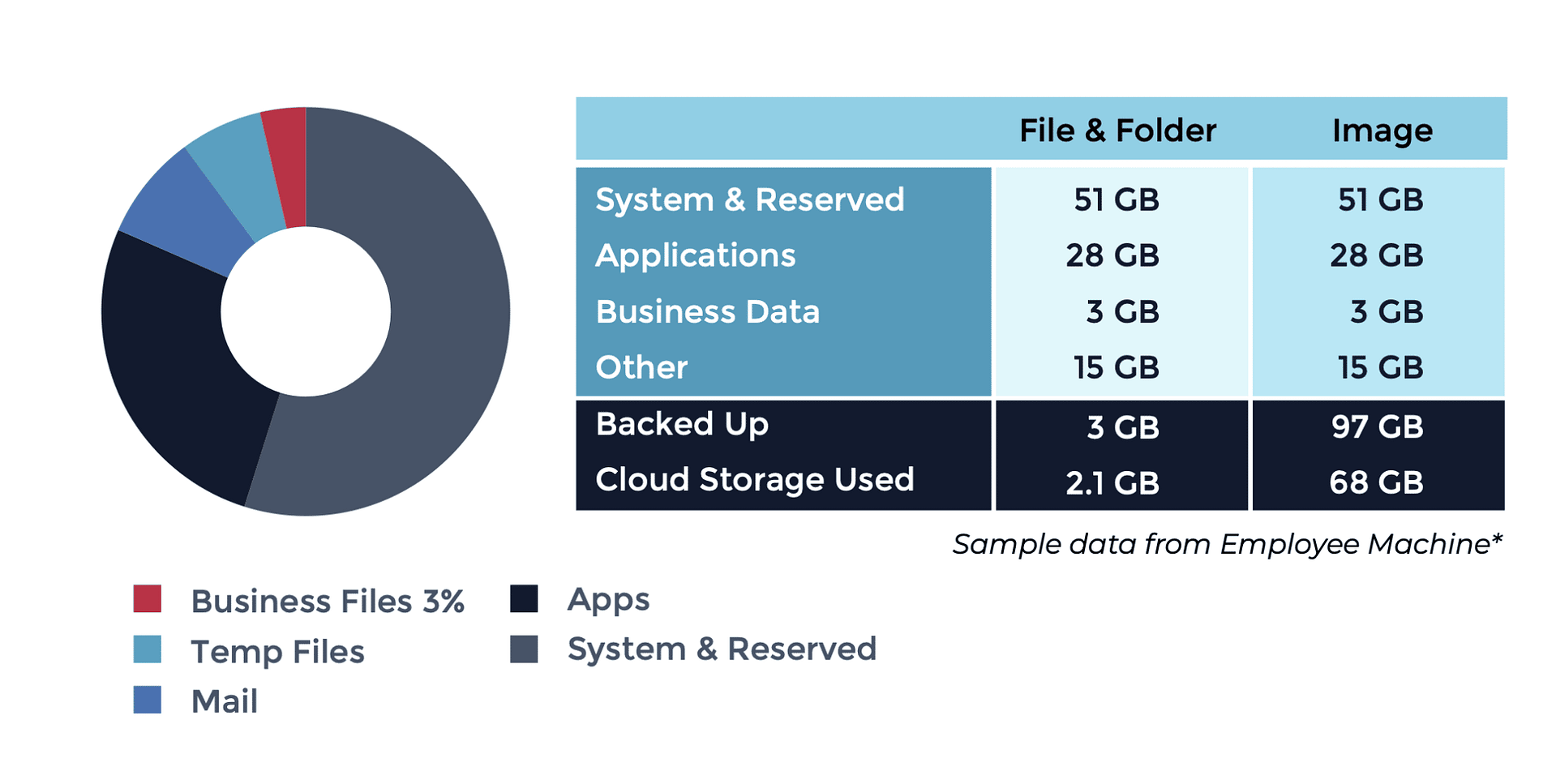 In this example, only 3% of the data on the device was backed up and restored using file and folder backup. The other 97% of data was not backed up as it is not essential to full recovery. By using file and folder backup for your laptops and workstations, you'll backup and store less data in cloud storage and decrease the amount of time spent on restoring data.
But, in the case of complex endpoints with critical business data, time-consuming setup, and complicated application setup, full image backup will still be your best bet.
3) Pair backup with your RMM to save time and automate workloads
As threats to data security rise, cohesive backup strategies continue to be the first line of defense when it comes to business reliability. With the increase of hybrid workflows, employees expect their data to be backed up and restorable as they transition from working on-site, in the field, or to their home office. This means that data needs security more than ever before.
By pairing your backup solution with your remote monitoring and management (RMM) or endpoint management system, you can provide visibility and prevent some risks of human error within your backup approach by automating backups.
Pairing your backup with your RMM also allows you to streamline your backup process by monitoring and managing your backups from the same dashboard you use for other IT operations tasks. And if your RMM has comprehensive self-service options, your IT team can save time and tickets by enabling end-users to restore their own files as needed.
Looking for a more unified approach to backup?

Ninja Data Protection is built to help you protect critical business data for today's distributed workforce. A single backup solution for all your endpoints, workflows, and employees, wherever they are.
See for yourself and try it free for 14-days.