Recruiting potential job candidates is a huge challenge that IT companies are facing right now. With the tech unemployment rate down to 1.7%, hiring is extremely tough and competitive. Splashtop's 2022 State of Remote Support Market Trends Report found that 94% of responding organizations have dealt with difficulty in hiring, retention, and skill shortages this past year. What's more, two-thirds of help desk teams are feeling stressed and burned out.
On top of all this, remote work has become increasingly common with more companies open to hiring remote candidates. Gone are the days of skill and talent being limited to what's available locally. Companies in higher cost-of-living metros can recruit in lower cost-of-living locations, and can sometimes blow offers from local businesses out of the water.
As a result, it has become a very candidate-driven market. While slightly dated, the trends highlighted in this post still hold true and provide good insight into the current state of IT recruitment.
Since so many companies are finding themselves in this difficult predicament, it's critical to know what the top IT candidates are looking for, and more importantly, how your company can stand out in such a tough market.
4 keys to attract the right IT help desk candidates

1) Know what top help desk candidates look like
The responsibilities of IT help desk technicians range from responding directly to customers to provide technical assistance to troubleshooting and running diagnostics in the background. Ned Pyle says a help desk career helps you develop and improve, "Problem solving, logic, patience, personal interactions, stress handling, attention to detail [and] empathy (especially empathy)." These qualities are essential to ensure your organization's help desk runs smoothly.
I started at helpdesk in 1998. It's a valuable way to start an IT career. Problem solving, logic, patience, personal interactions, stress handling, attention to detail, empathy (especially empathy). I wish you the best of luck with your next steps.

— Ned Pyle (@NerdPyle) August 14, 2022
2) Offer great salary, benefits, and training
Average salaries vary based on the local area and where help desk technicians are in the highest demand. Zippia conducted help desk analyst research and found that Austin, TX is where help desk analysts are most in-demand, but the best state for help desk analysts to live is Maryland. They also found that the average salary ranges from 46.5k to 34.7k. With the recent increase in remote work, candidates who are living in areas with a low cost of living can now secure positions with high paying companies, and candidates living in areas with a high cost of living will prefer the higher salaries so that they can make ends meet.
Help desk analyst salary map
Source: Zippia.com
Where help desk analysts are in high demand
Source: Zippia.com
Because you're recruiting in a candidate-driven market, organizations that want to attract the best talent will need to get competitive with the salary and benefits they provide. One of the biggest things candidates are looking for right now is remote work flexibility. Look for ways to increase remote work opportunities for your help desk employees by using remote monitoring and management (RMM) tools if you want to increase your chances of finding skilled and qualified candidates.
To avoid high turnover and the constant cycle of restaffing, onboarding, and training, you need to ensure your IT recruitment process helps you identify the right candidates. Offering them a good career path is also key for retention as well as additional training opportunities.
3) Create captivating IT help desk job descriptions
The Great Resignation caused a mass exodus of employees to leave their jobs and forced many companies to cut back on or pause their recruitment. Now that things have finally settled and organizations are reprioritizing recruitment, it's crucial that your job descriptions are enticing and strike interest in potential candidates.
Align your description and benefits with the criteria today's candidates are valuing most. For many, remote working options and flexibility ranks high. In fact, the Greenhouse 2021 Employer Hiring Sentiment Report found that those two factors ranked far above in-office perks. Confirm whether your organization can offer benefits that current job seekers value and are searching for, then include it in the job description.
You'll also want to lean into what makes your company unique and highlight your mission, culture, and values. Russell Reynolds' Cerilli emphasizes on CIO, "Culture is everything in recruitment. Everything eventually comes back to a candidate asking themselves, 'Will I be a good fit and really enjoy working there?' So it's critical that culture is all over a job description." Candidates want to be part of a team and a company they can feel invested in and proud of.
Example job descriptions
Download our IT Hiring & Retention Guide for example job descriptions you can take inspiration from.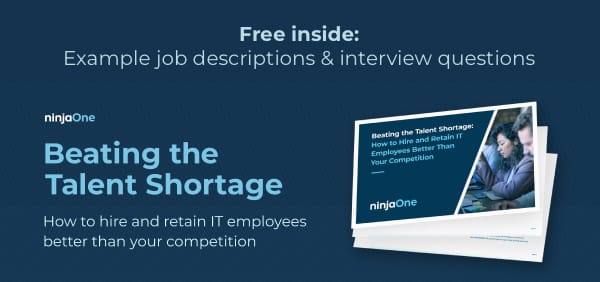 4) Show how you invest in employee development
Not only do candidates want a job that fits their skills and challenges them daily, motivated job seekers want a clear path for progression and personal career development. Include information for job seekers about how your organization invests in skills training and development for various aspects of the help desk position. Career development for IT and help desk can be continual training in IT knowledge and functions or soft skills like communication and customer service. Later, during the IT recruitment process and when they start working, inform and remind candidates of the opportunities for employee development provided by your organization.
How to recruit IT help desk analysts
Unfortunately, it's not enough to simply attract potential job candidates to hire them as employees. A well thought-out and solid IT recruitment process is the link that will enable you to take a candidate from interested to being hired for the job.
Provide simple application process
The first step to a successful IT recruitment is the application process. Make sure your job description provides enough information about the company and position to pique the curiosity of the candidate and cause them to apply to the job. Be clear about what will be expected of them in the job and what kinds of skills they should possess.
Additionally, make sure that the process of applying to the help desk analyst position is straightforward. The longer it takes to apply, the less chance there is that they will move forward with the application.
Conduct structured interviews
Interviews are a chance for you to get to know job seekers, but it is also a chance for them to get to know you and your organization. If you want to have a higher chance of securing top candidates, organize and structure your interviews well.
Start by making a great first impression and beginning interviews on time. You can begin the conversation with some small talk, but then provide information about how the interview will proceed so your expectations for the interview are aligned. Once expectations are set, proceed with predetermined interview questions.
After the interview questions have been answered, the interviewee should have an opportunity to ask the interviewer more about the job position and company. This is where you can highlight the organization's mission, culture, and values, as well as additional perks and benefits that are offered with the position. Answer questions honestly and optimistically to shed light on how the company operates and express interest in impressive candidates that are well-equipped for the position.
Interview questions
Help desk analysts are constantly solving problems and issues for customers each day, so they require creativity and an analytical mindset. The questions you ask in the interviews for this position should show you their personality, communication style, creativity, and skill level.
Possible help desk interview questions can include:
More sample interview questions
Download our IT Hiring & Retention Guide for sample interview questions for IT roles that you can take inspiration from.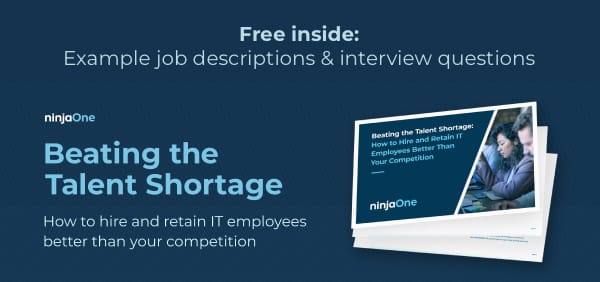 The answers to these interview questions should ultimately give you a clearer idea of who is fit for a help desk position.
Offer job positions to selected candidates
Once you have identified the candidates you'd like to hire, don't wait to make a job offer. Remember, it's a candidate-driven market, so you don't have all the time in the world to select candidates. It's your job as the employer to give them every reason to want to work for your organization, and a quick turnaround from initial application to hire will send the message that they are valued as candidates and potential employees.
Strategic IT recruitment
It's a difficult market for help desk employers to recruit in, but with the right knowledge and tools, your IT recruitment process can bring top help desk candidates to your company. The key to IT recruitment success is to view it as an ongoing process. Top candidates won't always be looking for a new position or choose to apply right at the moment you decide to start recruiting, so if you want the best chances of finding great potential candidates, you should always be recruiting.
You can also check out A Killer Recruiting (and Sales) Tactic for your MSP to learn more about effective IT recruitment. If you're still finding it difficult to recruit new help desk employees for your organization, see my next post for alternatives to hiring help desk employees in-house.