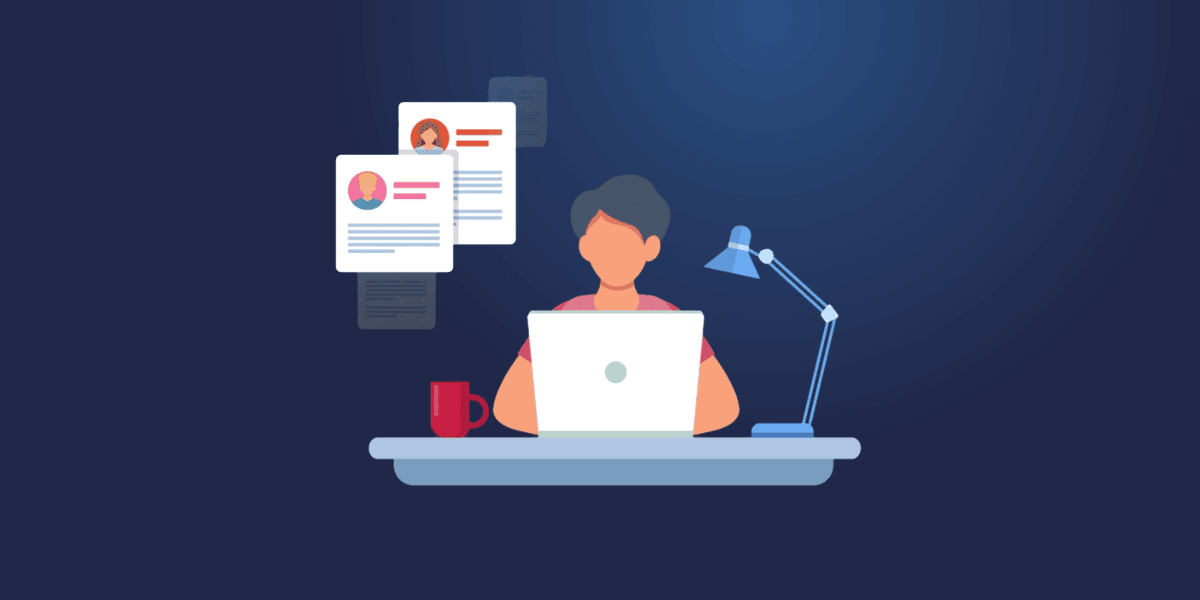 On our MSP Live Chat that aired on June 9th, we had John Davenjay, CEO of MSP recruiting firm Bowman Williams, on to discuss his team's latest findings on the state of MSP hiring in 2023.
During our chat, John referenced key stats from their 2023 report on MSP Salary Data and Hiring Trends in the IT Channel.
Trend #1: Remote work is here to stay
Through hundreds of interviews with IT businesses, John has found that one way MSPs have adapted to the pandemic has been by adopting the work-from-home model en masse. This adoption of remote work began out of necessity as a result of the global pandemic and has continued deep into 2023 with no sign of tapering off. 
In fact, about two-thirds of MSPs surveyed by Bowman Willams are anticipating hiring more remote workers in the coming months. 
"Remote work is going to be embraced in the short term, but in the long term, it's here to stay."

– John Davenjay, CEO of Bowman Williams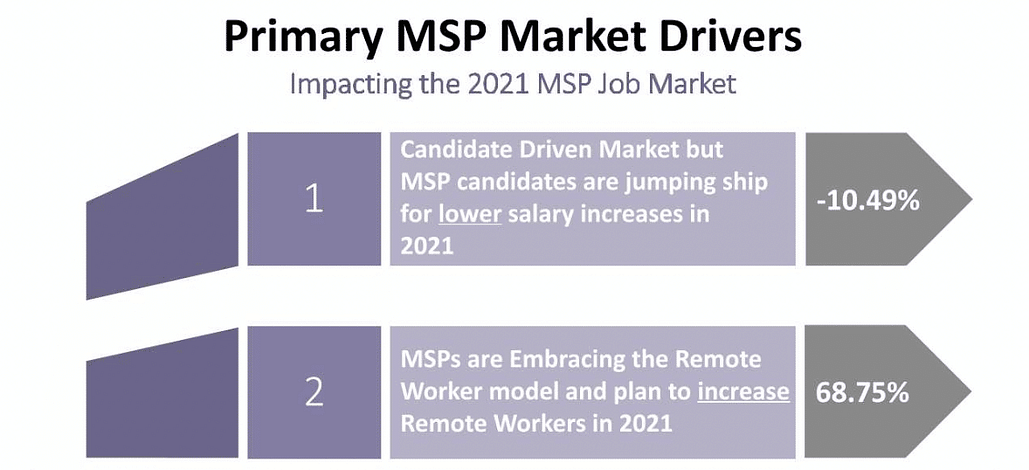 Trend #2: Demand for managed services is HIGH
"Most MSPs are seeing that they can't scale and hire at a comparable rate to the business they're bringing in. And that goes from being a very cute positive problem to just being a problem…."

– John Davenjay, CEO of Bowman Williams
In short, some MSPs are scrambling right now. They're submitting more job postings and sending out more offers to techs than ever, but they're seeing fewer responses and signed acceptance letters. These failed recruiting efforts take an MSP owner's time and can damage their ego and business reputation.
Our MSP Live Chat audience agreed with John's assessment and acknowledged that many of them are experiencing the crunch of needing more hands on deck and trouble bringing much-needed help on board.
75% of attendees said that a lack of staff is currently holding back the growth of their MSP business.
A majority rated hiring as being extremely challenging over the past six months and said they anticipate hiring to be an extremely urgent need in 2022.
Trend #3: Candidates are in the driver's seat
"A lot of candidates, especially Level 2s and Level 3s, are prioritizing work from home and quality of life."

– John Davenjay, CEO of Bowman Williams
In 2021, Bowman Williams saw Level 1 techs accept 13% lower pay increases than they did in 2019. You may be wondering — if this truly is such a candidate-driven market, why are these techs taking lower bumps in salary?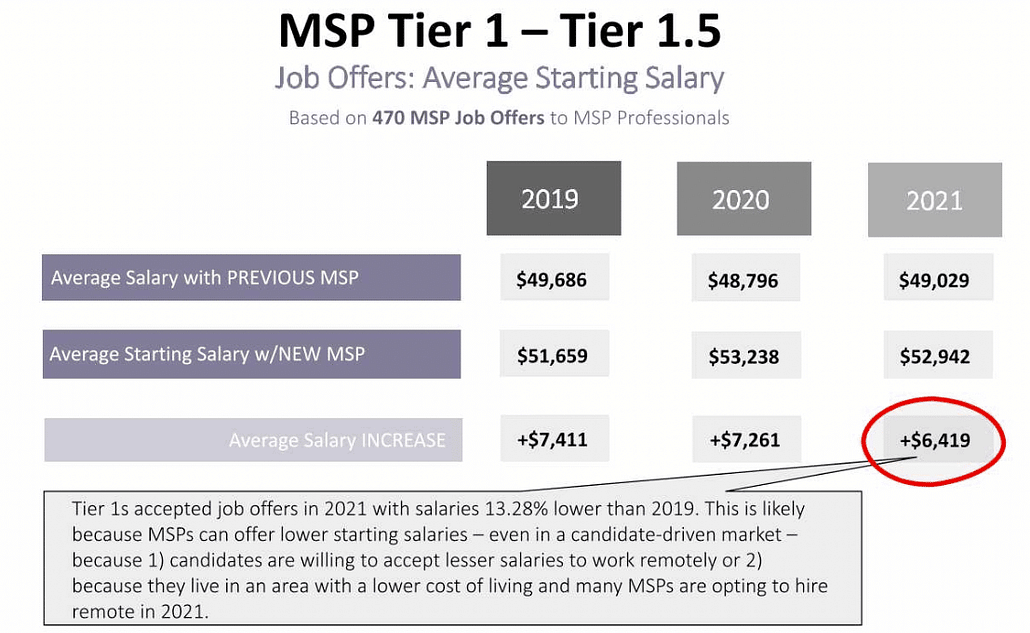 The answer brings us right back to the remote work story — many techs are taking smaller bumps in salary because they enjoy the flexibility of working remotely. Another factor is that MSPs are increasing the amount of remote techs that they're hiring, allowing them to recruit from areas with a lower cost of living. 
Level 2 techs are also prioritizing remote work flexibility over larger salary increases when accepting that next offer. According to the report, nearly 42% of Level 2 candidates are accepting job offers with salary increases lower than in 2019. 
Tech talent is in high demand across the board right now, but Bowman Williams is seeing the highest demand for Tier 3 techs, giving them the greatest flexibility of all. Even in pre-pandemic times, Level 3 techs were most likely to place the highest emphasis on quality of life and work flexibility — in 2021 they can expect to receive the best of both worlds when it comes to their next job offer. 
Key stats on Level 3 techs from the report: 
On average, Level 3 technicians are receiving salary increases 38% higher than the increases they received in 2019.
58% of all MSP job openings in July 2021 were for positions that align with a Level 3 salary range.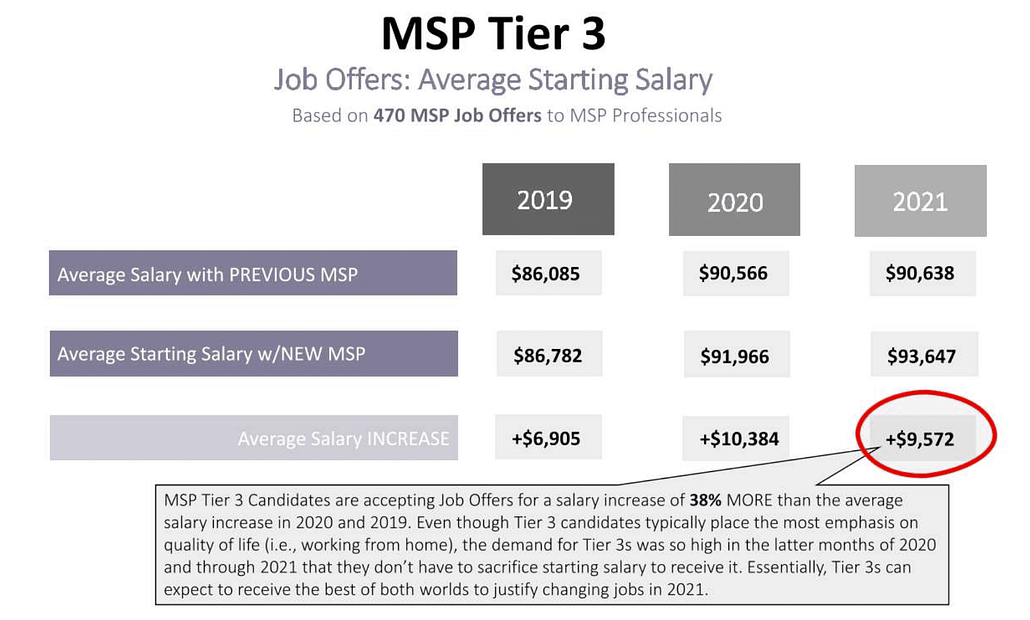 Dive deeper into the data  
For a more detailed discussion on MSP salary data in 2023, see the following: 
Note: Our Live Chats are even better live! Find out when we're hosting our next one, and be part of the conversation.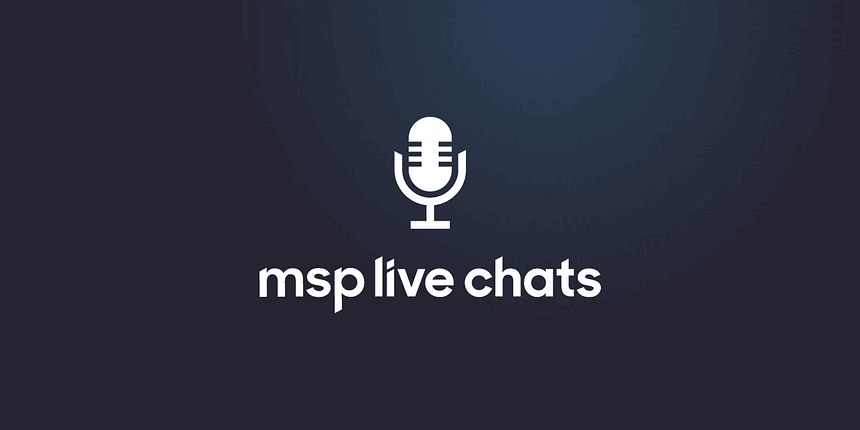 View the full discussion in the video below: