With all the digital marketing tactics that MSPs can take advantage of today, it's worth keeping in mind there can still be major benefits to going "old school" when the situation calls for it. For example, we've written before about the enduring power of direct mail and it's ability to stand out in a way easily-deleted or filtered-out emails can't. But there's one marketing tactic that's an even older blast from the past that might just be worth revisiting — writing and publishing your own book.
Before you scoff or ask what kind of dinosaur still has the time and attention span to read anymore, consider this — what sales or marketing or business consultant do you know of who doesn't have a book (or four) for sale?
Do you think they're publishing just for fun? No way. Or just to stroke their own egos? Well, maybe a little. No, the reason so many consultants publish books is because having a book and being a published author is a core component of their sales and marketing strategy. It gives them credibility. It establishes their expertise. And it opens doors for them that would otherwise be closed.
No, book sales aren't anything what they used to be, and the publishing industry is (in many ways rightly) considered a bygone relic. But despite all that, publishing a book still has meaningful cache — and for those who do it right, publishing a book in today's digitally-saturated world can win you a larger audience, a stronger competitive advantage, and more deals.
That's why, in this article, I'll be diving into what writing a book looks like for an MSP business owner, and how to determine whether this tactic is right or wrong for you.
I'll also share real-world examples of MSPs already putting this tactic into practice, so keep reading!
5 reasons to consider adding a book to your MSP marketing strategy
So, why exactly would you want to zig and publish a book while many of your competitors are zagging?
1) To establish your expertise and position as a thought leader
Let's start with perhaps the most important benefit of all — a book will give you a vehicle to talk about your experience and knowledge in a way few other outlets ever will.
Yes, I cringe a little at the term "thought leader," too, but the truth is by positioning yourself as an expert in managed services — or, better yet, a specific customer vertical — a book can really drive awareness of you and your services and help position you as a premier provider.
Not only may you start attracting more prospects, you may also find those prospects are more willing or even expect to pay premium rates.
2) To create a unique physical/direct mail marketing asset
Let's be honest. Most of the time, flyers and brochures get lumped in with the junk mail and wind up in the bin.
Books, though? I don't know about you, but I personally can't bring myself to toss any book out.
I recently received books from MSP marketing consultant Paul Green and Tech Tribe founder Nigel Moore, and while I didn't read either immediately, they did wind up with prime real estate on my home-office desk, basically serving as daily mini-billboard ads for the two blokes. Finally, when the right down moment came there they were, ready for me to give them my undivided attention. From there, they went up on a bookcase, where they'll probably grab my attention again sometime down the road.
That's a vastly different result than if they'd sent me a 1-pager.
I'd also argue that there's often a special connection you make with someone when you're reading their book. You really can feel as though you're getting to know them and experiencing something one-on-one — smart authors double-down on that by sending copies that are signed or even have a personalized message. It's not as good as talking in person, of course, but, in a way, it's close.
When in-person meetings do become a regular part of your new business routine again, books will also make for a fantastic "leave-behind" asset that feels a lot more substantial than a brochure or business card.
3) To win more speaking opportunities
How often have you noticed "author of" after someone's name when perusing the list of presenters at an industry conference?
Publishing a book that cements your expertise on a particular topic can help position you as a top choice for speaking engagements, media interviews, and more. Presenting at conferences and being quoted in media outlets are obviously both great ways to build up your personal and professional brands, and, yes, having a book can help.
4) To increase your discoverability
The benefits of publishing a physical book also extend into the digital world. Having your name attached to a book — as well as any landing pages and blogs you might creating pertaining to it — increases the chances that your name and business will be discovered when people are researching certain topics via search engines (like Google) and marketplaces (like Amazon).
5) To create content that can be repurposed
I'm a repurposing junkie, especially when it comes to larger pieces of content like a book. If you're going to spend all that time and effort you've got to make sure you're getting the most bang for your buck. Ex: You can easily multiply your returns off the work that goes into writing a book by repurposing various chapters into new marketing resources such as blog posts, podcast episodes, webinars, and more.
It's also important to note that this concept works both ways — you can also make a book from many of the marketing resources you've already created! More on that strategy in just a bit.
3 reasons writing a book may not be right for you (yet)
This next message is brought to you by Captain Obvious: "Writing a book is hard."
There are definitely ways to make it less hard (repurposing existing material, hiring a freelance writer, etc.), but even under the best circumstances it's going to cost you time and effort/money. And just because you do write a book doesn't mean it will be effective.
If any of the following apply to you then you may want to put a pin in those literary aspirations. At least for now.
1) You don't have a specific angle
If you don't have a particular niche you're targeting, or a unique viewpoint to promote, then you may likely have trouble gaining real traction with the book. Some MSPs are able to utilize general guides to IT or managed services, but the ceiling for these being significantly effective is fairly low.
Hold off on committing to the process of writing a book until you've identified a specific, underserved topic or angle that speaks directly to your ideal audience.
2) You really don't have any extra time or attention to spare
If writing a book took no time at all, everyone would have one published and it wouldn't be a very effective marketing strategy.
Writing a book requires research, writing, revising, and more revising. And then there's all the work that goes into self-publishing (although more and more platforms and options are popping up all the time). Only you can determine whether or not writing a book is worth your time and effort, or if it's better to concentrate your marketing efforts on other MSP marketing tactics.
3) You need it to be a significant revenue stream
As we'll explore more in the next section, books created specifically as marketing material rarely create a steady or substantial revenue stream. We don't recommend going into a writing project (not your first one, anyway) with the hope that your new book will generate a substantial amount of money. In fact, to keep the barrier to entry low, you may likely want to either price the book low enough to simply cover your costs, or eat the costs and give away copies for free.
3 strategies for using a book to drive your MSP marketing
If that last section didn't scare you off then let's dive into making that book of yours happen.
Spoiler alert: There's unfortunately no true one-size-fits-all approach to successfully putting pen to paper. And the process for publishing a book depends a lot on the specific platform you choose to print (or host) and sell it. But with that said, here are three strategies that can help guide you — ranging from keeping things quick and simple to making a book the central component in a full-blown, multi-channel marketing campaign.
As with previous marketing guides we've written, I'm going to use the "crawl, walk, run" model.
Crawl: Keep your first book short, focused, and digital
Your very first priority when setting out to write a book should be to find your niche. Take your time and take a lot of careful consideration here, as this decision may end up informing the direction of future marketing campaigns that you build around your book.
A great way to find your angle or niche is to look at the types of tickets and/or questions frequently come up from your best clients, and then actively look to see if they correspond with a noticeable gap in the information that's out there.
It's amazing if you can stumble across a topic that hasn't really been covered, but it's more likely you may find that there are books and articles out there, but none of them really speak specifically to your audience. Ex: There are a million and one books about phishing, but how many have been written explicitly for small to medium-sized law firms?
With your niche identified it's time to get cracking on content! If you don't consider yourself much of a writer or editor, there are of course people you can hire to help. You can also dive deep into the content you've already created to see what can be stitched together to form a book. Already have some YouTube videos, podcast episodes, or a few blog posts that have performed really well? Then you've got some great resources to get started with.
Once you've got your content sorted out, you can test out the waters by holding off on printing and making your book an ebook, instead.
There are plenty of free or affordable ebook templates and examples online that will help you get started. For modern options and an easy-to-use design program I can vouch for Canva (we've got a guide to getting started with Canva here).
The nice thing about an ebook is you can immediately use it in various ways, including as a lead magnet on your website that converts visitors into leads when they fill out a form to download.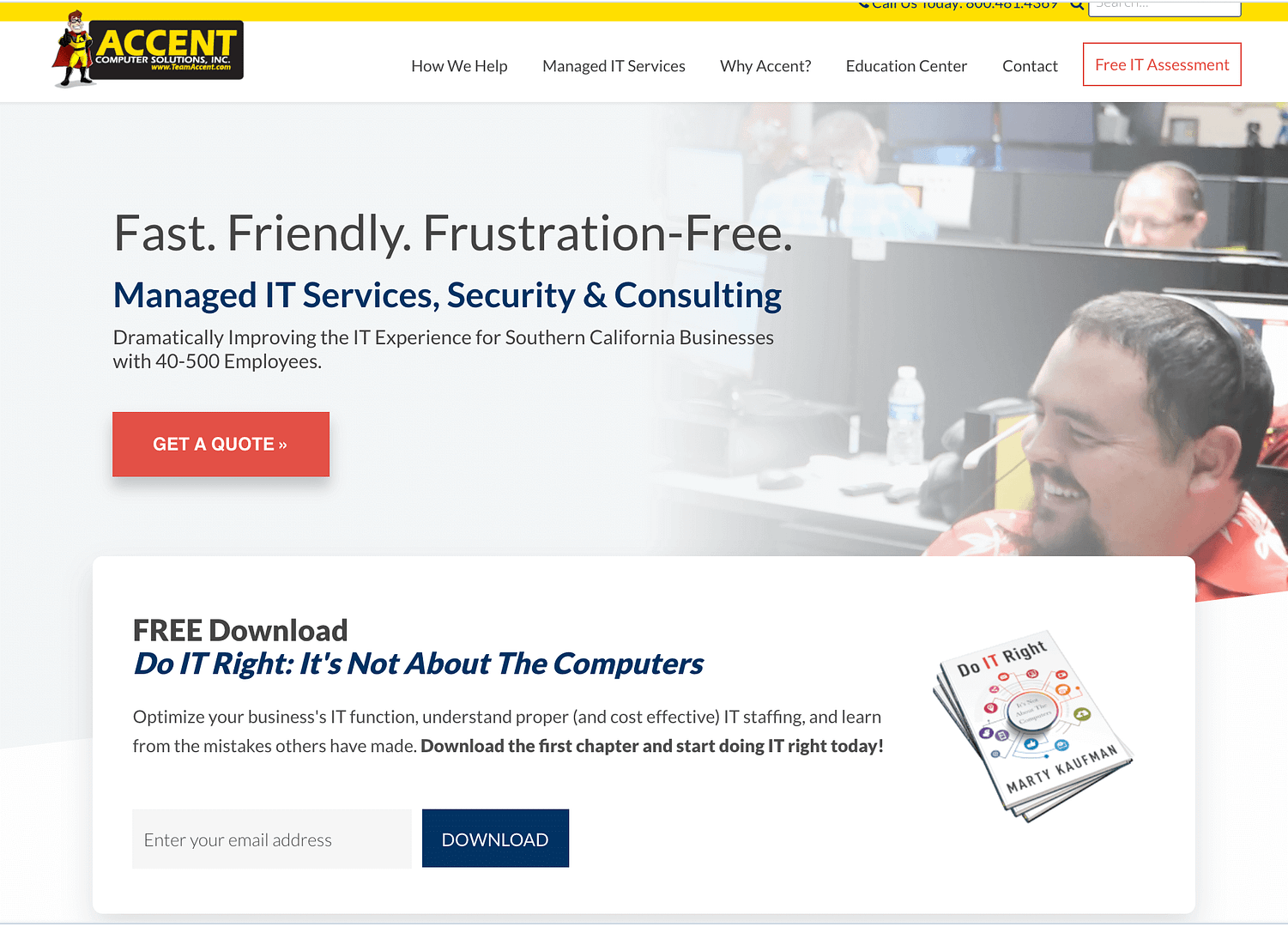 Example: See how Accent IT uses founder Marty Kaufman's ebook "Do IT Right" as a lead magnet on the company's website.
Walk: Publish a Physical Book to Create a Whole New Marketing Resource
While this article isn't going to dive into the specifics of self-publishing (we might cover that in the future, but for now here's a guide from Self-Publishing School), the intermediate approach to creating your own book for marketing purposes is to go from digital to physical. You can choose to flesh out your ebook or, if you're happy with the content you have, you can simply design (or hire someone to design) a cover and print your book.
There are a ton of options for printing services, from companies like Lulu to the world-devourer itself, Amazon, which offers its own print-on-demand service. Many of these services also offer options to help you sell printed books — or offer them as lead magnets — directly from your website or sell them on a larger marketplace (like Amazon).
As mentioned, you can also consider shipping copies as part of new direct mail campaigns, or utilizing them as a high-value, leave-behind asset once live events and face-to-face meetings are encouraged again.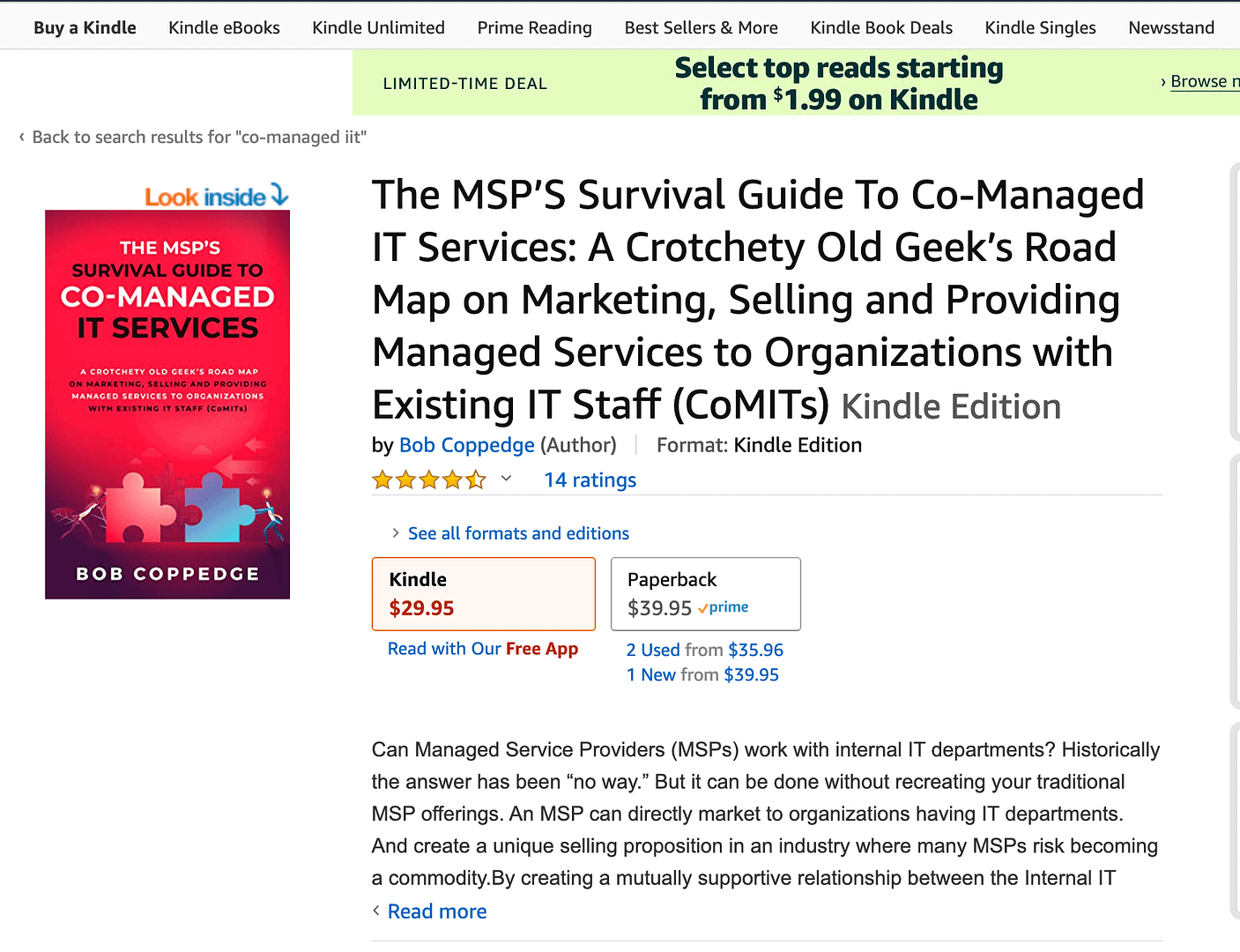 Example: Perhaps the best example of an MSP using books to establish expertise in a specific niche is Bob Coppedge, the CEO at Simplex-IT.
Bob has turned himself into the go-to guy for co-managed IT services, or CoMITs. His book, The MSP's Survival Guide to Co-Managed IT Services is a big reason why. Thanks to that positioning, Bob has been interviewed and referenced in a wide variety of channel publications and featured as a guest on countless webinars and webcasts. I also just love that the Simplex-IT landing page for co-managed IT services uses the line, "We wrote the book on it!"
Bob has gone on to publish two additional books, and actively uses them as part of both lead generation and direct mail campaigns. See another example here. This is clearly a tactic that's worked extremely well for him.
Run: Build a comprehensive marketing campaign around your new book
We mentioned earlier that, unless you're interested in becoming a full-time author, a book isn't likely to be a robust revenue stream for your MSP business. However, what it can be is the centerpiece of a robust marketing campaign that also includes referrals, a well-crafted website, a creative direct mail campaign, retargeted ads, social media ads, paid search and SEO, and even your very own quarterly business reviews.
Example: Here are some highly-rated books from MSP consultants on Amazon that have played a central role in their marketing campaigns — ultimately helping them land clients and coaching gigs:
Notice how each of these authors keeps their pricing low (or free)? That's key to making sure their books are effective marketing tools instead of profit centers that would take a heck of a lot more work to sell.
Will you make time to write the next great MSP marketing book?
Now you've learned the keys to publishing a book as a marketing asset, but do you have the time?
If the answer is no, head over to our Resources Center for more tips on how you can uncomplicate your business and stress less.
Or, if you're ready to see how leaving your legacy RMM can make running your MSP business easier, try NinjaOne free today.