The real trick to MSP marketing isn't getting prospects to visit your website, it's getting them to come back. That's where retargeting ads come in.
How much of a numbers game is lead generation? According to advertising platform Outbrain, a measly 2% of website visitors will convert the first time they land on your website (even if it's a really good one). The vast majority of folks just aren't ready to dive into a major commitment without testing the waters and seeing what else is out there first.
If you want to convert more of those interested leads into paying customers you need to find compelling ways to get them back on your site. Not once. Not twice. According to the global analytics experts at Nielsen, most consumers have to visit your website a total of six times before they finally do convert.
Discouraged? Don't be (yet). The good news is there's a trick you can steal from major consumer brands that will significantly increase your chances of success. It's called retargeting, and it's something you've undoubtedly personally experienced, even if you were't exactly aware of it.
What is retargeting?
Have you ever noticed how you'll start seeing ads for a certain product or service everywhere after you've been to the company's website? That's obviously no accident. Marketers refer to it as retargeting. In short, it's a re-engagement strategy that consists of gathering information about your website visitors so that you can continue to display relevant ads to them even after they leave your website.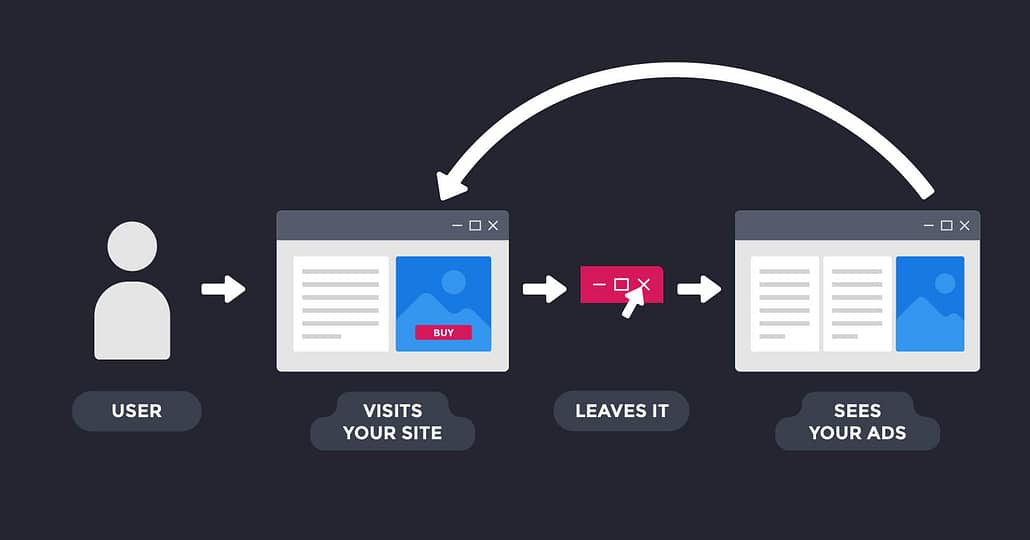 Source: Newsfeed.org
Retargeting has become the rule of the day for a wide range of companies (B2B in addition to B2C), and for good reason. A website visitor who's been retargeted is 70% more likely to convert. And while the average clickthrough rate (CTR) for a display ad is .07%, the average CTR for a retargeted ad is 10 times higher at .7%.
Retargeting can even increase searches for a brand by over 1,000%. In addition, conversion rates actually go up the more times consumers see a retargeted ad. The click-through rate itself may decline, but people who do click are twice as likely to convert!
So, how does retargeting work?
Pixel-based retargeting, which is the kind we'll be talking about in this piece, works by placing a piece of JavaScript code (commonly called a "cookie") in a user's web browser to keep track of the pages and the products they look at online. The cookie communicates with the ad platforms (search engines, social media platforms, etc.) chosen by the advertiser (that's you!) and tells them which ads to show a specific person based on what they've been browsing.
Pixel-based ads can typically run for up to 30 days from the last time a consumer visited your website. The retargeting platform you choose will determine where your ads will be displayed. Common places include search engine results pages, social media platforms, and even other websites.
Compared to list-based retargeting, which serves ads to people using an email address you've specified you want to target, we like pixel retargeting because it's more time-boxed and better suited to reach consumers who've shown specific behaviors.
Take for example the following ad, which shows Expedia retargeting someone who either recently conducted research on or booked a flight to Whistler, British Columbia, Canada.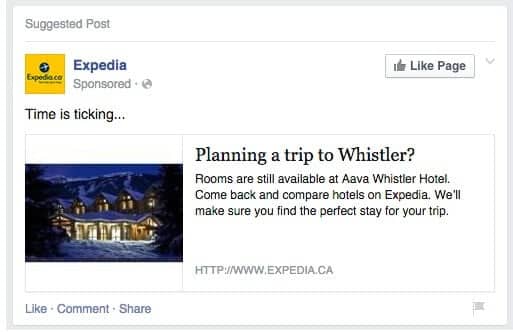 While retargeting is one of the more technical MSP marketing strategies (and we've covered a few) and will cost you some time and/or labor upfront, if you're investing in digital advertising  yourself it's worth going  the extra mile.
Why? Well, first, because of the affordability. With retargeting, conversions can cost as little as one-fifth of what they would cost using a typical acquisition strategy.
And, second, because of the overwhelming proof that it simply works. Retargeting is especially helpful for businesses with longer sales cycles, which most MSPs tend to have, because it allows your MSP to remain top of mind as consumers move through the marketing funnel. From the time they first become aware that they need a solution to the point where they're evaluating options and getting ready to make a purchase — there you and your ad are.
Of course, that's only if you decide retargeting is a good fit for your MSP. Here's how to do just that.
Is retargeting right for my MSP?
Leads are only getting increasingly difficult to convert as more MSPs come online and competition grows. If you've already implemented search engine optimization, paid search, and social ads and aren't getting quite enough traction — or if you have a tight marketing budget that you want to implement in the most efficient way possible — we think retargeting is worth considering if you have the appropriate time and resources.
What do we mean by that? We mean that retargeting probably isn't going to be the single silver bullet that drives all the conversions you need. It should be implemented as part of a larger marketing plan. 
According to the digital marketing agency Lemonade Stand, the top-performing MSPs they work with usually share several key characteristics:
They devote about $1,000 per month to marketing
They usually run multiple marketing campaigns simultaneously — Google Ads, SEO, even offline marketing  — and always conduct retargeting
They always follow through on a good lead
They're consistent and stick with it for at least a year
They see the big picture and understand that just one conversion can mean a positive return on ad spend (ROAS) in the MSP industry
Now you see what we mean. Just because you can spend your money on retargeting, it doesn't mean you should unless you're ready to invest time and effort, as well.
If you're ready to see exactly what kind of time and effort goes into creating an MPS retargeting campaign, you're in the right place. But before we dive in, let's expand a bit more on the monetary investment.
Retargeting ad budget: How much should I spend?
Very generally speaking, you can expect to spend an average of 2 to 3 dollars per click on a search ad, though some run upwards of $50+ in competitive industries. Remarketing ads cost from $0.25 to $0.60 per click on average.
If you'd prefer to work backward and set your budget based on results, here's a retargeting calculator that allows you to enter the number of monthly unique visitors (your website analytics will tell you this) you get on the pages you want to use in your retargeting efforts. Based on this number, the calculator will recommend a monthly budget as well as an estimate as to how many impressions you can expect.
And if it helps to know more about what everyone else is spending, the majority of marketers spend less than 10% of their advertising budget on retargeting — for now. The good news is that means you don't have a lot of competition yet when it comes to retargeting!
To preserve your budget, be sure you're choosing the best spending method between CPC (cost-per-click), CPM ("cost-per-mille" or cost per 1000 impressions), and CPA (cost-per-acquisition). You'll also want to employ frequency capping to prevent ad fatigue and membership duration to remove leads who haven't converted during your typical sale cycle. For even more information on all those acronyms and industry terms we just threw at you, check out this guide to retargeting costs from Wishpond.
Ready to spend some money to make some more money? Keep reading to learn how to set up your first retargeting campaign, expand it across various platforms, and employ granular tactics that can help boost results.
Crawl: Set up your first retargeting campaign
If you're just getting started with retargeting, the most important recommendation we can make is to start with Google Ads.
Google's Display Network, their group of over two million websites and apps where retargeting ads can appear, reaches 90% of internet users globally — 65% of them every day. On Google, more than a trillion ad impressions are served to more than 1 billion users every single month.
Aside from its scope, Google Ads is extremely user-friendly, popular enough to ensure that you'll always be able to find supporting resources when you need them, and allows users to display retargeting ads across the internet — whereas some tools can only display ads on their specific platform.
As much as we'd love to spend a few hours reinventing the wheel, instead we'll send you over to check out this comprehensive guide to getting your first Google Ads retargeting campaign off the ground from the advertising experts at AdEspresso.
In it, you'll learn (and see!):
How to set up the Google Ads tag (that "cookie" or chunk of code that collects info about your website visitors)
How to set up a campaign to retarget website visitors, mobile application users, visitors who viewed specific products on your website, and more
How to create and launch your ads
But once you're done, don't forget to come back here so we can pick up the pace of your retargeting campaign by expanding across social media channels.
Walk: Expand retargeting to social media
By 2021, it's expected that nearly 3.1 billion people around the world will be using social media. What better way to grow your conversions than to expand your retargeting efforts to your social media channels?
Social retargeting allows you to remind consumers about the content, products, and services they've shown interest in even after they've left your website and started scrolling through their favorite social media platform.
Each of the best social media platforms for MSP ads (read all about those in our ultimate guide to social advertising for MSPs) offers a unique method to retarget consumers.
Facebook and Instagram retargeting types
On Facebook, which owns Instagram and therefore the two share the same retargeting setup, advertisers can choose to target custom audiences or serve dynamic ads.
Dynamic ads are the most like the classic retargeting we've come to know. They use the same tracking technology to automatically promote your products/services to users who have already visited your website, app, or other digital channels. All you have to do is upload a catalog of your offerings so Facebook/Instagram can use the information to dynamically create ads that are relevant to the current consumer.
For an extremely thorough guide to dynamic ads with tons of helpful pictures, we recommend you read How to Retarget on Facebook and Instagram With Dynamic Product Ads from Social Media Examiner.
And then there are custom audiences, which are also pretty much what they sound like. They allow an advertiser to put together unique lists of whom they want to retarget based on contacts, website visitors, and app users.
A contact list-based audience incorporates data from a CRM or a manually-gathered list of contacts to identify existing customers or warm leads on Facebook or Instagram.
An audience of website visitors uses Facebook's pixel (similar to the JavaScript "cookie" we described earlier) to show people ads based on what they've viewed on your website.
Similarly, the app user audience also uses the Facebook pixel to target people who have been active on your app.
Retargeting with LinkedIn
LinkedIn keeps it simple by only offering website retargeting. With the LinkedIn Insight Tag (another JavaScript tag), advertisers can segment website visitors into different audiences and serve carefully-tailored ads based on which pages they explored.
For more details, go straight to the source and check out LinkedIn's own how-to guide.
YouTube retargeting
YouTube offers "video remarketing" which is almost exactly like regular remarketing except you're targeting people who have interacted with your YouTube channel or viewed one of your videos on YouTube or one of their video partner sites.
YouTube also gives you the tools to segment your target audience into people who have commented on a video, subscribed to your channel, watched a particular video, shared a video, and tons of other options so you can build highly-customized lists and deliver highly-customized ads.
If you need a little help wrapping your head around the idea of video remarketing, listen to the smooth tones of YouTube advertising expert Brett Curry speak on the topic for 47 informative minutes.
If you've read it all, you've heard it all, and you're still ready for more when it comes to retargeting — you've reached the final frontier in MSP retargeting: Dialing it in.
Run: Tactics for dialing in your retargeting campaign
Now that you've got retargeting up and running on your website pages and social media platforms, there's not much else to do but experiment with some fun tactics that will help dial in your campaign and boost results.
Tactic numero uno is often easier said than done — just try harder when it comes to your retargeting ad content.
We see it all too often where an advertiser is so tired by the time they finally get around to creating an ad that they just phone it in with a crappy stock photo and some lame text like "Come back!"
You've got the data, so use it. Get specific with your content. Include eye-catching imagery and valuable offers that are relevant to what a consumer was just perusing on your website.
This J. Crew Factory retargeting ad, for example, is inducing FOMO and introducing a great deal to entice a recent shopper back to their website as quickly as possible.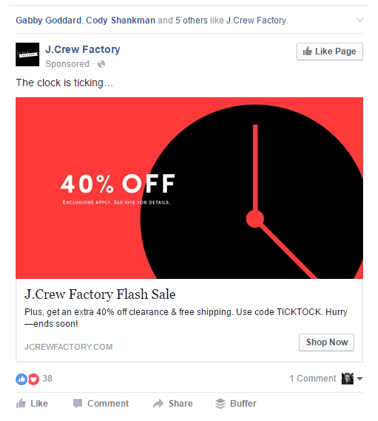 Which brings us to another tactic — getting more creative with your tags.
The products, services, and content on your website likely appeal to different kinds of buyers. By implementing different tags on different pages, it'll be way easier and cleaner to segment audiences and serve ads that are hyper-relevant to their interests and behaviors.
Creative ads. Creative tags. How about we get creative with or goals next?
Most often, retargeting is used to reach people who have visited a website or a landing page for the first time. But an advanced strategy includes serving ads that upsell new services to existing customers by retargeting people who visit customer-specific pages such as payment portals, login pages, etc.
If you're getting tired just thinking about dialing in all these tactics, imagine how tired your audience is of seeing the same ads over and over and over again.
But this doesn't have to be the case when you put a "frequency cap" on your retargeting campaign to limit the number of times the same person sees the same ad. Then there's burn code (or a burn pixel) that identifies consumers who have already converted so that you don't continue to waste your money or their energy on repetitive ads.
And late but not least there is A/B testing, which is the process of comparing two different versions of the same thing to determine which performs better.
When it comes to retargeting ads, you can test anything from the ad content to the platform to the audience segmentation. With A/B testing, it's important that you only make and measure one small change at a time to accurately test and optimize your retargeting campaign.
All set to rev up your MSP marketing with some help from retargeting?
Or, did you shake your head the whole time you were reading this guide knowing you're just way too busy working in your business instead of on it to ever pursue any of these tactics?
Well, that simply won't do. You deserve better — let us help you streamline your operations with NinjaOne, the #1-rated RMM on G2 Crowd.
Next Steps
Building an efficient and effective IT team requires a centralized solution that acts as your core service deliver tool. NinjaOne enables IT teams to monitor, manage, secure, and support all their devices, wherever they are, without the need for complex on-premises infrastructure.
Learn more about Ninja Endpoint Management, check out a live tour, or start your free trial of the NinjaOne platform.
https://www.ninjaone.com/wp-content/uploads/2022/12/ninjaone-logo.svg
0
0
Team Ninja
https://www.ninjaone.com/wp-content/uploads/2022/12/ninjaone-logo.svg
Team Ninja
2020-10-20 12:31:06
DIY MSP Marketing: Everything You Need to Know About Retargeting Ads