Have big ambitions for growing your MSP business in 2020? Time to move up in the search rankings by mastering local SEO.
Local search engine queries have risen substantially in recent years.
Today, nearly half of all Google searches are conducted by consumers who are searching out local information and almost 90 percent of people rely on the internet to find local businesses.
In 2018, 27 percent of consumers — more than twice as many as in 2017 — went online daily to look for a local business. Additionally, 56 percent looked online for local businesses every single week (up from 41 percent) and 69 percent every month (up from 54 percent).
That's cool and all, but why should you as an MSP business owner care? Because these local searches lead to purchases 28 percent of the time.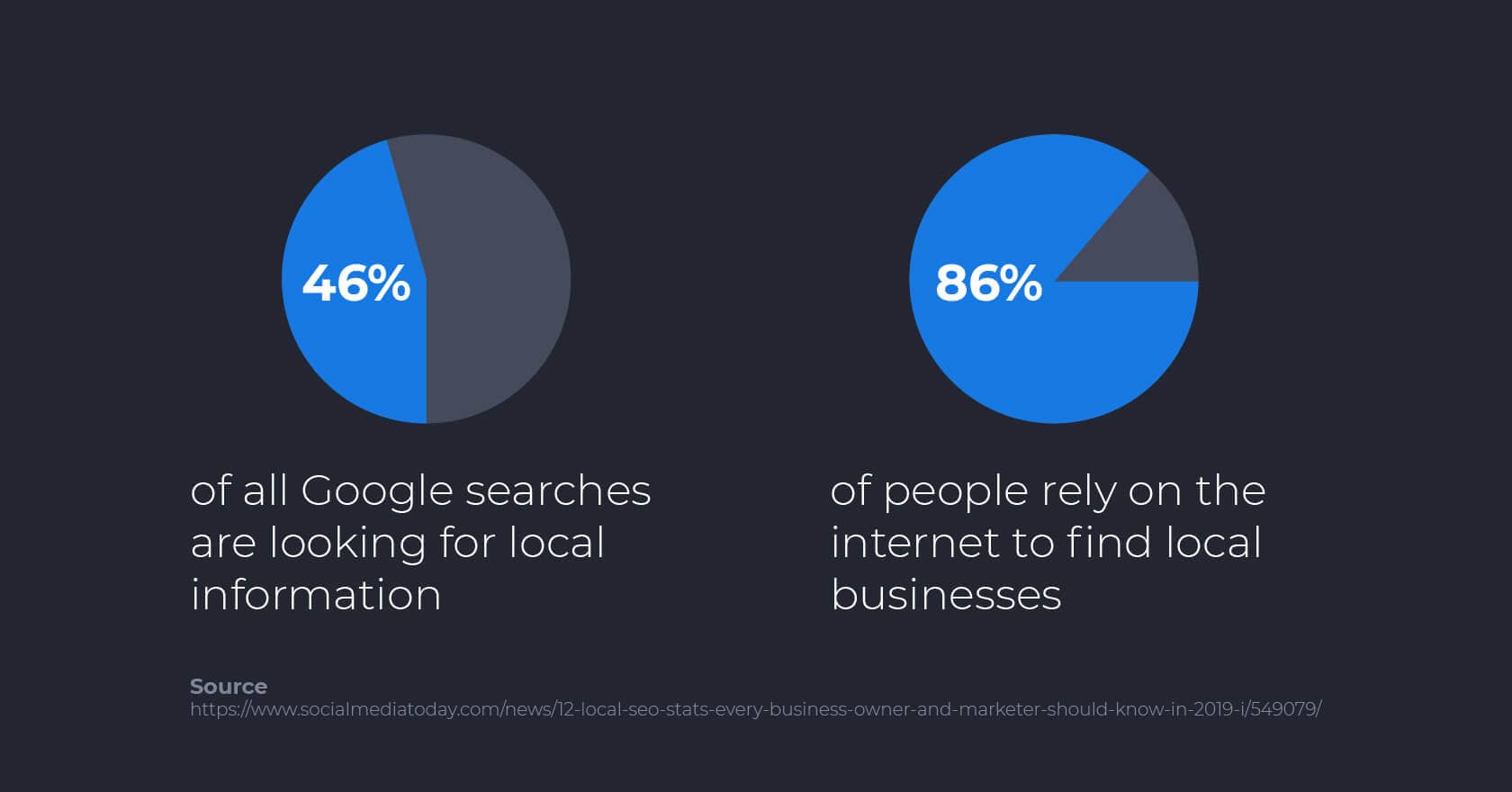 The fact is, more and more often, people are searching for businesses and information that's local to them.
Here's everything an MSP needs to know to make the most of that information and grow their business.
What is Local SEO?
Search engine optimization (SEO) is the process of increasing organic traffic to your website via search engine results pages (SERPs). Organic traffic is any traffic that you don't pay for — it shows up naturally or "organically" because it's relevant to the query a person has searched.
But what about local SEO?
Local SEO helps business websites rank highly in SERPs when people search for services (products, etc.) that they offer in the area where the businesses are located. While MSPs obviously render their services digitally and can work with companies anywhere in the world, local SEO is still a valuable tactic for maximizing valuable traffic from search engines.
Why? Because local SEO empowers MSP businesses to carve out a niche where they can make more of an impact than they could in the wildly-competitive world of SEO at large.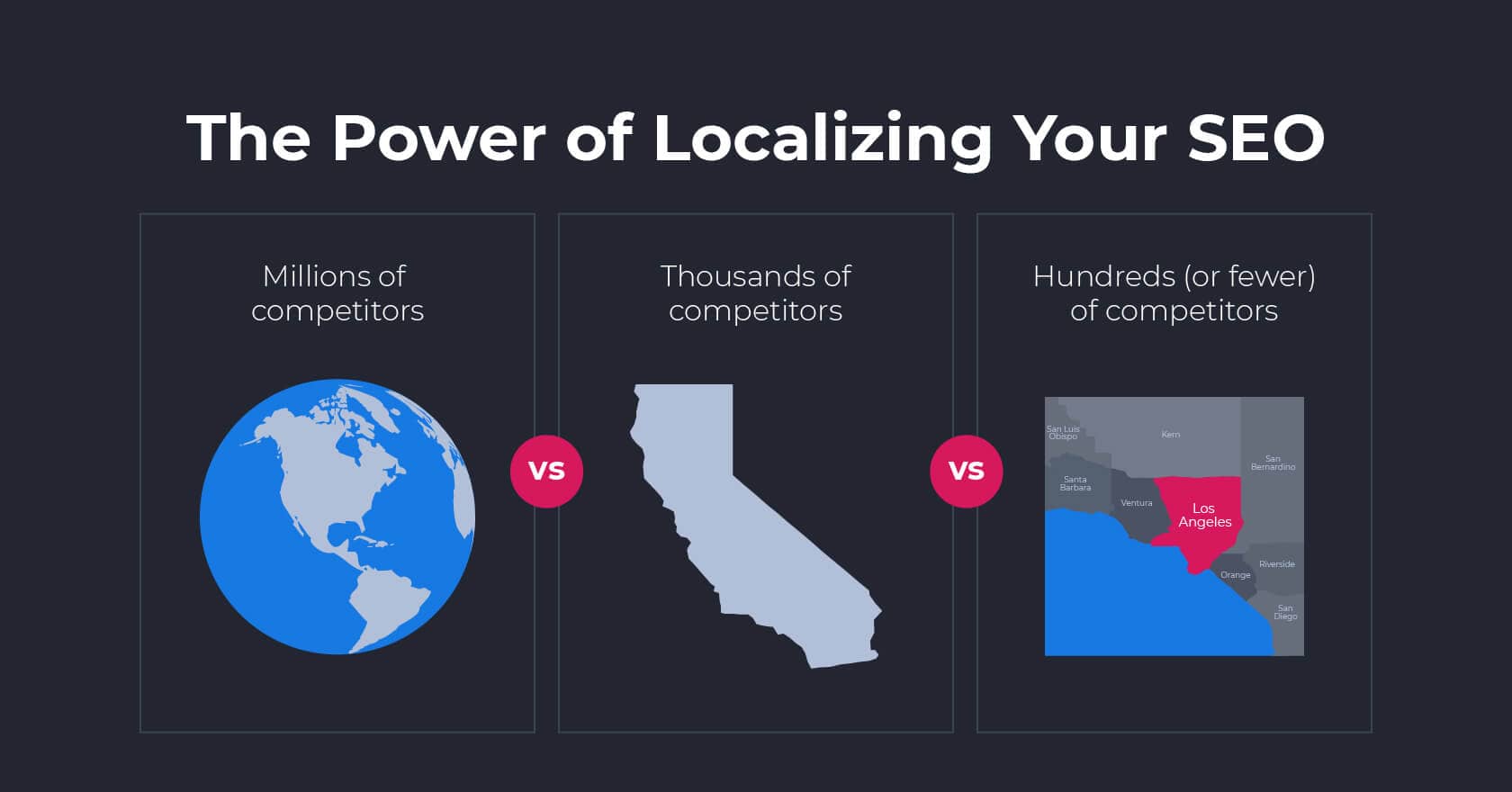 Now that we're all familiar with what local SEO is and why it should be on your radar, we're excited to dig into some strategies that MSPs of every size can implement to take advantage of this optimization.
From small IT services business owners that are just now dipping a toe into digital marketing to MSPs with full-on sales and marketing teams, everyone should be able to grab a few tips for upping their local SEO game.
Plus, along the way, we'll be sure to share links to some of the best SEO resources out there so that you can take as deep of a dive as you like into the vast world of local SEO.
Let's go!
Crawl: Get Started By Sprucing Up Your Business' Digital Profiles
For those just getting started with local SEO or MSP marketing in general, we'll start with strengthening your business' presence across various online profiles.
Step 1: Get on Good Terms with Google
Google owns nearly 93 percent of the search engine market worldwide. So, a great first step toward generating local SEO is claiming and completing your Google My Business page.
At a minimum, include your NAP: Name, address, and phone number. Make sure this info matches what you publish on your website (if you have one yet — we'll discuss this more later!) and any other online profiles you may have. This matters because Google prioritizes consistency.
In addition, we'd recommend choosing your primary and additional categories, filling in special features, uploading photos, and claiming your location on Google Maps.
By the way, you don't even need a website at this point! Google gives you the option to create a dedicated URL that you can share with prospects and customers who want to learn more about your business.
Completing this information will take you less than an hour and is an essential first step to being found in your local market.
Learn more about optimizing your Google Business profile:
Step 2: Establish Your Business on Other Directories
Next, create a profile for your business on other directories, search engines, and social media sites like Apple Maps, Bing Places for Business, Facebook, Yelp, and even the good ol' Yellow Pages.
After all, Google isn't the only place your prospects and customers hang out. They use a variety of information sources. However, you should still be sure to link to those profiles on your Google My Business page.
Step 3: Populate Your Profiles with Good Reviews
According to BrightLocal's 2018 Local Consumer Review Survey, 86 percent of consumers read local business reviews and half of them say visiting the business' website is their next step after reading a positive review.
You know where this is going — it's time to generate some good customer reviews!
While you should be asking for reviews across your business profiles, there are a few things to know about your Google My Business listing, specifically. Google will take a variety of factors into account: Total number of reviews, number of positive reviews, how many times and how frequently you reply to reviews, and even the words in the reviews themselves.
Considering that 89 percent of consumers read a business' response to reviews, you might want to dedicate just a few hours each month to both recruiting and replying to customer reviews.
These initiatives won't immediately push you into top positions for competitive local markets, but they're important table stakes for businesses that want to build trust with prospects and with big-time search engines like Google.
Read up on reviews:
Ready to go a little further than table stakes? Let's rev things up.
Walk: Develop and Optimize a Business Website to Take Control of Local SEO
Online profiles maximized? Check.
Great reviews that are starting to generate some calls? Check.
Next? It's time to go beyond digital directories and develop an outlet where you can more carefully control your local SEO efforts.
That's right — it's website time.
Step 1: Create Your Website 
From here on out, many of our SEO localization tips are only going to make sense if you have a business website.
If you're ready to design — or redesign — your MSP website, read our guide Building the Right MSP Website: How to Get More Visitors and Leads.
Now, on to one of the best ways to optimize that website for local SEO: Keywords.
Step 2: Conduct Keyword Research
When it comes to SEO, keywords are terms that your website content contains and search engines "read" to determine if your website is a good fit for a person's query.
To juice up your local SEO, you want to use keywords that describe your services and are also commonly used by people in your target audience.
How can you zero in on these keywords? By conduction keyword research.
To conduct research to find the best keywords to use on your website, you will need to use a tool such as Keyword Tool, AnswerThePublic, or SEMrush. Google also offers its own keyword research tool called Keyword Planner. However, you will need to create a Google Ads account in order to use it.
What these tools do is help you generate keyword ideas and understand how many people search for those keywords each month.
To get your search off the ground, you'll have to have a few terms in mind to start with. You can come up with these by putting yourself in the shoes of your ideal customer. If you were a local business and needed help managing your computers, network infrastructure, etc.; what would you search for?
Remember, some prospective customers are what is known as "problem aware." They can describe their problem, but they don't know what solution to search for. For example, this group may be searching for something like "business tech help" or "set up my office network."
Other prospective customers are more "solution aware." They're likely to be a little savvier and know businesses like yours exist. Their searches might look like "managed IT service" or "IT service near me."
After plugging some of these ideas into your keyword research tool and generating tons of options, narrow down your choices to the terms you think are most relevant to your offerings.
For a more detailed walk-through of how to get to this point in conducting keyword research, check out How to Do Keyword Research for SEO: A Beginner's Guide from HubSpot.
If you feel like you've got your keywords down pat, let's put them to work!
Step 3: Implement On-Site Optimization 
Effective SEO — local included — starts with website content.
That said, the first step in optimizing your website for local SEO is making sure you're using your keywords within content that helps searchers answer their questions, solve their problems, and otherwise accomplish the tasks they set out to do. That means not just created high-quality content but serving it in the most appropriate format; whether that a blog post, a landing page, a video, an infographic, or some other content type.
Instead of us trying to explain this concept, we recommend you watch this video from the SEO experts at Moz to learn more about "searcher task accomplishment" and why it's important for search engine optimization.
Of course, there are tons of other best practices for maximizing your local SEO efforts on your website — so let's just focus on one more (for now!) that we think is important: Optimizing title tags.
Title tags are how you name web pages. They are the clickable headlines that pop up on a search engine results page, so it's important that they're not just accurate and enticing but also contain your most important keywords.
Out of all the on-site SEO elements you can optimize, the title tag arguably has the biggest impact. To learn a ton more about title tags, check out this guide.
Additional research about on-site optimization:
Now that both your off-site digital profiles and your on-site content are optimized to bring in traffic from local consumers, let's get the motor really runnin' with some expert-level tips that will ramp up your results.
Run: Invest in Support, Analytics, and Trend Spotting to Continuously Improve Your Authority
Everything we have discussed so far is about relevancy — creating content that matches and address what potential customers are searching for.
And that's great, because Google tells us that relevancy is a big part of earning top billing in their search engine results.
However, there is another important factor that businesses with decent local SEO on Google can work on to maximize — prominence.
Prominence is part popularity contest (whether a business is well-known to the general public) and part saturation (how many positive reviews, ratings, articles, etc. already exist about your business).
So let's pump up that prominence.
Step 1: Focus on Building Prominence on Google
First things first, is it worth it to invest your time and money into building up your prominence? We think so.
Over 92 percent of searchers choose businesses that appear on the first page of search results.
The average click-through rate (CTR) for business websites that rank in position 1 on Google is 32 percent as of September 2019.
In other words, if you rank in the first spot for a keyword that gets 100 searches a month, 32 of those people will click on your link.
What about the CTR for position 2? It halves to 16 percent. And for position 3 it halves again to just 8 percent. By the time you make it to the middle of the page at position 5, you only get 3 percent of clicks—or 3 visitors for a keyword with 100 monthly searches.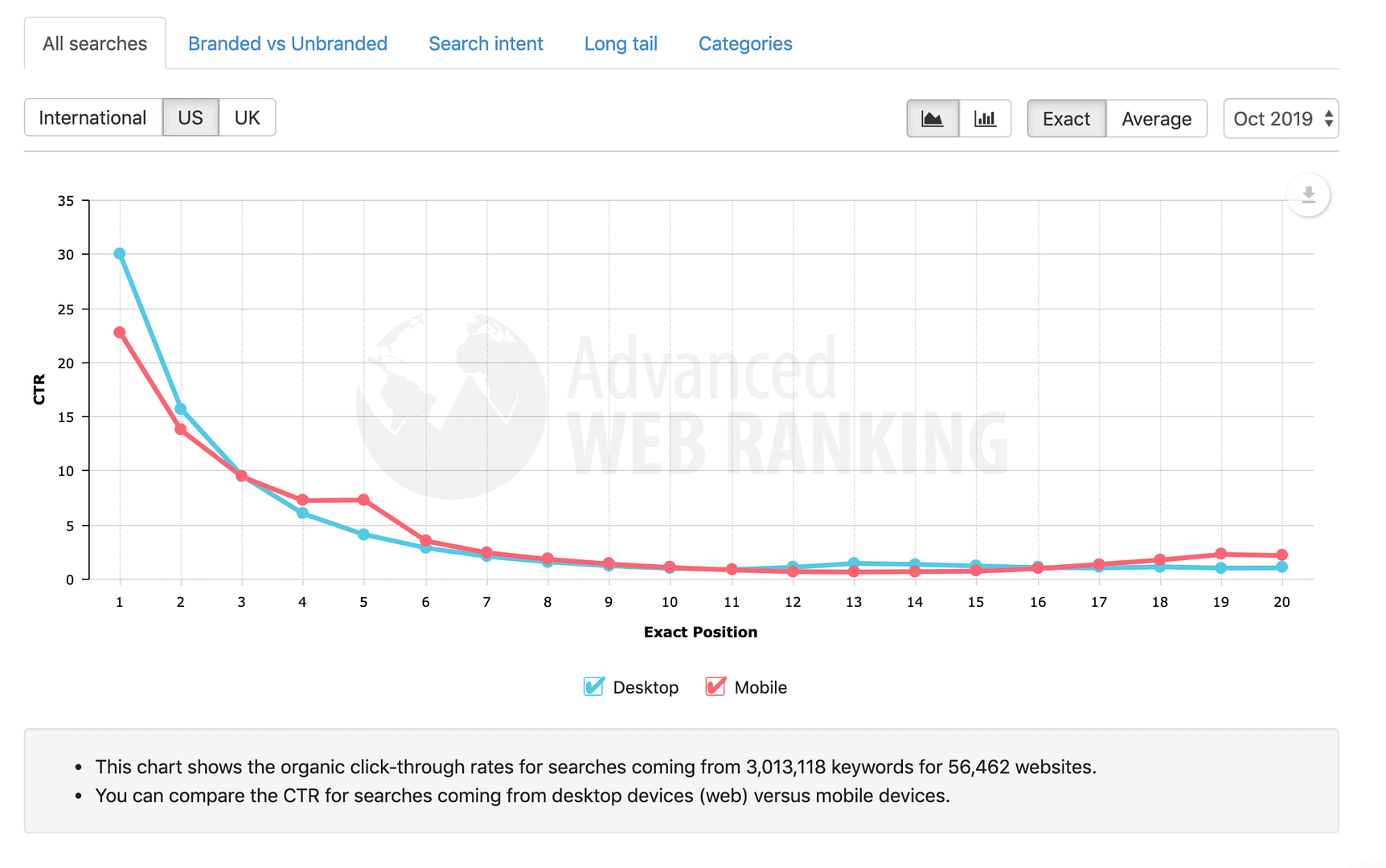 Source: Advanced Web Ranking
Prominence is very helpful if you're trying to get clicks from your SEO efforts. One of the best ways to boost your prominence in Google's eyes is to go out there and get reviews, links, mentions, and any other (positive!) publicity you can stir up.
This essentially boils down to media relations. Reach out to local journalists, associations, and other businesses in your space to see if you can get them to talk about your business, share your website, and link back to your website and content wherever possible. Remember, this means your website, your content, and your services must be worth talking about!
Think of this process like sales. Some percent of the people you contact are going to act on what you've pitched them. Aim for a 10-20 percent action rate. In other words, if you contact 10 people, you should expect 1 or 2 to provide the coverage you're requesting.
If you want to generate five positive mentions per month, do the math and figure out how many people you'll need to pitch.
Step 2: Use Analytics to Measure The ROI of Your Local SEO Efforts
Now that we're talking about a serious, ongoing investment of your time, we want to check in and make sure you're keeping track of whether all your efforts are worth it or not.
If you haven't already it's time to set up an infrastructure for generating analytics and insights to gauge your ROI.
Google My Business offers Insights, which provides some basic data about how people are finding your company and website. For an upgrade, try a more powerful web analytics platform, such as Google Analytics — which is free.
This guide from cognitiveSEO will get you started with using Google Analytics to monitor the success of your local SEO efforts.
Bonus Tip: Keep an Ear to the Ground for Trends 
The SEO landscape is quite dynamic.
Consumers change and Google really never stops innovating on the search experience. If you want your local SEO efforts to keep bringing in qualified leads, you must stay on top of trends.
Speaking of, here are a few major trends to be aware of for those reading at the time of publishing:
It's rare to see quick wins when it comes to local SEO.
It's truly a long-term investment to which you have to dedicate plenty of effort and energy before building reliable momentum.
If you're looking to spend more time working on awesome MSP business growth hacks like local SEO instead of working in your MSP business — we have one last tip to add to your list:
Check out  NinjaOne for free right now and finally get your hands on the efficient, modern IT and network management software you deserve.