We assembled a powerhouse panel of industry experts on our latest MSP Live Chat to talk about sales tactics and bidding strategies for MSPs in competitive business environments. 
There are dozens of techniques MSPs can leverage when developing winning strategies in competitive bidding situations. The top takeaway from our latest live chat was the tightrope walk between agility and taking on new business while sticking to a robust sales process throughout your organization.
This balancing act can be the demise of many young MSPs; as Alex Farling Founder of Lifecycle Insights said best, "there will always be someone that's willing to go into bankruptcy faster than you."
Here's a guided recap of the live chat and some methods to create sales success even in competitive situations. 
1) Pick your battles
Some of the most common competitive scenarios aren't competitive at all - specific verticals like government contracting and non-profit organizations require multiple bids from vendors. There's a bit of shopping around in this space; today, many organizations in this vertical are also required to get bids from a woman- or minority-owned provider. An organization might have already selected their IT services provider before the "competitive" bidding process has begun, so make sure you're on the lookout for situations like this. 
In short, pick your competitive bidding battles wisely and don't fall for bait on things like open bids that end up being a price race straight to the bottom.
"For RFPs, make a real effort to determine if the contract is already wired to a particular company. Don't be afraid to ask questions that will allow you to uncover this information."
— Tom Watson, Channel Chief Advisor at NinjaOne
2) Know your enemy
Every MSP knows who their local competitors are. You owe it to yourself to develop basic talking points that frame the comparison between you and competitor A, B, or C in a favorable light. This doesn't mean that you should be ready to throw mud (that rarely comes across well), but simply that you have a compelling reason for why companies like the prospect you're talking with ultimately choose you.
Larger MSPs with expanded sales and marketing resources can even consider developing "battle cards" — if not for specific competitors, for particular scenarios. Some examples of this could be: 
Underbid by a lower operational maturity level (OML) competitor

Vertical-specific bidding challenges

Positioning your solutions over competitors recommendations  

Quick dismisses and landmines (questions that cast doubt on competitor's fit)

Note:

Need to be careful here not to be too negative. Otherwise, you'll risk putting off the prospect.

Ex: "Did they say how many clients like you they're servicing? There's nothing wrong with generalists, but we specialize in your space, so we know the challenges and solutions intimately."

Ex: "How important is it for you to have service tailored specifically to fit your business vs. a McDonald's-style franchise model?"  
If developing a set of battle cards sounds too labor-intensive for your MSP, I recommend creating a shortlist of canned block messages. In competitive bidding situations, that can help your sales team quickly launch responses to landmine-esque questions planted by the competition. Alternatively, they can also help you be the one laying out the landmines for your local competition.
"If you present first, you have the opportunity to throw out landmines for the other guys. You know where your blue ocean is. And you know where you really excel, where you take out your local competitors, and where you can beat them. So you can leave a little trap for them, and when you come back last, you can say how'd they make out on that question?"

— Alex Farling, Founder of Lifecycle Insights
3) Avoid the race to the bottom on price
Dealing with prospects shopping around your quote/proposal can be a frustrating experience, but there are levers you can use to get the process back on track. 
So, what are your levers?
Set expectations for the potential new client based on your sales cycle 

Charge for proposal with an incentive offer (ex: deduct the price from the first month if they sign) 

Emphasize to prospect your proposal won't be apples to apples with competitors 

If possible, try to be the last to present

If you get a sense things are getting silly, take a page from Shark Tank — I need to know now, or I'm out
Above all, know your costs and breaking point. If the deal dips below your comfort level margin-wise, don't be afraid to let the prospect know that your costs are your costs, and you can't provide them with secure, quality service at that level.
"If you know your costs while negotiating a deal and they're pushing too hard on it, once you cut costs, you walk away from it. You have to be willing to walk away from a deal at any time mentally and emotionally."

— Georg Dauterman, President at Valiant Technology
Need help determining your actual costs? Download our free MSP Pricing Calculator.

How do you prevent competitive situations in the first place?
Having an outlined sales process can help you avoid a race to the bottom and a competitive situation altogether. If you've done your job right, Alex argues, by properly qualifying prospects, understanding their needs, conveying your value, and agreeing on a budget, many times prospects shouldn't have any reason to complicate the process by bringing in a competitor. 
So how do you accomplish all that? We teamed up with Alex to create our new MSP Sales Process Guide & Checklists that can walk you through setting up your own defined sales cadence and workflows.
The best thing about this guide is that there's a checklist to go with each portion of the sales process funnel that we've outline, from the intro call all the way to the final proposal presentation and eventually closing the deal.
Here's a sneak peek that addresses this topic: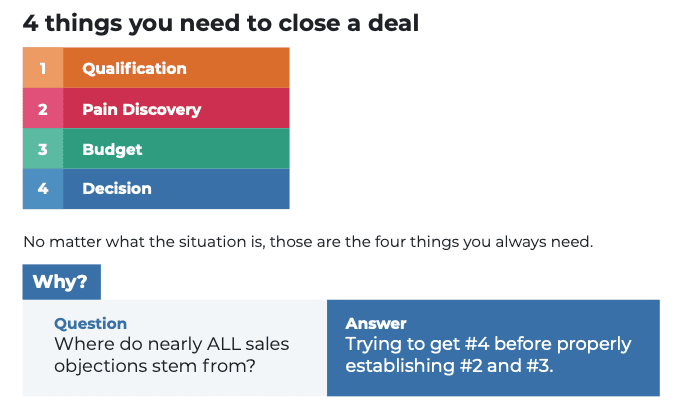 "After all, when we fail we should be able to identify something to add to our stop-doing list. When we succeed we should be able to identify something to add to our start-doing list. If we never perform the same sales process twice, the chances of delivering any form of iterative improvement goes out the window." 

Alex Farling, Chief Customer Experience Officer at Lifecycle Insights
Download your free copy of our MSP Sales Process Guide & Checklists to start formalizing and improving your own sales efforts.

Additional resources to help you close more deals 
For a more detailed discussion on winning competitive deals and developing a strong sales process for your IT Business, see the following: 
Note: Our Live Chats are even better live! Find out when we're hosting our next one, and be part of the conversation.
Next Steps
Building an efficient and effective IT team requires a centralized solution that acts as your core service deliver tool. NinjaOne enables IT teams to monitor, manage, secure, and support all their devices, wherever they are, without the need for complex on-premises infrastructure.
Learn more about Ninja Endpoint Management, check out a live tour, or start your free trial of the NinjaOne platform.
https://www.ninjaone.com/wp-content/uploads/2022/12/ninjaone-logo.svg
0
0
Team Ninja
https://www.ninjaone.com/wp-content/uploads/2022/12/ninjaone-logo.svg
Team Ninja
2023-03-23 15:28:32
Winning Competitive MSP Deals: 3 Strategies To Keep You Ahead