Our partners continue to make their voices heard, and their feedback continues to drive everything we do.
Last year, NinjaOne was ranked #1 in Customer Satisfaction, Implementation Time, Customer Support, and Best Results on user review site G2. Since then, the team here at Ninja has continued to work hard behind the scenes to add new features, improve partners' experiences, and deliver even more value to the industry. We're humble and proud to see that effort reflected in Ninja being named (for the 10th time in a row), the #1 Remote Monitoring and Management Platform on G2.
In the past year, we've seen three major releases (NinjaOne 5.0, 5.1 and 5.2), including the much anticipated launch of Ninja Data Protection, a cloud-based backup solution natively integrated within NinjaOne. These new features and products were developed from partner feedback and are designed to make users more efficient, secure, and improve the ease of use of Ninja's platform.
The efforts we've made over the last year were noticed by our partners, who have continued to write reviews, provide feedback, and nominate NinjaOne for 'Best in Category' awards. Without the help of our partners, Ninja's growth would not have been possible. So, we want to take a moment to say, "thank you!" We are endlessly grateful for the time you take to help us grow and improve Ninja.
Here's a look back at some of the key categories Ninja partners have nominated us for since our first review on G2: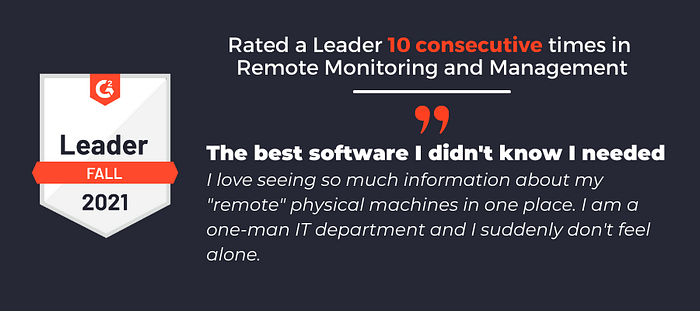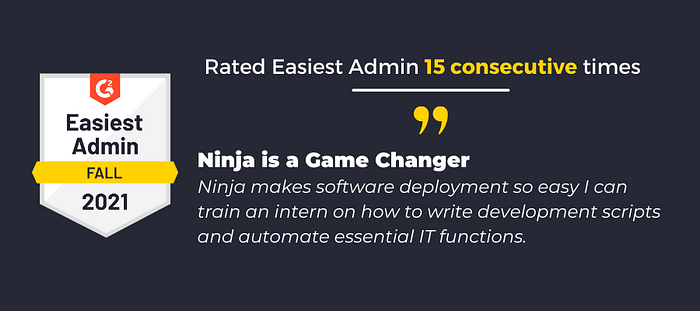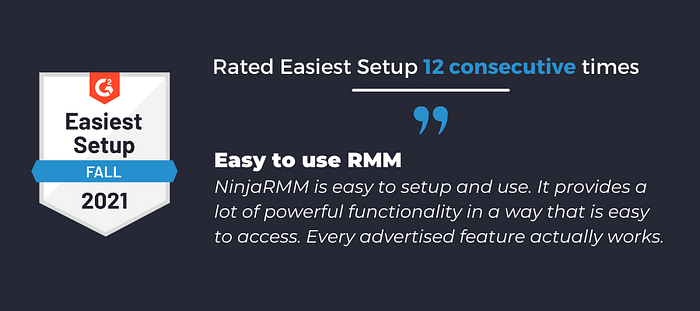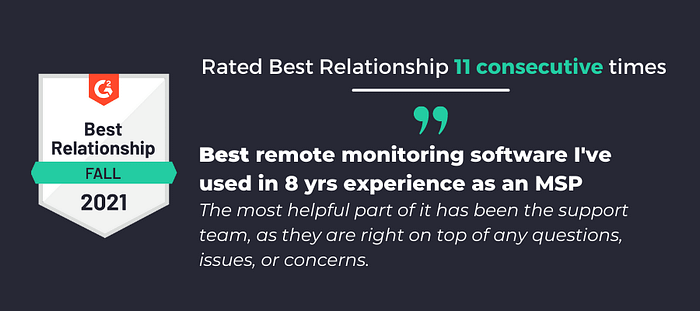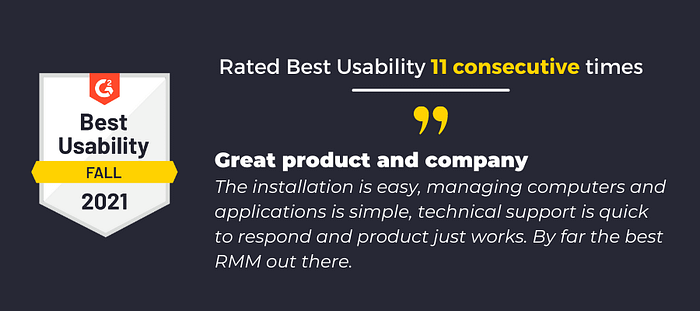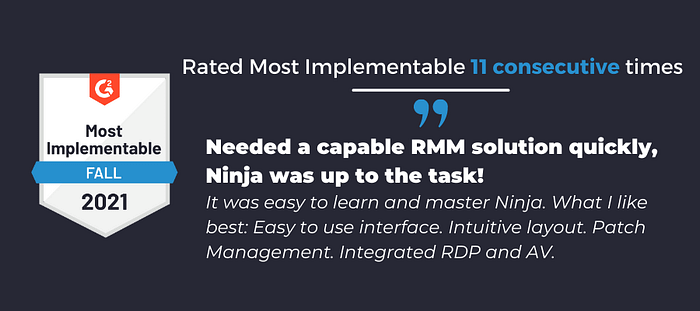 Our fearless leader couldn't resist reflecting on the achievement and the central role partner feedback has played in developing Ninja.
"Since NinjaOne first began, our mission has been to provide an RMM that's best-in-class and helps MSPs and IT professionals save time through automation," Sal said. 
"The cornerstone of NinjaOne's success is built on the feedback and success of our partners — without their collaboration we couldn't have established the product-first philosophy we use today."
— Sal Sferlazza, CEO at NinjaOne 
"It's an honor to be recognized as a leader in the Remote Monitoring and Management software space by our partners and to see our product acknowledged for the hard work our team has put into it."
First time learning about NinjaOne?
NinjaOne is an all-in-one remote monitoring and management platform that combines powerful, time-saving functionality with an intuitive, easy-to-use UI that MSPs and IT pros actually love to use. NinjaOne increases business efficiency by combining monitoring, alerting, patching, antivirus, backup, and IT automation all within a single pane of glass. Learn more by visiting ninjaone.com or signing up for a free trial.
Next Steps
Building an efficient and effective IT team requires a centralized solution that acts as your core service deliver tool. NinjaOne enables IT teams to monitor, manage, secure, and support all their devices, wherever they are, without the need for complex on-premises infrastructure.
Learn more about Ninja Endpoint Management, check out a live tour, or start your free trial of the NinjaOne platform.
https://www.ninjaone.com/wp-content/uploads/2022/12/ninjaone-logo.svg
0
0
Lisa Harshman
https://www.ninjaone.com/wp-content/uploads/2022/12/ninjaone-logo.svg
Lisa Harshman
2023-06-02 21:19:52
Ninja Rated the #1 RMM on G2 for the 10th Time in a Row