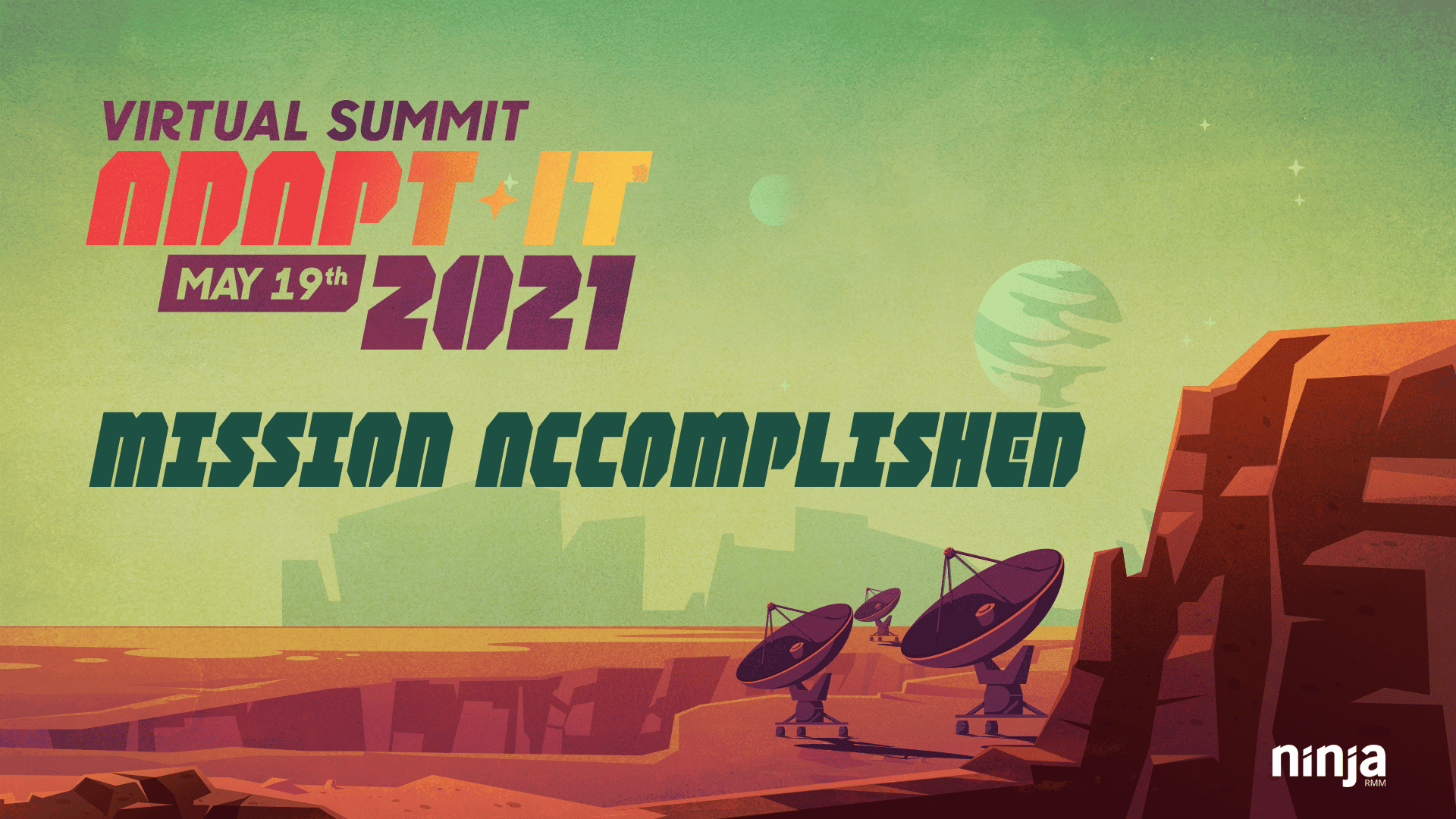 NinjaOne's AdaptIT Virtual Summit has come and gone, leaving us all feeling inspired by our partners and energized for the not-so-distant future they're helping to usher in for IT.
In case you missed it, the entire program is available on-demand here. Each session was packed with important takeaways, but I've collected three here that really capture the top challenges and opportunities that MSPs and IT pros currently face. 
After the year of rapid change that we all just experienced, it's clear that the organizations who are actively embracing these MSP trends and strategies are the ones in the best position to capitalize on their growth and keep accelerating through the rest of the year.
MSP strategy #1: Be obsessively data-driven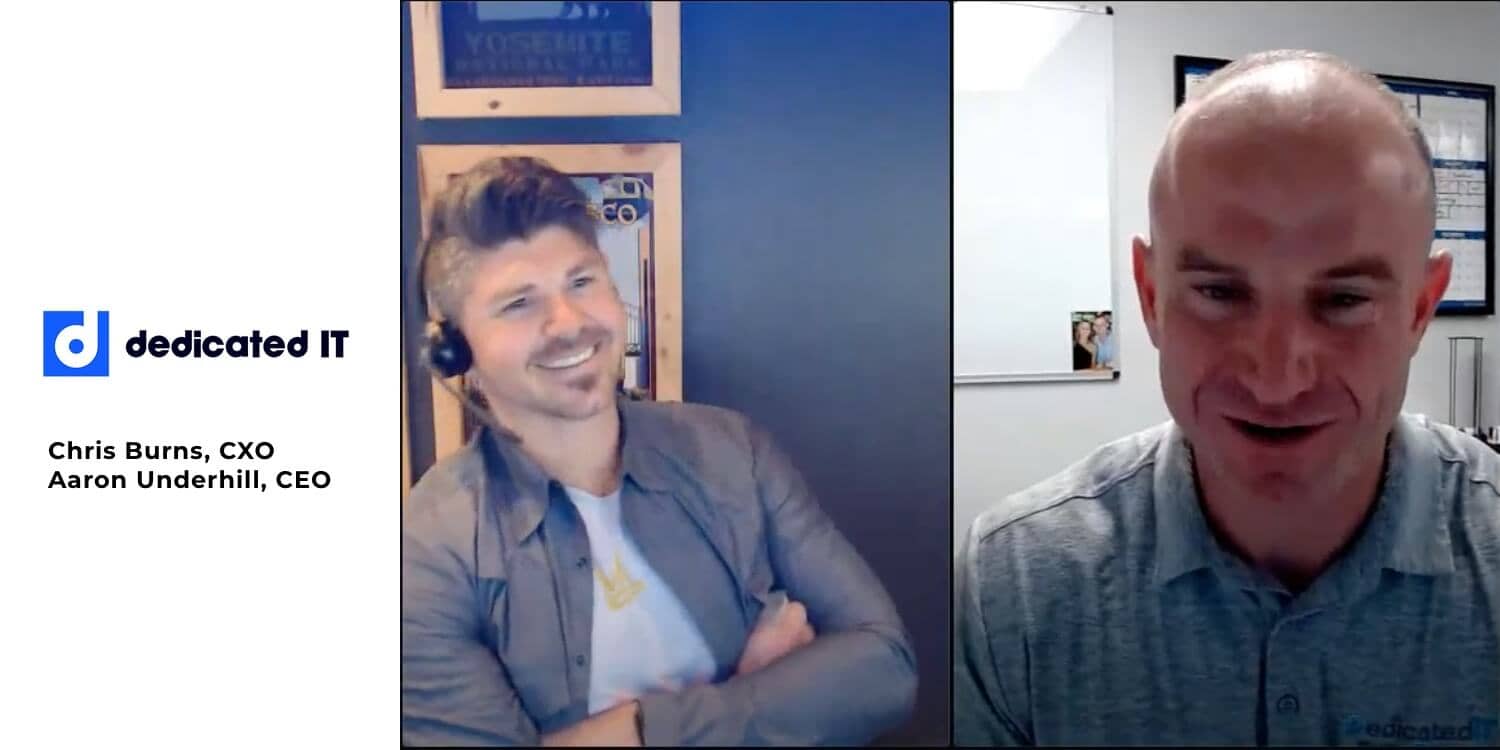 Takeaway from "How We Leveraged Data To Transform Through 2020 and Beyond" with Chris Burns and Aaron Underhill of Dedicated IT.
In our first session of the day, Aaron Underhill and Chris Burns of Dedicated IT — one of the largest and fastest growing MSPs in Florida — spoke about the critical role data plays in feeding and guiding their operations, including everything from service delivery to team management to sales outreach. 
"We really started to discover how data was the center point in how we were making decisions, how we were communicating with customers, how we were backfilling positions," Chris explained. "With all that noise [at the start of the pandemic], and not really knowing what was going to happen long-term, [facing] the unknown was really the point where we had to double-down on what data meant to us."
That meant not only using data to adjust the company's service delivery to address shifting client demands, but also finding new ways to make their operations even more efficient and leverage what they were learning to fuel their sales and marketing efforts.
Dedicated IT has a very specific type of customer that they target, and by virtue of their specialization they're able to present a very compelling story of how they can help prospects because they've helped others just like them overcome exactly the same challenges many times before. But because Aaron, Chris, and the team are so data-driven, not only do they have the story, they also have the data to back it up. That helps set them apart and takes much of the guess work out of the sales process. Once they start approaching closing, they can simply let the numbers do the talking.  
It should also be said that Dedicated IT has invested heavily in building out their own PSA platform on top of Salesforce, which has given them a great deal of flexibility and custom capabilities. That approach may not be feasible for many MSPs, but it's impressive and interesting to see them not accept the status quo and forge their own way. It's obviously one of the factors of their incredible success.
MSP strategy #2: Structure security directly into your Managed Services Agreements

Takeaway from "Securing Distributed Workforces From Today's (and Tomorrow's) Threats" with Kelvin Tegelaar of CyberDrain, Jon Murchison of Blackpoint Cyber, Stephen Newhauser of OneLogin, and Danny Jenkins of ThreatLocker.
As cybersecurity threats continue to grow in number and complexity, they're increasingly becoming a top concern to businesses (and government). Yet, in many cases, there still seems to be a disconnect in terms of who is ultimately responsible for security.
Jon Murchison, CEO of Blackpoint Cyber, aptly pointed out that your clients already think that the responsibility is yours. "They already think you're doing security. Bake it in from the beginning," he advised, and I agree. 
Despite some recommendations I'm seeing that appear to indicate otherwise, my suggestion is to make security included and mandatory. Don't make it something clients can choose from, otherwise they decide to forego and put themselves — and ultimately you — at risk. Or, as Jon put it, "Don't make this like buying a car with no headlights, seat belts, and everything else. Don't get into this game of selling a la carte. No one remembers what they didn't buy when they get popped. They just blame you."
I always like to talk about what I would do if I were in the MSP CEO driver seat again. One thing is clear — I wouldn't be negotiating with clients on many of these things. My offering would be based on what I needed to secure the client's network, and they could more or less take it or leave it. Because my dual priorities would be taking care of their business, but also taking care of mine. 
"Don't make this like buying a car with no headlights, seat belts, and everything else…. Don't get into this game of selling a la carte."

— Jon Murchison, CEO at Blackpoint Cyber
If risk isn't enough of a motivator, there's also the fact that by not leaning into security, some MSPs are missing out on a business opportunity. From my MSP days, I remember looking back and being surprised that a client was on the same contract that I signed them up on 10 years ago, and then realizing that it didn't really cover what it needed to cover in terms of my current service offering, protections, payment terms, and pricing.
There are unfortunately no lack of major security headlines that can provide MSPs with the opportunity to go back to their clients and explain to them that the threat landscape and your security needs have changed. Don't put off getting laggard clients up to speed and on your current agreements, especially if you've made changes that improve your protection.
MSP strategy #3) Invest in enabling self-service and automated support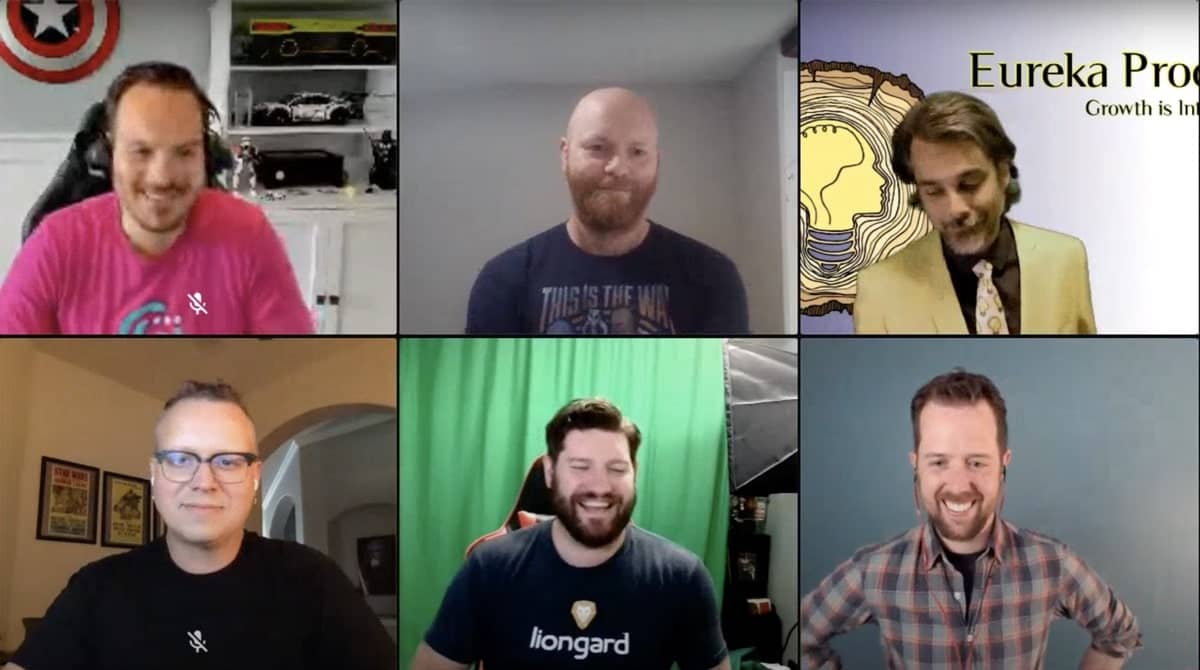 Takeaway from "Scaling Support Operations for New Normal Demands" with Michael Shelton of NinjaOne, Colin Knox of Gradient MSP, Tim Bowers of Halo Service Solutions, Allen Edwards of Eureka Process, and Scott Davis of Liongard.
The past year has obviously seen a big adjustment to IT support demands, and for our last session of the summit we wanted to bring together a panel of leaders and experts to discuss what they've seen top-performing support teams do to recalibrate their efforts and meet surges in demand.
One of the clearest trends several members of our panel identified is the accelerated adoption of automation, and in particular, the increased adoption of chat bots and other technology that can enable client/end user self-service.
"I started preaching just over a year ago — as timely as that was — finding ways to introduce concepts of self-service for your clients," Gradient MSP CEO Colin Knox explained. "As much as we want to be able to hand-hold, as much as we want to be able to converse and have direct, 1:1 interactions with our clients so that they see and experience the value in doing business with us…having a solution and having a path to a solution is more valuable and beneficial for them [than] having a great conversation with you."
But are chat bots really a technology that MSPs are applying effectively today? Colin and the other panelists all agreed that, from their perspective, the answer is definitively "yes."
"Chat bots and artificial intelligence seemed like a pipe dream for the past few years," said Eureka Process President Allen Edwards. "However, I can tell you that half our clients have this somewhere on their hit list."
"We've seen a massive uptake in chat bots," echoed Halo Service Solutions CEO Tim Bowers. "And across the PSA data we've looked at, you can see a clear correlation where those who had chat bots and properly documented knowledge bases that their end users can use didn't see as large an increase in their ticket counts."
"Chat bots and artificial intelligence seemed like a pipe dream for the past few years. However, I can tell you that half of our clients have this somewhere on their hit list."

— Allen Edwards, President of Eureka Process
Tim went on to emphasize the importance of pairing self-service with more responsive communication. "The other thing that we've seen that's been really important is…keeping the time taken to close a ticket or a service request down by really focusing on your communication with your end users. It might just be a self-service portal where they can login and view the status of a ticket rather than having to call you up to see what's happened. If you do something like embed your portal into Teams, they can easily log into that and just check the service status."
"These are the things that you can be implementing that will allow you to scale up without necessarily having to add more technicians and more resources," Colin suggested. "You look at the level of automation that you have setup in your RMM solution — the amount of automated scripts, automated remediation… the tie-ins to the PSA and automated workflows or automated responses. By leveraging the toolset and technologies and processes that you have in place [you can] let that scaling happen naturally for you."
My big takeaway: An MSP's greatest strength is their adaptability
We covered a lot of topics during NinjaOne's AdaptIT Summit, and heard from a broad range of fantastic industry experts. Stepping back, I think the biggest takeaway for me was that, because technology and client expectations are constantly evolving, we in the industry have to be open to changing the ways we do business to ensure we are delivering the best possible IT product while also ensuring we do what's best for the business. 
Catch all the great content on your own schedule by visiting https://www.ninjaone.com/adapt-it-2021/