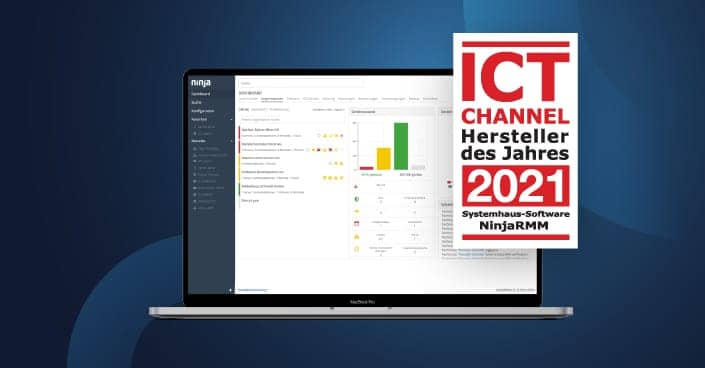 The channel has spoken! A total of 13,000 MSPs, VARs, resellers, and distributors voted in 13 vendor categories at this year's ICT Channel Awards, choosing NinjaOne (formerly NinjaRMM) as the #1 MSP software. 
"We are very proud to have achieved first place in the MSP category at the ICT Channel Awards," says André Schindler, General Manager EMEA at NinjaOne. "This award confirms the success of our efforts over the past years and provides a great foundation for NinjaOne's broader focus as a unified IT management platform. Going forward, we are expanding our vision beyond simply improving existing solutions."
Powerful and intuitive IT software for managed service providers and IT teams
NinjaRMM by NinjaOne is ranked the most user-friendly remote monitoring and management platform. With the fast, intuitive interface of RMM software for managed service providers and IT teams, our partners can find all the essential tools they need to deliver their IT services. We designed NinjaRMM to maximize technician effectiveness, minimize training needs, and support MSP growth. But we also look outside the box and now offer NinjaOne, a unified IT management platform. With our rebrand last October, we are living up to our new vision, which we have already shaped with the launch of Ninja Data Protection, Ninja Ticketing, and Ninja Documentation. In addition, we have since evolved into a platform that enables unified IT management and empowers approximately 6,000 partners to more efficiently and holistically address today's changing IT challenges. 
As a result, our remote monitoring and management platform has now been voted the #1 RMM solution on G2 for the 10th time in a row.
NinjaOne: The Unified IT Management Platform
NinjaOne simplifies IT operations, making IT teams more efficient and end-user:s more productive. To achieve this, the solution provides helpful tools for a wide variety of tasks MSPs and IT teams face every day. From endpoint management and monitoring to patch management, IT documentation, and software deployment, NinjaOne provides support and automation capabilities. In addition, our partners can manage their IT asset management, backups, service desk, and proven remote access through NinjaOne.
The all-in-one package NinjaOne
Our solution is 100 percent cloud-based and seamlessly integrated. The fast, modern, and intuitive user interface makes it easy for our partners to find their way around the system at any time. We have also deliberately made configuration, use, and administration efficient and straightforward to avoid creating pain points for our users. Our customer support consistently receives high marks and is always available to provide end customers and MSPs with advice and assistance. This has enabled us to achieve a Customer Satisfaction Score (CSAT) of 98 percent.
First time learning about NinjaOne?
NinjaOne is an all-in-one remote monitoring and management platform that combines powerful, time-saving functionality with an intuitive, easy-to-use UI that MSPs and IT pros love to use. NinjaOne increases business efficiency by combining monitoring, alerting, patching, antivirus, backup, and IT automation, all within a single pane of glass. Learn more by visiting ninjaone.com or signing up for a free trial.