Endpoint management solutions enable businesses to manage their entire IT portfolio more efficiently and effectively. Combining monitoring, management, patching, remote support, and automation functionality in a single-pane-of-glass, endpoint management solutions like NinjaOne give you full visibility and control over your IT assets. In addition, endpoint management software significantly increases IT teams' ability to remotely manage servers and end-user devices at scale without needing an on-premises network.
Patch Management
Patching is one of the most critical security tasks IT teams perform. It is also time-consuming, taking an average of 5.1 hours per endpoint per month to keep devices secure.
By automating patch scanning, approval, and reporting, Hours/ Ninja reduces the average time spent to 3.4 hours per month endpoint while simultaneously improving patch success rates.
60% of Ninja users spend less than 3 hours per endpoint on patching compared to just 23% of non-users.
Learn how Cherry Republic improved their security posture and end-user support workflow.
"Ninja keeps all our devices secure through automated patching, which is a huge time saver."

Brian Kindt, Director of IT, Cherry Republic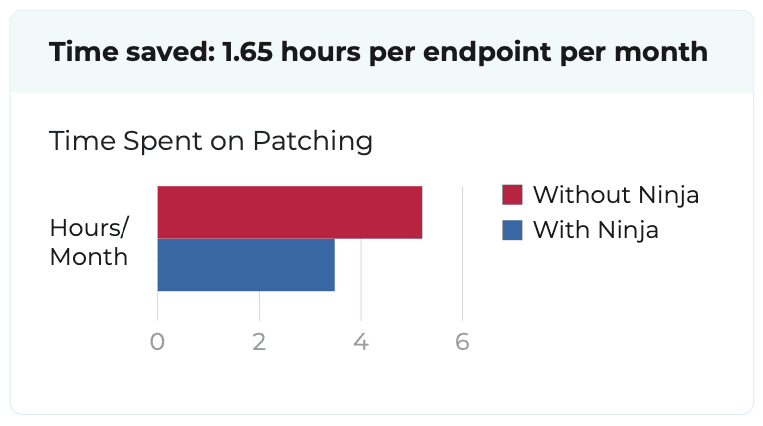 Patch Compliance
Patch compliance rate is defined as the percentage of endpoints that are fully updated against known security vulnerabilities at a given time. Ninja users average a patch compliance rate of 78% through profile standardization and patch automation.
IT teams who do not use an endpoint management solution average a 58% patch compliance rate, with over half of organizations having a compliance rate under 50%.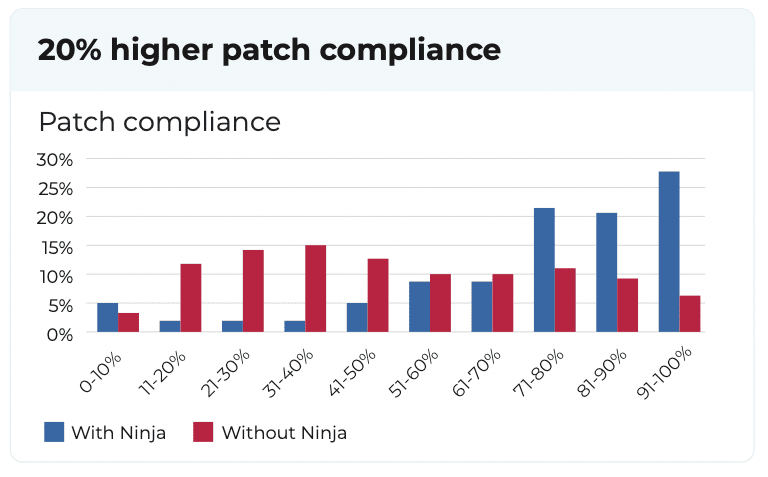 Endpoint and Server Maintenance
On-going endpoint and server maintenance are critical to keeping your business infrastructure up and running. Ninja gives you the ability to both proactively identify issues before they become problems and get alerted when something goes wrong, helping you more efficiently prioritize maintenance resources. In addition, remote management tools make technicians more efficient at addressing issues for a distributed workforce.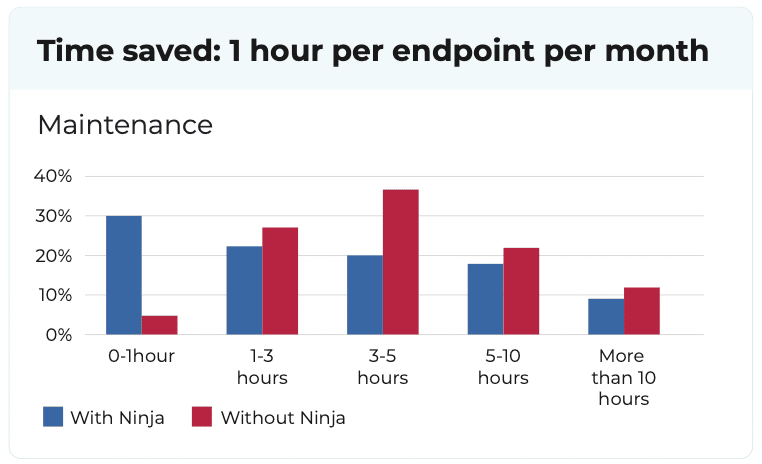 New Device Onboarding
Setting up a new device or reconfiguring an existing device for a new employee is a critical IT process that often serves to set the tone of the relationship between end-users and IT. For example, on average, IT staff take 4.2 hours to set up a new device. By leveraging policy profiles in Ninja, IT teams can automate software deployment and device configuration, saving 2.1 hours per device on average while balancing standardized and role-based personalization for new device configurations.
80% of Ninja users spend less than three hours on new device onboarding compared to just 40% for non-Ninja IT teams.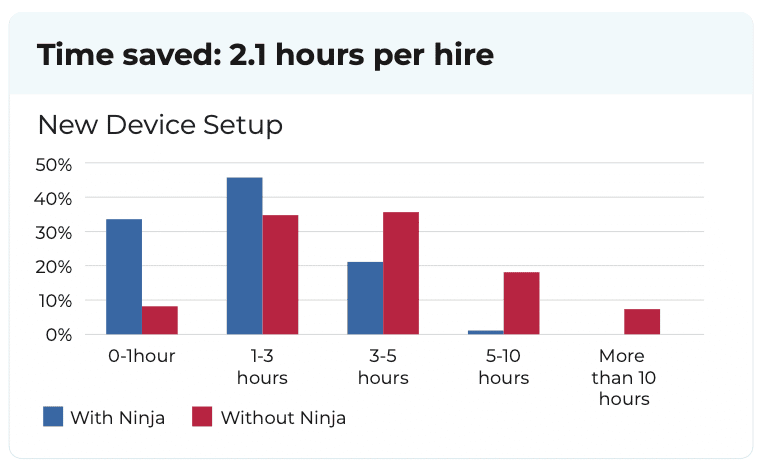 Software Deployment
Software deployment isn't an everyday task but is often one of the highest ticket volume activities that come into an IT helpdesk. Whether it's ad-hoc application deployments or enterprise-wide rollouts, Ninja enables users to automatically push out applications to users without the need for a company network or VPN connection.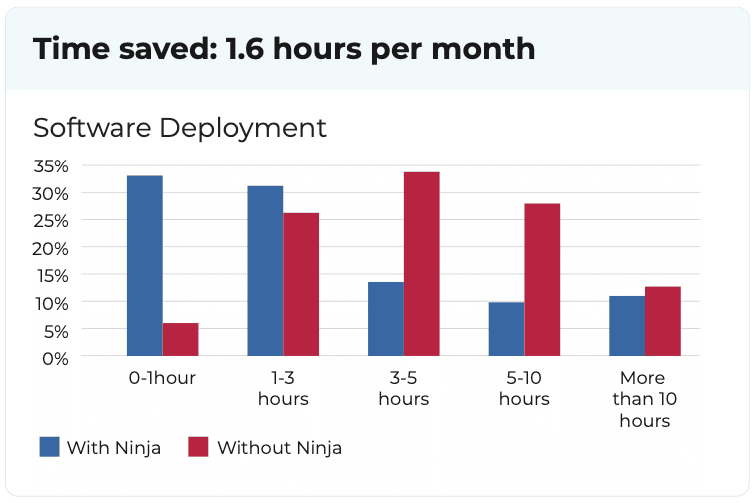 IT Reporting
Reporting on the activities and accomplishments of an IT team is a critical and time-consuming task all IT teams need to complete. Reports are critical for auditing tasks, financial reporting and budgeting, and security and compliance activities. With most of the data you need for reporting already in Ninja, most of the reports you need can be created at the click of a button, reducing the average time spent on reporting per month from 4.7 hours without Ninja to 2.3 hours with Ninja.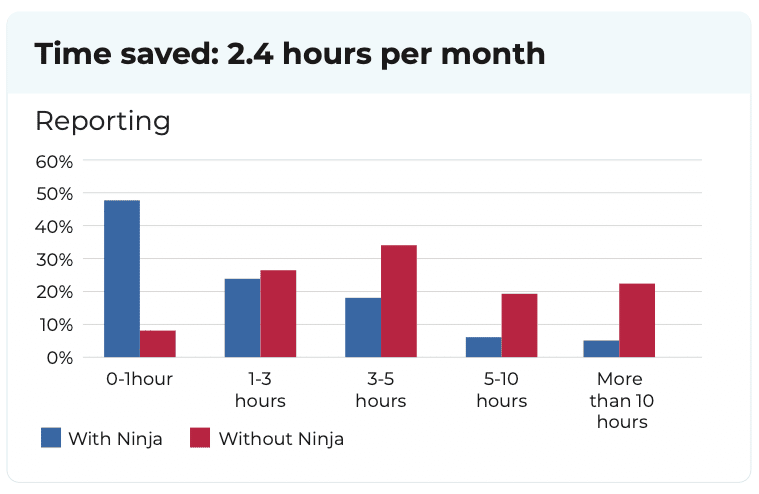 An example
[table id=2 /]
The Unified IT Management Platform
NinjaOne simplifies IT operations, enabling overburdened IT teams to efficiently manage their entire IT portfolio and support end-users from anywhere. Endpoint Management provides the core device monitoring and management capabilities of the Ninja platform, giving you full visibility and control over managed IT assets. By combining endpoint management with data protection, service desk, documentation, and more, NinjaOne provides your IT team a single source of truth.
Learn more about the Top 5 Endpoint Management Trends for IT.