From navigating the latest big announcements from Microsoft to finding ways to attract top technicians and avoid "the great resignation," find out what topics and tips MSPs gravitated toward most.

We launched our MSP Live Chats series in March 2020 in response to the initial phase of the COVID-19 pandemic. What started as a makeshift way for our MSP partners to get together and share their challenges and experiences has grown into a central focus of our community efforts. 35 sessions in, nearly 3,000 MSPs have joined us and our growing community of channel experts to have open, practical, and down-to-earth discussions on topics ranging from strategic growth planning and competitive hiring to DIY marketing, nailing MSP pricing, and everything in between. 
With 2021 coming to a close, we wanted to look back and share takeaways and resources from this year's most popular Live Chats. Re-watching these, we're blown away by how much engagement and thoughtful discussion our audience brings to every chat. It makes us extremely grateful to have the smart and generous partners we have, and it makes us incredibly fired up to take the Live Chats series in exciting new directions in 2022.
But for now, let's revisit the top five most-attended MSP Live Chats of 2021, and share some of the key takeaways and resources that made them so popular.
Big changes from Microsoft are always major discussion topics for the channel, and it's no surprise that our chat dedicated to breaking down the latest talk of price hikes and new licensing options drew our biggest virtual crowd of the year.  
Our audience was also treated to a behind-the-scenes look at CIPP, the CyberDrain Improved Partner Portal, an open-source solution created by Kelvin Tegelaar to enable MSPs to more efficiently manage M365
In 2022, we'll continue to partner with Kelvin and sponsor his CIPP initiative as it's our mission to support builders everywhere. 
In case you missed it, view the full recording below:
2021 was another year filled with nightmare ransomware attacks on businesses large and small. This MSP Live Chat on ransomware response planning brought experts together from ID Cyber Solutions, TrustedSec, and m3 Networks for a deep dive into why MSPs must focus on response communication and recovery preparation for ransomware, not just prevention. 
The chat resources document offered attendees a wealth of actionable resources to take back to their MSP, including a free incident response template from Mark Lamb at m3 Networks and a breakdown of 13 ways MSPs can prepare for the inevitable today. 
In case you missed it, view the full recording below:
One of the most desired topics from our audience has always been MSP marketing and how to create a constant lead flow for an IT business. This request has always come with the caveat that these marketing efforts must be low cost, easy to implement, and high impact in nature. 
This MSP Live Chat brought three channel marketing experts to the table to share the tools and processes they use to crank out excellent marketing content and collateral on a regular basis. 
The chat covered the base-level marketing pillars one must have in place before blasting out content — like a hi-res logo and consistent branding elements, including a color palette and typography. Kevin Clue, co-founder at MSP Growth Hacks, even outlined his 2-hour-per-week schedule on how to start building an MSP marketing funnel.
See the flow of Kevin's DIY marketing challenge flow below: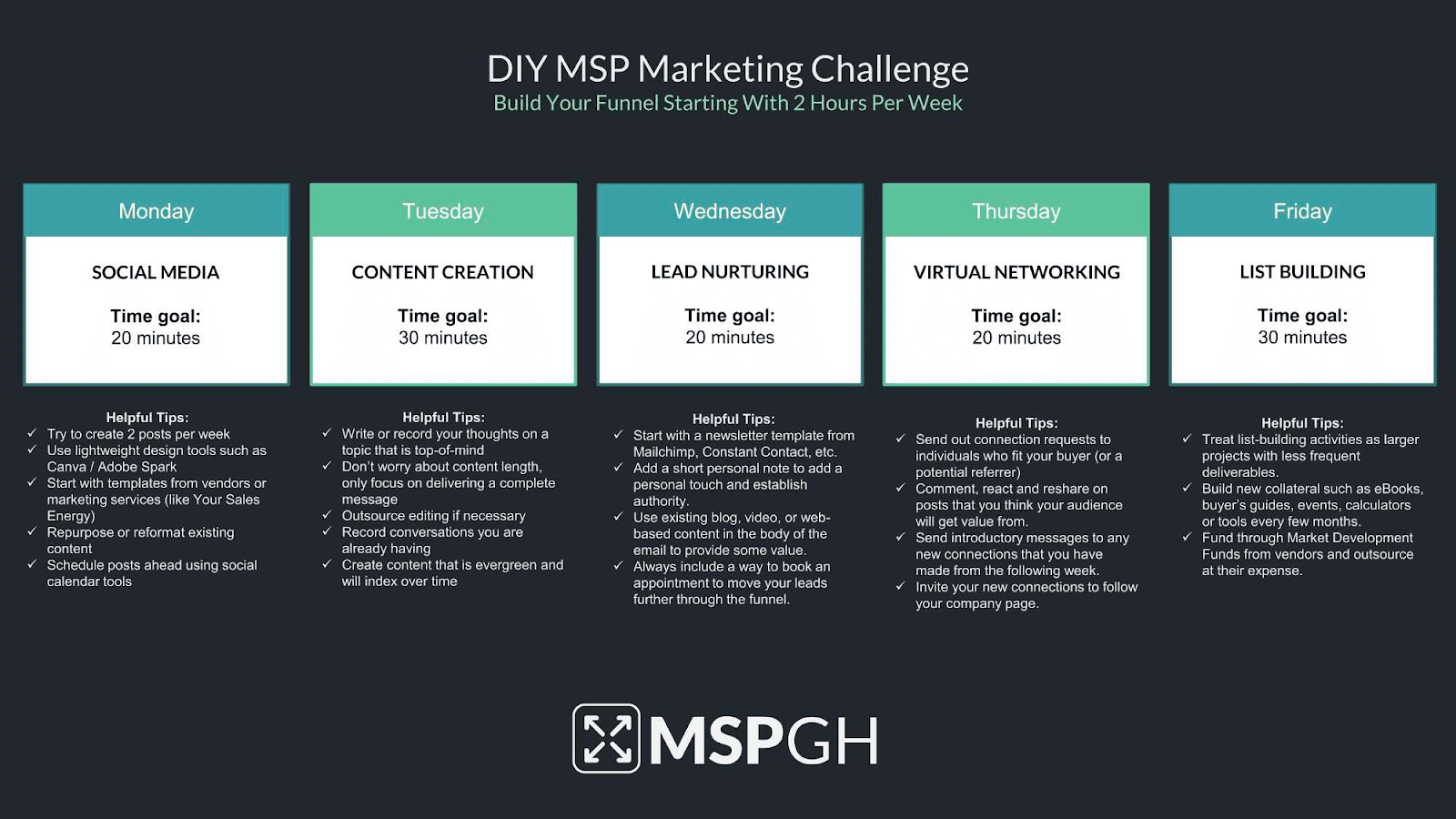 In case you missed it, view the full recording below:
In 2021, stories of labor and supply shortages have been top news in the media, and no industry is safe from the challenges that a tight labor market presents. 
This takeaway-packed discussion with channel recruiting and hiring experts John Davenjay CEO of Bowman Willams and Mark Elliott CRO at The 20 covered conventional and some more unconventional tactics on how to expand your tech talent search and win the war for top talent. 
Even in average economic times, hiring for technical roles is competitive. In today's candidate-driven market flanked by labor shortages and the changes of remote work — hiring has become an extreme challenge while simultaneously being a top need for any growth-focused MSP. 
This is certainly a challenge that will carryover into 2022, view the full recording below:
For the past 4-5 years, every "MSP trends/biggest opportunities" post has said that cybersecurity should be your big focus as a provider. Many providers will hop in without developing a formalized cybersecurity selling and messaging process. 
As a result, selling cybersecurity might end up looking like this to an end-user: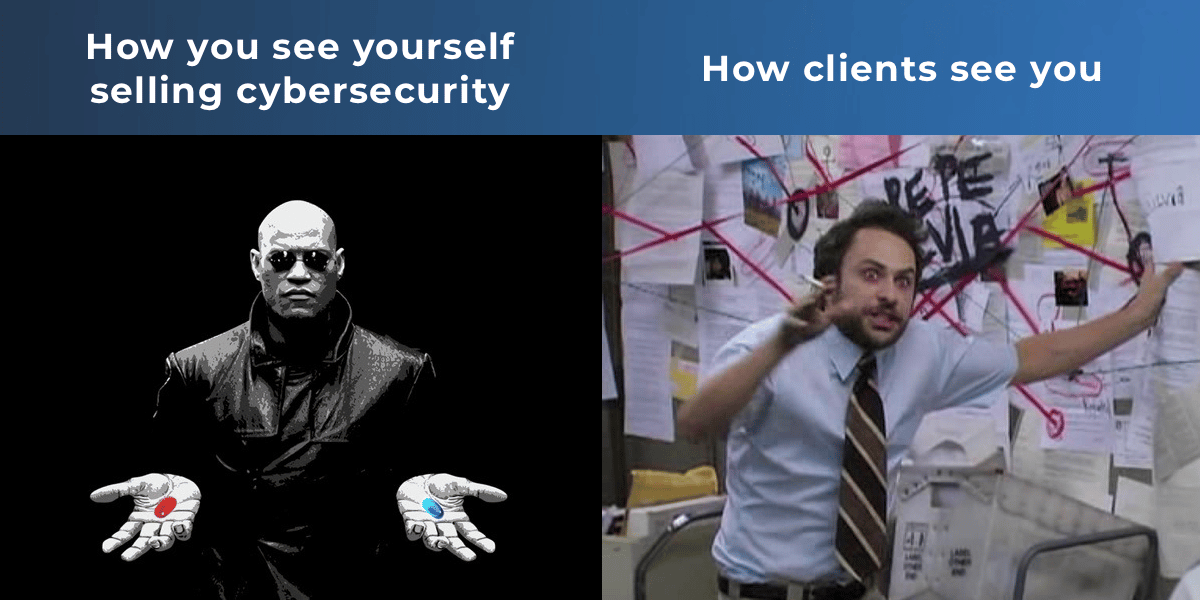 It's not uncommon for powerful leaders to use fear as a way to inspire action and make their followers obey. On the topic of cybersecurity, fear is certainly a source of motivation for a business to act. Still, it can also be counterproductive as fear can spark paralysis. For example, ransomware, log4j, and other cyber threats are certainly terrifying to the average small business. 
For this one, we teamed up with experts from Blackpoint Cyber and Karl Bickmore, CEO of Snap Tech IT, to talk all about cybersecurity sales messaging and methods to sell cyber without scaring the client into submission. 
In case you missed it, view the full recording below:
Looking Ahead
In 2021, thanks to your continued support, NinjaOne's MSP Live Chat program has grown into a full-scale community with a slack chat and a wealth of resources for MSPs on a variety of topics with countless actionable tips.
As we look towards 2022, we hope to see this program continue to grow with new guests joining the screen and topics to cover based on what we learned from your feedback in 2020 and 2021.
Next Steps
Building an efficient and effective IT team requires a centralized solution that acts as your core service deliver tool. NinjaOne enables IT teams to monitor, manage, secure, and support all their devices, wherever they are, without the need for complex on-premises infrastructure.
Learn more about Ninja Endpoint Management, check out a live tour, or start your free trial of the NinjaOne platform.
https://www.ninjaone.com/wp-content/uploads/2022/12/ninjaone-logo.svg
0
0
Team Ninja
https://www.ninjaone.com/wp-content/uploads/2022/12/ninjaone-logo.svg
Team Ninja
2023-03-21 10:25:06
The 5 Most Popular MSP Live Chats of 2021