When we started NinjaOne in 2013 we set out to do things differently. We believed nearly everything about RMM software — from the way it was built to the way it looked to the way it was sold — could and should be improved.
That meant developing a platform that wasn't just powerful, but also easy to use. One that didn't require days and weeks of training. That didn't force MSPs to have an additional employee on payroll entirely dedicated to managing it. To us, that just didn't make good business sense, and it ran counter to the purpose of a RMM tool in the first place — to simplify a MSP's workday, not over-complicate it.
The changes we knew we wanted to make in the RMM space weren't just confined to building a better product, though. We also knew we had a chance to break from the pack by selling NinjaOne the way we prefer to be sold to, and by providing the type of support and overall customer experience we prefer to receive.
With that in mind, we decided from the earliest days of the company that there are three things we would not accept as the status quo.
3 Things You Won't See from NinjaOne
1) No forced commitments
While we do offer some customers the chance to opt into contracts in exchange for discounted rates, the majority of our customers are month-to-month. Providing that no-commitment option is important to us. For one thing, we always want customers to have the flexibility they need to do what's right for their business. In addition, no commitments keeps us accountable for meeting customer expectations, delivering value, and continuously earning their business. As it should be. After all, the most successful relationships are built from ongoing mutual buy-in and respect.
2) No hidden fees
Evaluating and buying new software can be time-consuming. The last thing you need is to make it all the way through that process only to get blindsided with surprise training and implementation fees at the end. That doesn't happen with NinjaOne. Because implementation is so easy and intuitive, we don't need to charge for it. Support, meanwhile, is completely free and unlimited (it's also rated the highest of any RMM). We've invested heavily in these areas, not just because it gives us a competitive advantage (which it does), but because we believe it's the right way to do business.
3) No tolerance for misleading or high-pressure sales tactics
My background is in engineering. I know what it's like to be a technical person hounded by salespeople, and I'm against overly aggressive sales tactics with every fiber of my being. In my core, I believe that our primary job is to make a great product and deliver great service. As a customer, you buy when you're ready, and if we do our job, we'll keep you for a long time.
That said, we're definitely not infallible. NinjaOne is a rapidly growing company. Our sales team is adding headcount and doing thousands and thousands of demos a year. There have been instances where folks may have pushed too hard. When I become aware of these instances I get personally involved with sales leadership to work on how we're training and incentivizing people. I hate hearing that we're falling short in an area, but if it's happening I always want to know so we can fix it.
To that end, if you ever have a negative experience I hope you'll reach out to me directly at .
We don't pretend to be perfect. There are going to be mistakes. The only way we can learn from those mistakes and improve is if we're made aware of them. So I highly encourage and appreciate anyone reaching out.
Staying True to Who We Are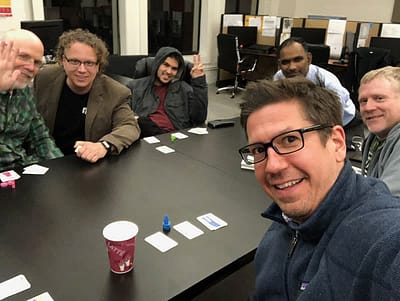 From the early NinjaOne days
From a mergers and acquisition perspective, the RMM marketplace has changed considerably since our launch six years ago. And yet many of the frustrating customer-facing aspects of it have remained the same.
At NinjaOne, we've had the opportunity to stay masters of our own destiny by choosing a path of mindful, controlled growth. That's allowed us to keep our loyalty squarely with our customers, and our top priority squarely on providing them with the best platform and experience possible.
That approach has paid off. In a few short years we've elbowed our way into an extremely competitive space and have grown into an emerging market leader. We're quickly closing in on 3,000 partners worldwide who are using NinjaOne to make their jobs easier, less stressful, and more profitable.
It's been extremely rewarding to see that growth, and even more so because we've been able to accomplish it without compromising who we are or the quality of the experience we're providing our customers.
But as we grow, we want to make sure we're sticking to the guiding principles that got us here. And that doesn't just happen on its own. It takes being vigilant, and not just being open to feedback, but actively seeking it out.
I hope that everyone loves their NinjaOne experience. But if, for any reason, you don't, I hope you'll reach out and let me know by shooting me a note at
Thanks in advance for your feedback!
Next Steps
Building an efficient and effective IT team requires a centralized solution that acts as your core service deliver tool. NinjaOne enables IT teams to monitor, manage, secure, and support all their devices, wherever they are, without the need for complex on-premises infrastructure.
Learn more about Ninja Endpoint Management, check out a live tour, or start your free trial of the NinjaOne platform.
https://www.ninjaone.com/wp-content/uploads/2022/12/ninjaone-logo.svg
0
0
Sal Sferlazza
https://www.ninjaone.com/wp-content/uploads/2022/12/ninjaone-logo.svg
Sal Sferlazza
2023-03-08 20:23:43
The NinjaOne Difference: Our Take on Sales Tactics