Looking to improve response rates for your MSP sales outreach? Find out what the numbers say about the best times to reach out and how many sales touches to plan for.
Saying it's been a weird year is obviously an understatement. Whether you've experienced boom or bust times, both, or something in between, the one thing that's undeniable is that things have been different. And that's meant MSPs everywhere have had to adjust their approaches to lead generation and sales.
Previously on the blog, we covered 19 lead generation ideas that don't require in-person activities or events. Ultimately, however, generating leads won't get you anywhere if you can't find an effective way to get those leads to take a next step.
It's important to note that next step may not always be hop on the phone and schedule an assessment. Some prospects will need warming up before you ask them to marry you on the first date. For others, the timing simply won't be quite right. In either case, reaching out one time with a strong ask then giving up and going dark certainly isn't the way to go.
What is lead nurturing and what are sales cadences?
Connecting with potential clients right now is similar to asking that "special someone" to the dance (Remember that? Cringe.) — but with a far more professional and completely digital approach. It all comes down to understanding the person you want to connect with and making the right move at the right time.
That's where proper lead nurturing comes into play. It's the process of nurturing a relationship with a potential client with the goal of setting a meeting and, eventually, closing the sale. The outreach actions you take to advance that agenda are called sales touches (think phone calls, emails, social media outreach), and together, an organized series of sales touches is called a sales cadence.
When it comes to mastering lead nurturing it's important to remember that there are practically an infinite number of things that keep leads from becoming customers right away — fear of the unknown, existing contracts, loyalties, lack of information, etc. You obviously can't control all of that. The best thing you can do is construct a measurable, repeatable sales cadence that plays on their curiosity and gives them everything they need to take the next step — when they're ready.
Here's how to get in front of prospects on a consistent, professional, and approachable basis that tells them that, whenever they're ready, you're the best MSP for the job.
How often should you be contacting sales leads?
Good sales leads are precious. You obviously don't want to burn through them, but sitting on them and not making any outreach isn't going to do you any good, either. Striking a good balance between being active and being annoying can be tricky (you get sales calls and emails — you know how they can make you feel). How much is too much?
The answer, of course, is it depends. One major factor is how the prospect became a lead in the first place.
According to research from InsideSales, it takes on average about 8 – 10 reaches to get into contact with a cold prospect. However, how you go about these reaches depends on whether the prospect is an inbound or outbound lead.
Inbound leads are those that have interacted with your brand already. That interaction could be downloading an ebook, subscribing to your email newsletter, attending a virtual event, or filling out a contact form on your website. They're already at least vaguely familiar with you (your name might  ring a bell), even if they aren't completely aware of your offerings.
Outbound leads, on the other hand, are prospects that haven't had any of those interactions. They may be from a list you purchased or an attendee roll at a recent digital conference. These leads are almost always cold.
While these types of leads are starting from different points and do need to be treated slightly differently throughout the nurturing process, both have something in common: The chance of making contact with them increases from under 10% with one contact method to over 25% if you use three different contact methods.
What do we mean by contact methods?
We just mean any channel you use to communicate with a lead. To keep things simple, let's focus on the top three remote contact methods:
Phone calls (plus voicemails)
Email
Social media outreach (ex: LinkedIn InMails)
Use just one of these channels and your odds of actually connecting are slim. Use all three and those odds more than double (a shift from a 10% to a 25% success rate obviously still isn't a home run, but sales is a numbers game, and any significant increase like that absolutely matters!).
How you coordinate that multi-channel outreach is important. Again, it's all about developing the right cadence hat puts you in front of sales leads regularly without overwhelming them.
According to InsideSales, an optimal cadence for inbound leads:
Starts with a phone call that's made a quickly as possible after the lead makes initial contact (downloads an eBook, fills out a form, etc.). In fact, the likelihood of contacting the lead drops 10x after first 5 minutes, so developing automation around lead response is critical. If you don't have a CRM, you may want to consider looking into CRM options geared toward SMBs and MSPs.
Includes leaving voicemails — over 66% of business professionals are likely to respond to voicemails!
Includes about 10 touches over 10 days, as shown by the graph below:

PC = phone call +

VM = voicemail

(3)

EM = email (3)

   

SM = social media (3)

Total touches = 9
Source: The Definitive Guide to Sales Cadence from InsideSales.com
Outbound leads work just a bit differently. An optimal cadence in that case:
Starts with an email or social media outreach.
Is slightly less aggressive with ~8 touches over the course of ~12 days.
Example:

PC = phone call +

VM = voicemail

(4)

EM = email (3)

   

SM = social media (2)

Total touches = 9
Source: The Definitive Guide to Sales Cadence from InsideSales.com
Will you be annoying potential clients?
Unless you've been trained as a salesperson, it can feel awkward and embarrassing to reach out to people who are basically strangers and eventually ask them to part ways with their money.
That can especially be the case when reaching out to cold, outbound leads. Many MSPs and clients only know the outreach they've been subjected to — and a lot of it is annoying.
The secret is to not do what's been done to you. Being "salesy" isn't a requirement. Just be yourself. Be human, and treat the person on the other end as a human, too.
As long as you have something of value to say that's worth reaching out about, prospects shouldn't get upset at you.
Our best advice here? Do try to go the extra mile to have something interesting and valuable to say, but at the same time, don't overthink it!
So, what do you say?
For starters, the most important thing to keep in mind is your goal isn't to sell a lead in one go. That's probably never going to happen. Instead, your first goal when reaching out is to make sure you're reaching out to the right person — the actual decision maker or the gatekeeper who can put you in front of them.
You should also keep in mind that you're not in business to service everybody. The goal of having an initial conversation isn't just for the prospect to get a feel for you, it's for you to determine whether the prospect is a good fit for you, too.
Thinking of things that way can help take some of the pressure off and shift the otherwise uncomfortable power dynamic. You're pursuing whether a partnership makes sense, not trying to hock shower curtain rings.
To break the ice, try focusing on one particular problem you've solved for other clients that you have reason to believe the prospect may be struggling with, too. When possible, make it a pain point the decision maker or gatekeeper is likely personally experiencing.
Then shut up, listen, and respond to what they get the most animated talking about.
Ask how ____ is currently being handled, and use the question as an opportunity to dig up more info about the prospect's current setup. Are they experiencing any trouble accessing files and resources remotely? How many users do they have in total and currently in the office? Walk them toward understanding that you have expertise helping organizations like theirs in situations like theirs. You don't need to get into the weeds, you just need to convey enough potential value to justify a next call. In short, keep it short.
Whether you can accomplish all this in one phone call or over the course of multiple touches will depend on each prospect, so you should be prepared for both possibilities.
When is the best time to reach out?
With all that context laid out, let's get into some actionable data.
Email: According to InsideSales, emails sent between 6 and 7am and around 8pm tend to have the best engagement. And believe it or not, emails sent on the weekend are opened over 7% more often and replied to more often, as well.
Phone calls: The ideal time to make calls is from 4 to 6 pm followed by 8 to 9 am on Wednesdays and Thursdays. Calling at these "off" hours will help you to avoid "gatekeepers" such as secretaries, who usually work 9 – 5. If you can get around them, you have a better chance of getting in contact with the decision-makers who are more likely to be at work for longer hours.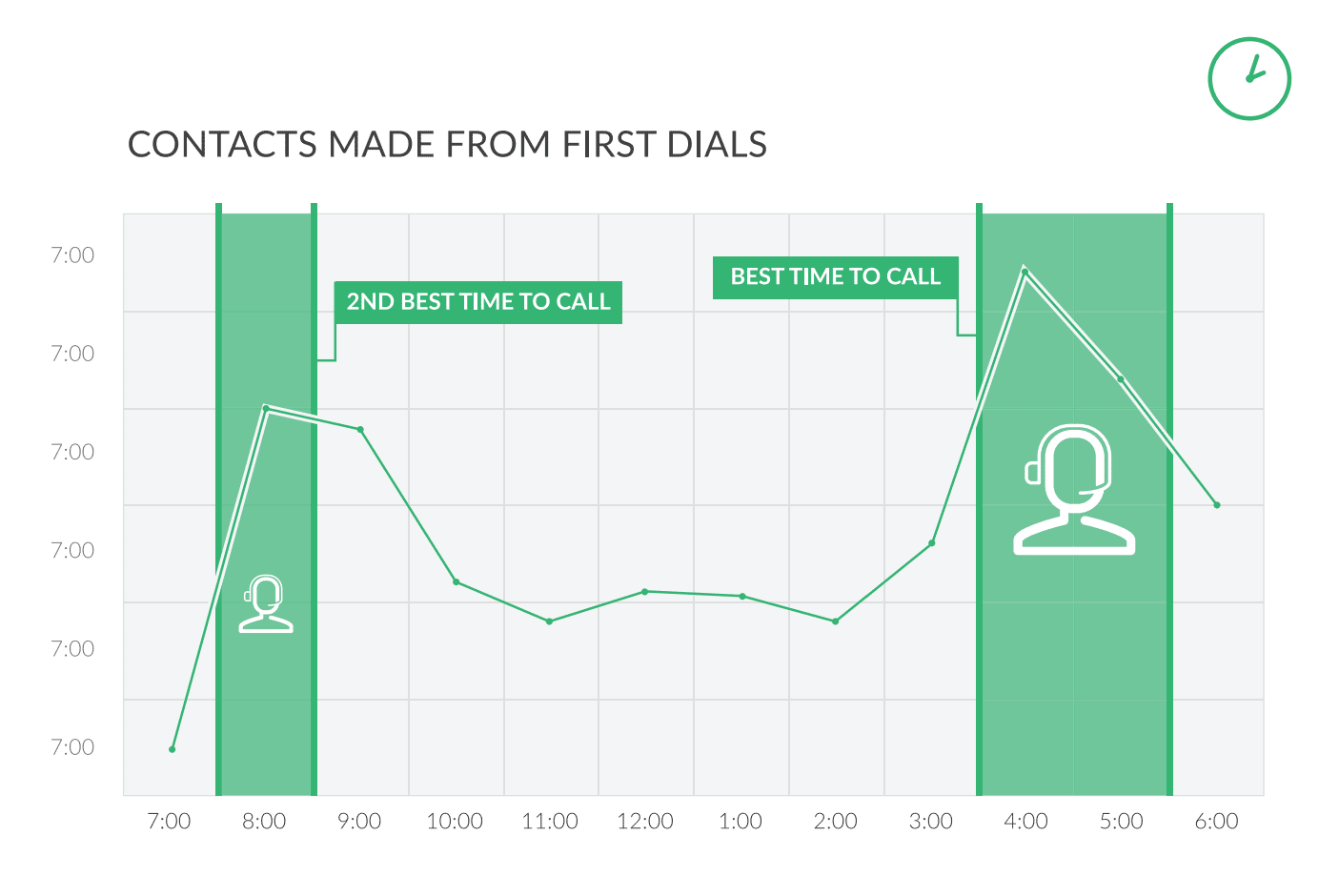 Source: The Definitive Guide to Sales Cadence from InsideSales.com
What does a good email look like?
A good email gets to the point, includes a clear call-to-action the recipient can take (such as respond or set up a call), and is customized for the specific reader.
Email offers a great opportunity to connect on a human level and avoid "salesy" habits and phrases. Ask yourself "Would I send this to a coworker?" And, better yet, ask yourself, "If I opened this, would I read or respond to it?"
The body of your email itself should be less than 300 words. As for subject lines, research indicates these should be short (usually less than 65 words), written like a sentence, and pique curiosity by asking a question or addressing a pain point you know the recipient has.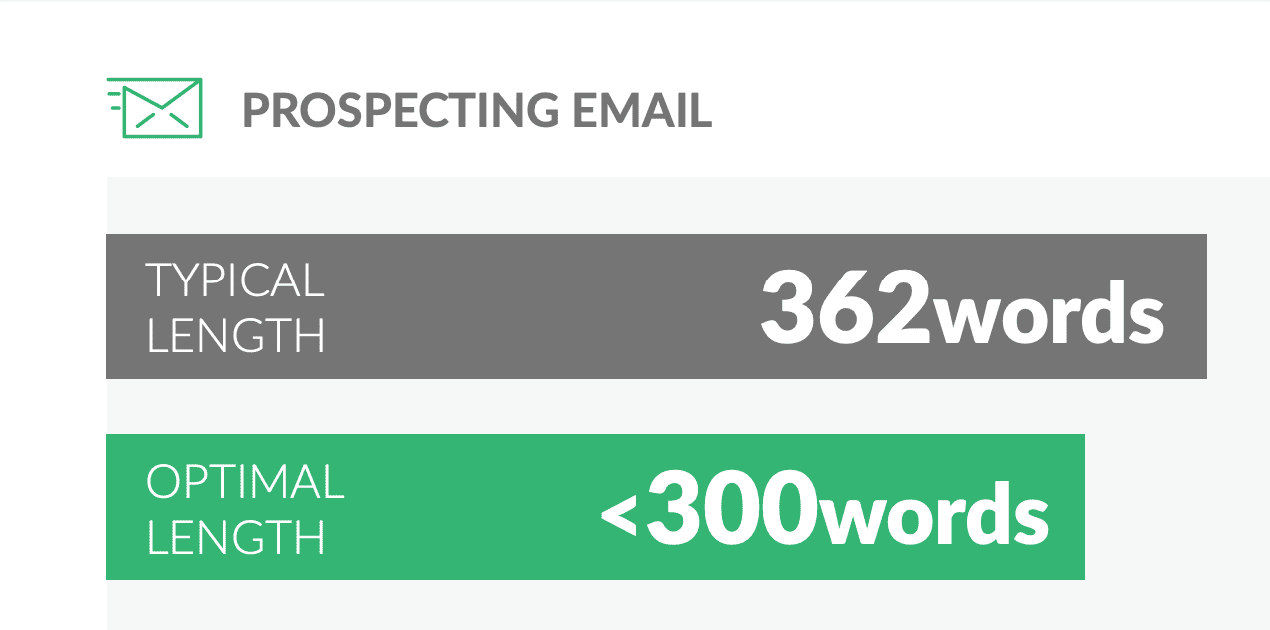 Source: The Definitive Guide to Sales Cadence from InsideSales.com
What should you do at the end of a sales cadence?
After you've completed one cycle of outreach with a particular lead and they haven't become a customer (which is okay!), it's important to give them some time to process the resources you've provided.
Now is a good time to ease back into a slower drip by encouraging the prospect to subscribe to your weekly or monthly newsletters or other longer-term nurturing material. These are the resources that will keep your business top of mind until the next time the lead is looking to upgrade their MSP. If communication drops off with the lead but you still feel there's an opportunity there, you can restart the cycle — just remember to update your messaging so it's not an exact copy from the last cadence.
Get even more tips on lead nurturing and how to convert sales leads
We also recently covered this topic during one of our MSP Live Chats. You can watch the recording below to hear insights from NinjaOne Channel Chief Advisor Tom Watson and MSP Growth Hacks co-founder Kevin Clune, along with several attendees:
See what topic we're covering during our next MSP Live Chat and save your spot here.