From remote desktop to endpoint security, what solutions are IT professionals relying on most to power their businesses and keep their team efficient and ahead?
To find out, we pulled ratings from G2 and Capterra for 90+ products across 9 different software categories. The result is this guide full of comparison charts, highlighting how individual products stack up against one another in terms of overall satisfaction, usability, and quality of support. The hope is these charts provide systems administrators with a helpful starting point for researching their many (and growing) options, so sysadmins can get the best sysadmin tools.
Short on time? Download a PDF version of the guide to read later.
Get a PDF version of the complete guide by clicking here or on the image below. And for IT Directors, we have a separate PDF with some bonus tips for pre-procurement you can download here!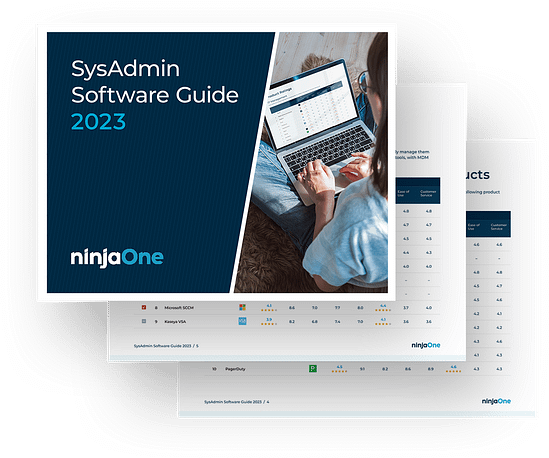 What the guide covers
Product ratings:
Product Ratings
Before we dive in, a few quick notes re: our methodology and the purpose of this guide.
Sources: The following ratings were collected from third-party review sites G2 and Capterra in March 2023.

 

What "--" indicates: The particular data point was either unavailable at the time of our collection, or the product did not meet our cutoff of having five or more reviews.
These lists are obviously not comprehensive: The IT software market contains many tools not seen here. Creating a truly exhaustive list is an undertaking left to more adventurous souls. We have simply done our best include the major players in each category that are geared specifically toward IT professionals, and that have a minimum of review data available. (at least five reviews)
How to best use this guide: This guide is not meant to be the final word on the value of these solutions. Many factors go into choosing the right software. User ratings are just one. Therefore, this guide primarily serves as a jumping-off point for additional research.
G2's TOP 10 OVERALL IT MANAGEMENT PRODUCTS
IT management has a number of functionalities under its umbrella, many of which we'll be breaking down in full detail in the following product ratings. But in the table below, you'll find G2's Top 20 Best IT Management Products for 2023.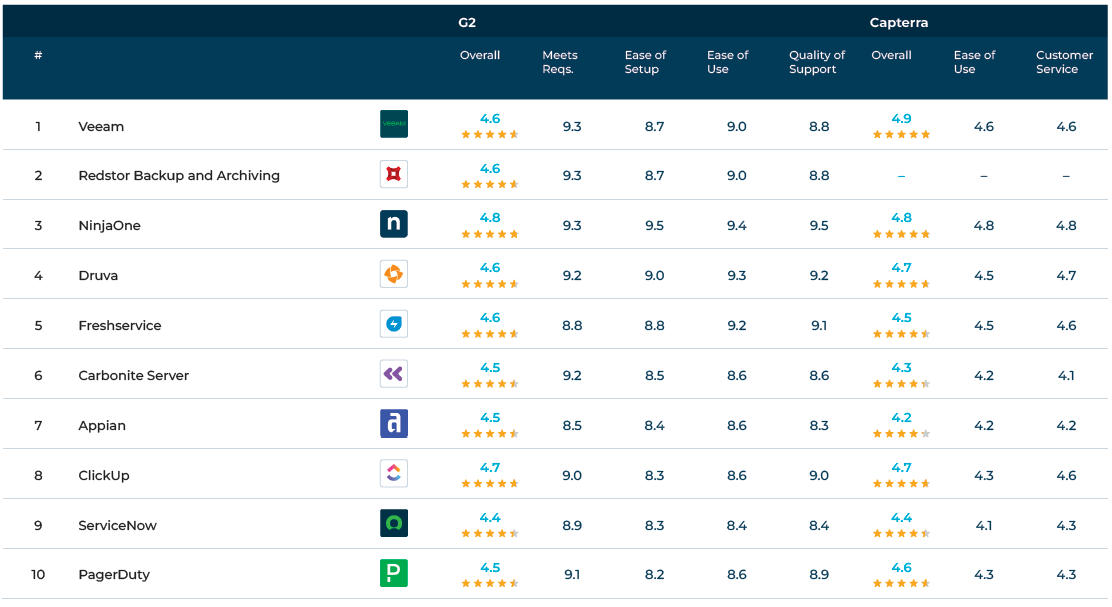 ENDPOINT MONITORING & MANAGEMENT
Comparisons & Ratings
With many admins now responsible for managing an increasingly complex variety of systems and devices, the ability to centrally manage them all has become a core requirement for modern IT administration. The following are the highest-ranked endpoint management tools, with MDM solutions and tools designed specifically for Apple devices ranked in their own subgroups.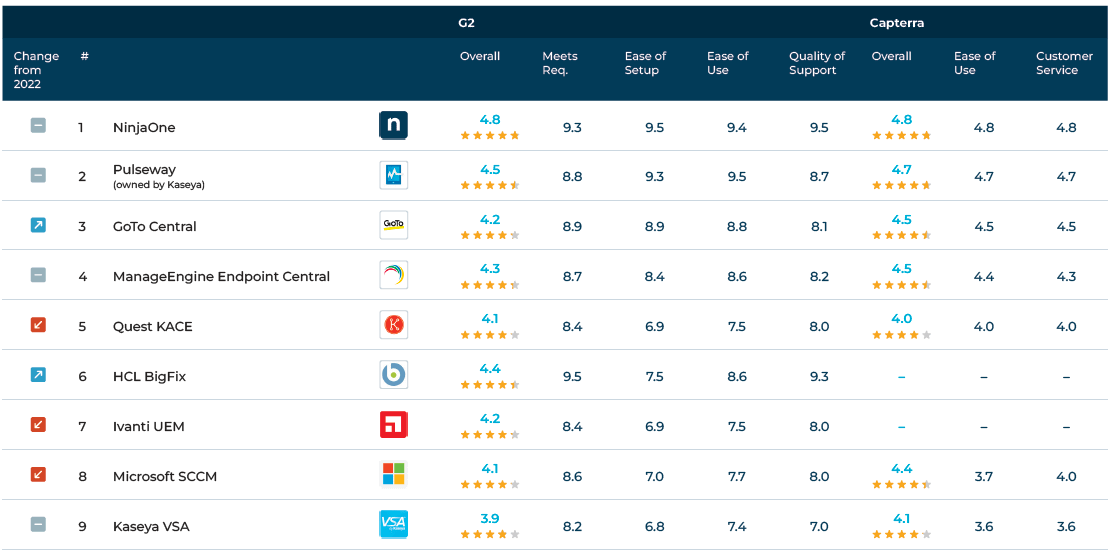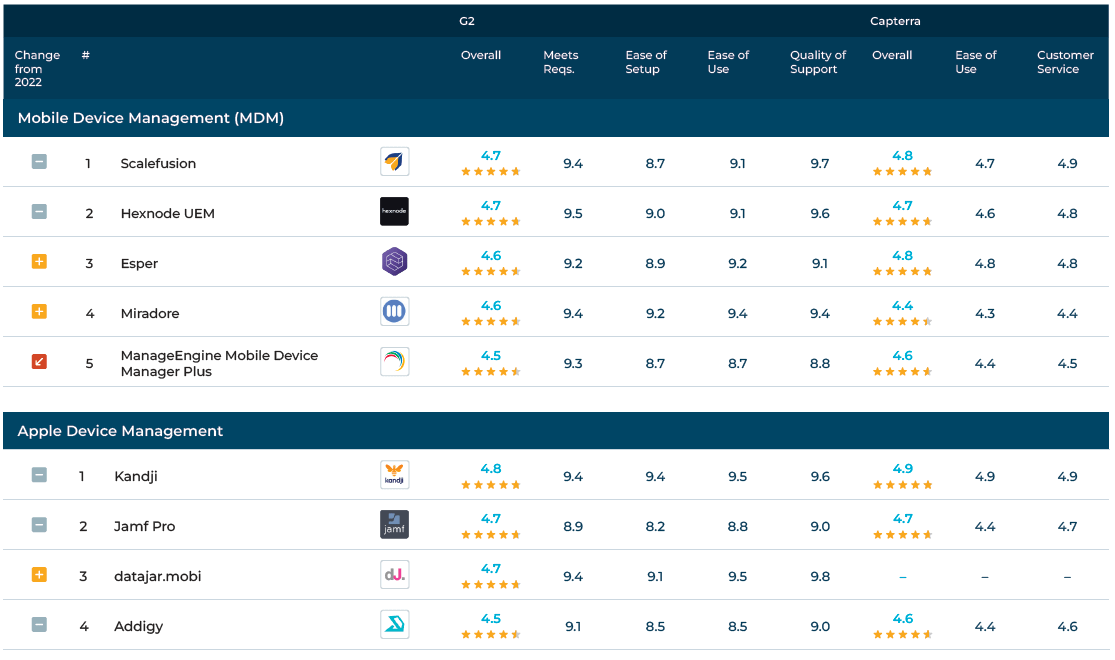 SOFTWARE AND PATCH MANAGEMENT
Comparisons & Ratings
Keeping operating systems and 3rd-party applications patched and protected against the latest vulnerabilities is a critical but time-consuming responsibility. These solutions automate the process, and can help admins deploy and uninstall applications, as well.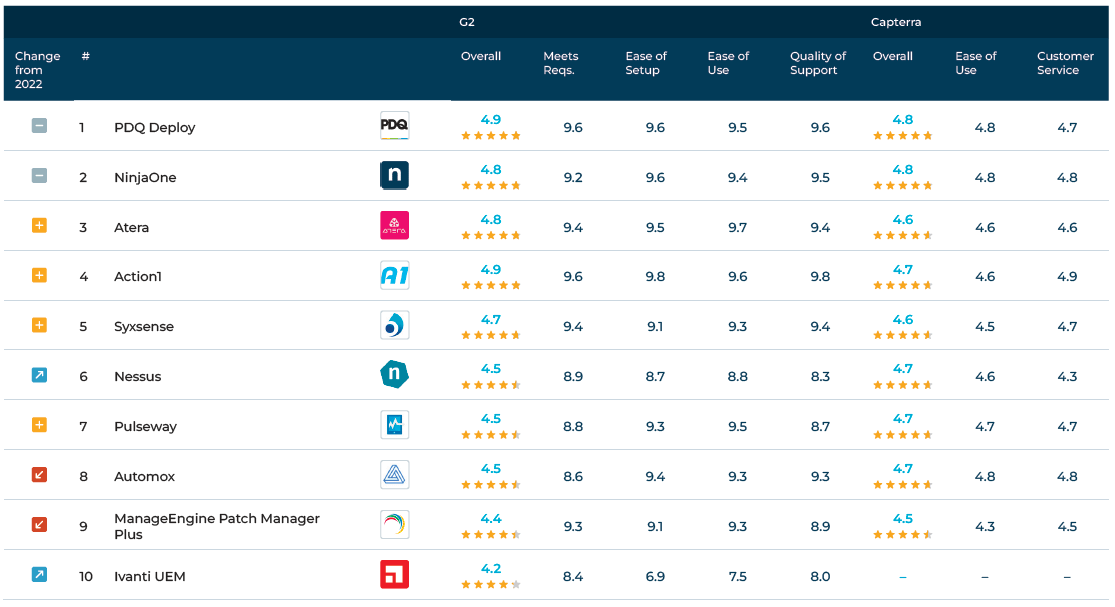 You can't secure or manage what you can't see. That's why it's important for admins to leverage software that can discover, track, and provide real-time insights on all their IT assets.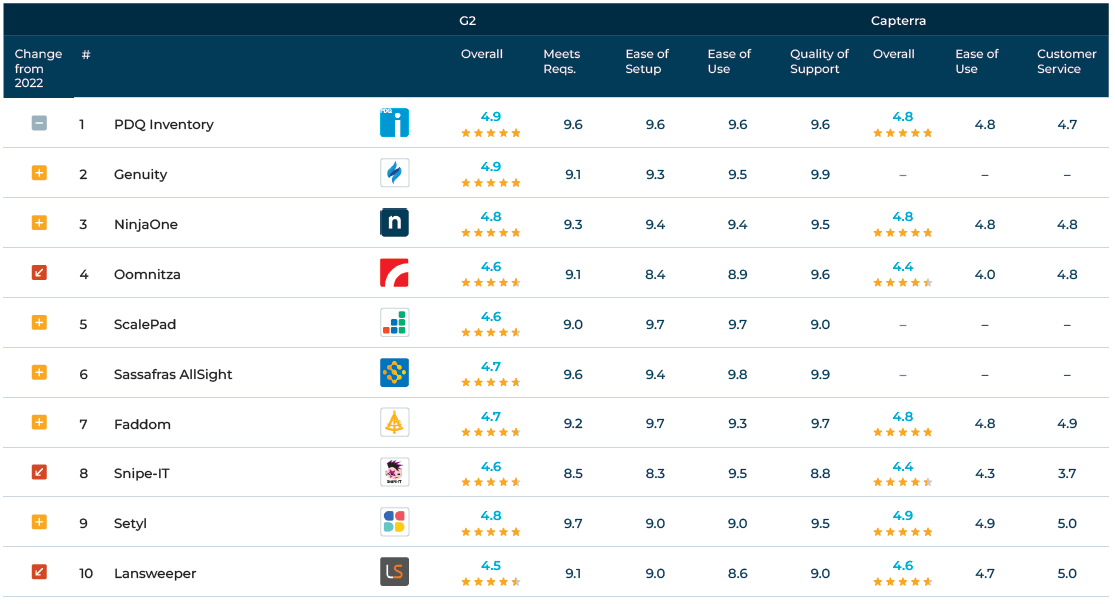 The right service desk software can save IT technicians time and result in improved end-user experiences.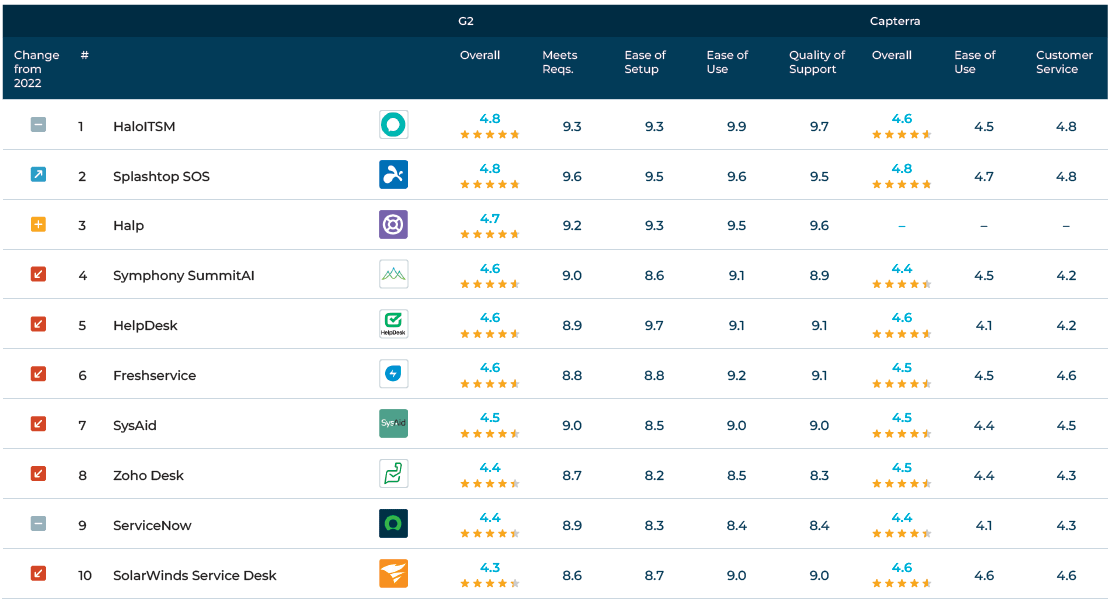 Remote desktop solutions play a critical role in modern IT management, offering admins the ability to gain quick and reliable remote access to machines for hands-on troubleshooting and more.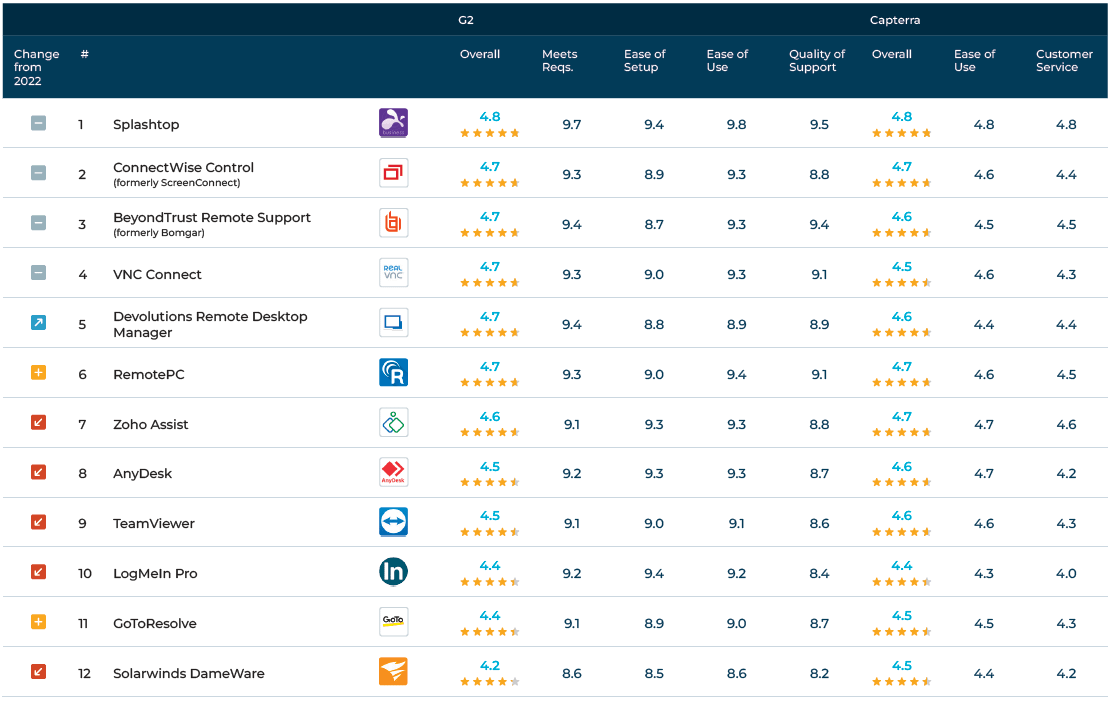 Good documentation is the key to better, faster, and scalable support. The following solutions aim to give admins the information they need, exactly where and when they need it.

Properly managing backup solutions has become another core IT priority, especially with the rise of ransomware and other destructive online threats. The following list focuses on cloud-based backup solutions, with a subsection for M365 backup tools.
The following solutions provide additional visibility and management over SNMP devices (routers, switches, firewalls, printers, IoT devices, etc.) and more.
The endpoint security landscape is crowded and constantly in flux. To keep things simple, we've narrowed this list to endpoint protection products.
About NinjaOne
NinjaOne is the unified IT management platform behind thousands of IT teams worldwide. Our easy-to-use dashboard reduces IT complexity and modernizes IT management. 
With NinjaOne, you get a full-service tool to help you manage your IT environment, including backup, network monitoring, ticketing, endpoint management, software deployment, patch management, and more. By condensing all of your IT management solutions into a unified IT management platform, you can prevent the adverse effects of tool sprawl and work with a single vendor for almost all of your IT management needs. 
We're proud to be ranked as the #1 remote monitoring & management solution on G2, with the highest satisfaction, usability, and quality of support scores in the category.
Tired of cycling through disparate IT management solutions and being disappointed? Break the wheel and see for yourself why NinjaOne is different. Start your free trial.
Download your own PDF version of this guide!
Get a PDF version of the complete guide by clicking here or on the image below. And for IT Directors, just a reminder that we have a separate PDF with some bonus tips for pre-procurement you can download here.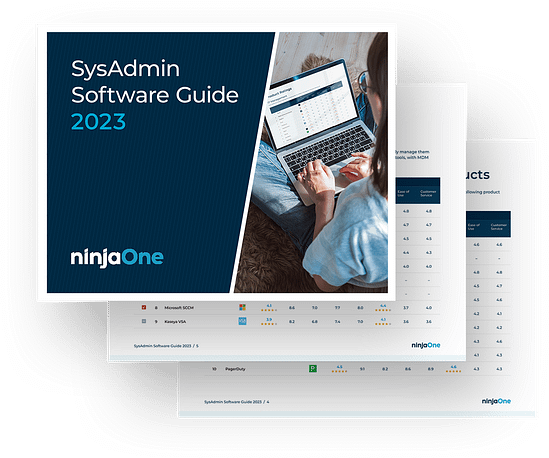 Next Steps
Building an efficient and effective IT team requires a centralized solution that acts as your core service deliver tool. NinjaOne enables IT teams to monitor, manage, secure, and support all their devices, wherever they are, without the need for complex on-premises infrastructure.
https://www.ninjaone.com/wp-content/uploads/2022/12/ninjaone-logo.svg
0
0
Team Ninja
https://www.ninjaone.com/wp-content/uploads/2022/12/ninjaone-logo.svg
Team Ninja
2023-04-12 20:52:24
Best SysAdmin Tools for IT Professionals