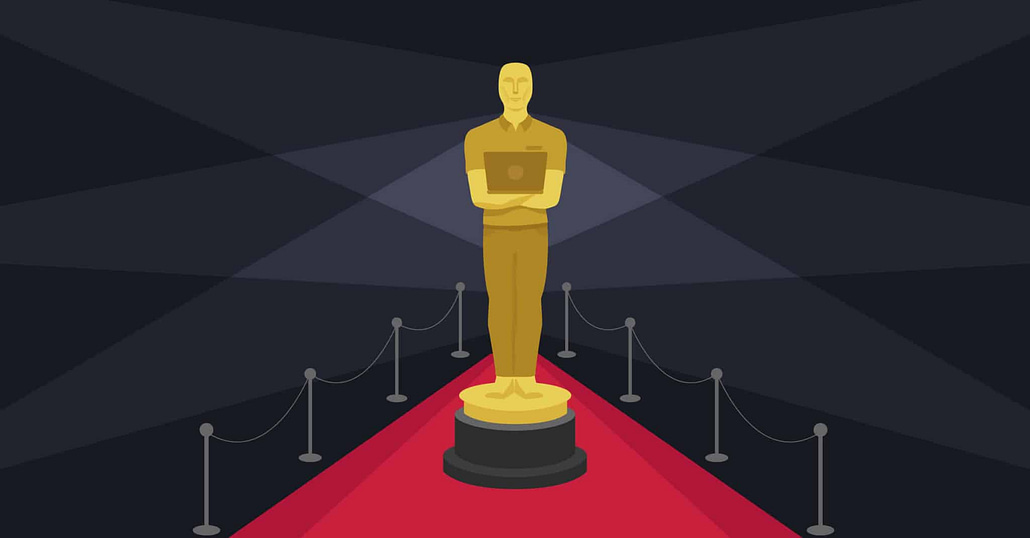 See our nominees for MSPs who are winning hearts, minds, and deals with truly award-winning video marketing, then cast your vote to help decide who takes home the MSP Oscar gold.
Today, what once required thousands of dollars, weeks of time, and hiring a whole production crew is as easy as pointing your smartphone at a subject and tapping "record." Technological advancements, especially over the past few decades, have made it possible for a small or even one-person businesses to create and upload engaging marketing videos in an afternoon.
It's no wonder that more and more businesses are getting in on the action. A December 2019 study by the video production company Wyzowl found that 85% of businesses already use video and 92% say that it's a critical element of their marketing program.
Why video? Well, probably because 65% of a website's audience typically learns visually and website visitors who view a video stay engaged a full two minutes longer than those who don't.
In addition, a massive 90% of consumers rely on videos when it comes time to make a purchase. 
It makes sense why 99% of marketers report that they'll continue to use video in 2020 and a whopping 59% say they're finally going to dive in.
So you know that video is effective, you know that more and more businesses are adopting it, and we can tell you first-hand that it's still not being utilized effectively by the majority by MSPs. What does it all mean? If you think it might be a good fit for you, the time is right to start using video at your MSP while you still have a chance to stand out. 
Speaking of standouts, that leads us to today's topic: MSPs who are killing it when it comes to marketing videos.
In the spirit of the upcoming Academy Awards, where Oscars will be handed out to the cream of the crop in the movie industry, we've nominated what we think are the best MSP videos across four different categories.
Keep reading for great examples that you can mimic when you start making your own MSP videos — and for the chance to cast a vote for your favorites!
Nominees: Best "About Us" Overview Video
An "About Us" video is like a handshake in digital form. It's your chance to introduce yourself and your MSP business to potential and new customers, explain how your services can solve their business challenges, and explain what sets you apart from the other MSPs they may have come across.
These are the MSP "About Us" videos that made us feel like we had a personal connection with the company—something that can be hard to achieve in today's digital business environment.
Onica: "Meet Onica"
A good "About Us" videos explain what a company does. A great "About Us" also does that—but all while telling a much bigger story. Onica's extremely polished video conveys their expertise in an exciting narrative that showcases their vision, trajectory, and purpose.
F12: "See Bob"
F12's "About Us" video starts with a funny, memorable hook that's sure to hit close to home for many a business owner before flawlessly segueing into their value proposition. Before you know it, you've watched the whole video and are ready to hit the F12 key.
Switchfast: "Switchfast vCIO services"
Sure, we're used to being entertained by videos, but it's a rare sight to see MSPs lean into that.
Switchfast's "About Us" video nimbly walks the line between providing compelling information about their Virtual Chief Information Officers (vCIOs) program and delivering smirk-worthy one-liners like "And when we say virtual, we don't mean it isn't real—like what you get with the other guys."
Bonus points for that delicious looking peanut butter and jelly metaphor.
Voting is closed
Voting closed on Sunday, February 9 at 5pm ET. Let's see who you chose to take home an MSP Oscar.
And the winner is…
F12: "See Bob"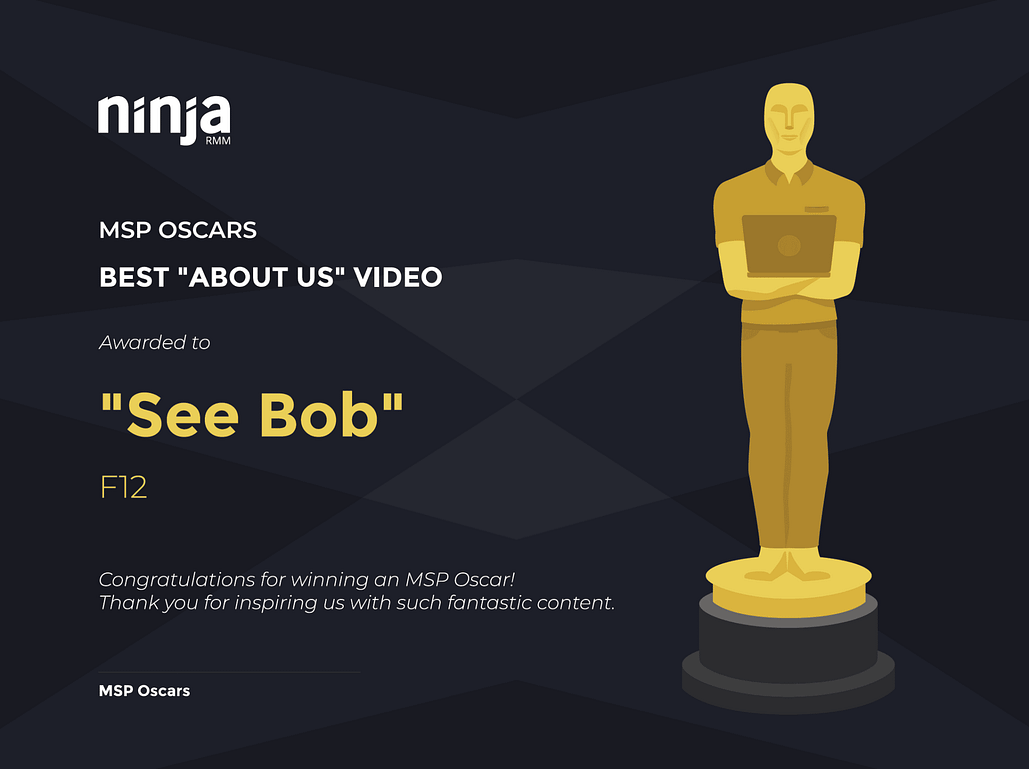 Nominees: Best Customer Testimonial Video
Nearly 90% of marketers report that customer testimonials are the most effective form of content marketing. What more can we say other than — here are some of the best we've seen.
TPx Communications: "Paradise Unified School District"
The most powerful customer testimonial videos are those that tell the customer's story. You'd be hard-pressed to find a more compelling, emotionally rich customer story than Paradise Unified School District's journey—and what TPx Communications did to support them—after California forest fires devastated its community in 2018.
Careful, this one will pull at your heartstrings.
Vology: "Albertelli Law  Real Estate Law Firm"
While not quite as emotional as the previous video, Vology's testimonial from their client Albertelli Law is another example of how powerful it can be when you use customer testimonial videos to tell a larger story where your company plays a (still critical) supporting role instead of the leading man.
The video quality is gorgeous, but the story arch is what makes this really shine.
(P.S. The rest of Vology's customer testimonial videos are fantastic, too.)
Expedient: "Homes.com Consolidates and Migrates Business Critical Applications to Expedient Enterprise Cloud"
This more traditional customer testimonial video comes out of the gate strong with slick graphics and animation, an upbeat tune, and an engaging mix of "talking head" and "action" shots.
We appreciate Expedient's approach that proves you don't always have to have a blockbuster story or a full production team to create a customer testimonial video that works.
Voting is closed
Voting closed on Sunday, February 9 at 5pm ET. Let's see who you chose to take home an MSP Oscar.
And the winner is…
TPx Communications: "Paradise Unified School District"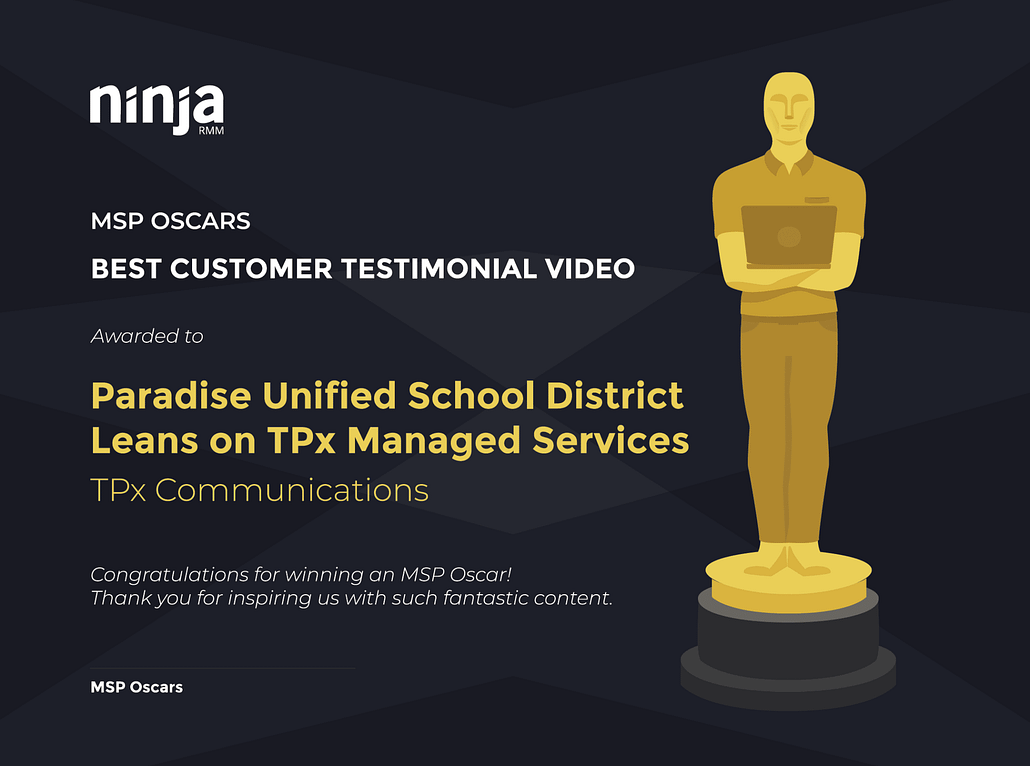 Nominees: Best Educational Video Series
We don't know about you, but one of the first things we do when we need help doing anything from switching out a part to setting up new software is look for a video on the subject.
It would seem I'm not alone, considering over half of consumers report a desire to see even more marketing videos in the future.
Some of the most valuable videos an MSP can create are ones that offer quick tips and instructional how-to's. Not only are they an effective vehicle for showing up in search results, they're also a great way to position yourself as a knowledgeable and helpful expert in your field.
As an added bonus, "How To" videos aren't expected to have the same gloss that testimonials and "about us" videos do — making them much simpler to crank out when motivation strikes.
Here are our favorite MSP educational series that users have been learning from lately.
TechMD: "One-Minute Wednesday" Series
These almost-weekly videos from TechMD cover best practices for network security, computer productivity tips, and easy fixes for common technology problems.
Most videos feature a quick introduction to the company, a TechMD employee talking about the day's topic, and an on-screen walkthrough to help viewers follow along and implement the "tip" themselves. And it all clocks in at a cool minute or two.
Our guess is that TechMD plans these videos around popular search terms to bring viewers who might not normally be in their orbit to their videos and, hopefully, their services. Smart play! They also get bonus props for filming these videos exclusively in-house, no outsourcing required.
Watch more here: One-Minute Wednesday series
Burwood Group: "Autocomplete" Series
Likely modeled after WIRED's Autocomplete Interviews (Set aside at least 10 minutes if you're going to click that link!), Burwood Group's autocomplete series is a clever outlet that enables the MSP to show off their services and culture while simultaneously giving viewers a chance to connect with some of their employees.
Watch the latest here: Our Roots, Our Culture, Our Success | Burwood Group
Colorado Computer Support's "Tuesday Tech Tip" Series
Colorado Computer Support's Curtis Hyde has been called an "MSP YouTube sensation"—and it's not hard to see why.
The Sales and Marketing Director cranks out week after week of short videos that range from providing easy-to-implement technical tips to answering commonly asked questions about their MSP.
These are the kinds of MSP educational videos that prove you don't need a professional studio, fancy editing software, or even another person to create engaging videos that viewers love.
Watch more here: Tuesday Tech Tips
Voting is closed
Voting closed on Sunday, February 9 at 5pm ET. Let's see who you chose to take home an MSP Oscar.
And the winner is…
Burwood Group: "Autocomplete" Series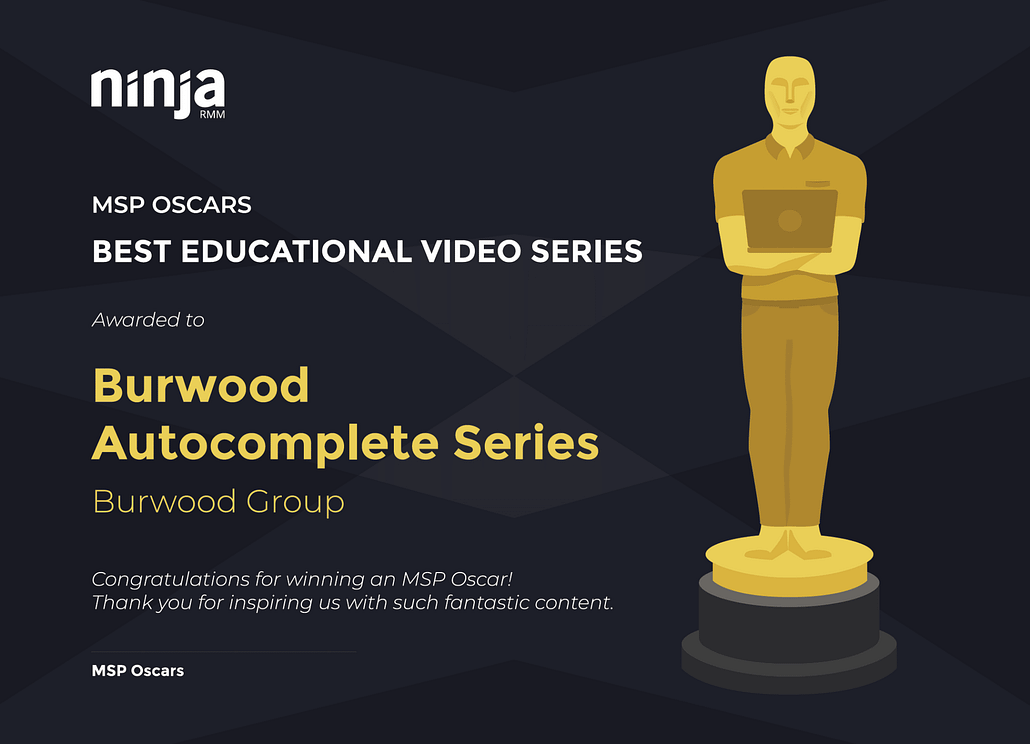 Nominees: Best Overall Use of Video
That's right, we saved the best for last.
In this section, we want to nominate MSPs who stand out as masters of creating and using videos in a wide variety of ways. No matter the topic, these guys regularly blow it out of the water any time it comes to video.
So, here they are, the video makers we all want to grow up to be someday.
Lawrence Technology Systems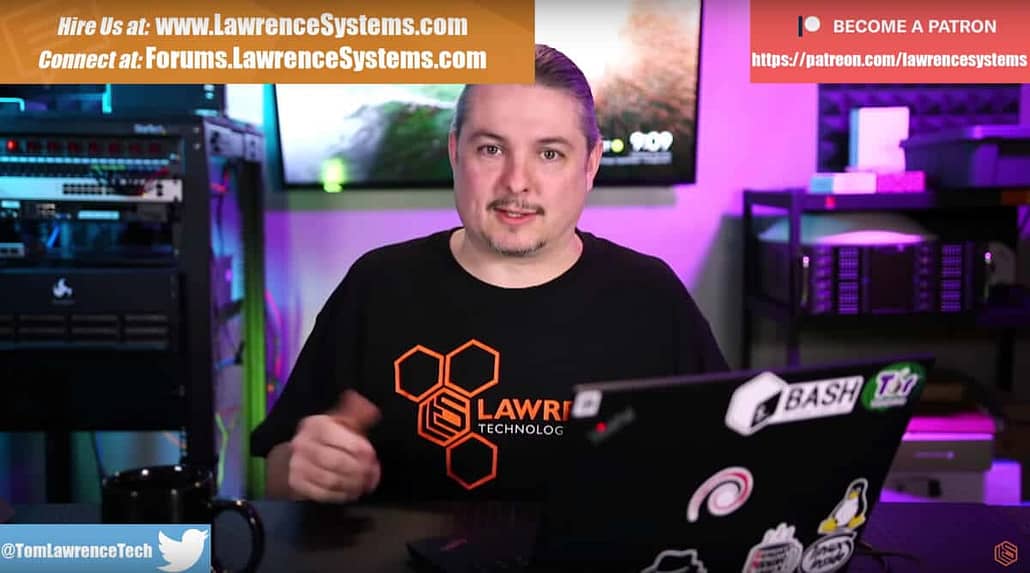 Nearly 1,000 videos. 100 thousand subscribers. Over 15 million views.
And, some of the coolest freakin' "sets" we've ever seen.
Tom Lawrence and his team at Lawrence Technology Systems have gone all-in on video and it's done wonders for their brand awareness and discoverability. On top of that, they've also turned their video program into a healthy of leads and new business, too (as Tom explains in the video here).
Whether they're doing an interview, a review, or a vlog; every video from Lawrence Technology Systems furthers the impression that this is a modern, relaxed, yet super-knowledgeable MSP that you just need to work with.
See their YouTube channel here: Lawrence Systems
TPx Communications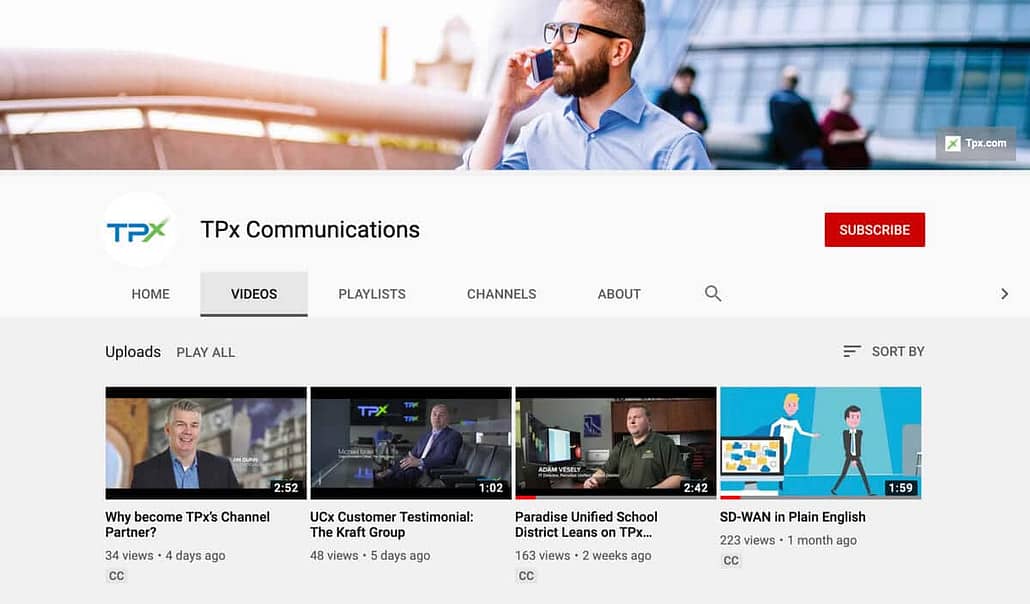 Remember these guys? In addition to their moving video with Paradise Unified School District, their YouTube video is chock-full of even more customer testimonial videos, webinars, tutorials, careers video, and a smattering of animated " … in Plain English" educational videos (see "Business Continuity in Plain English").
TPx Communications show how powerful videos can be whether you're marketing your services to customers or your culture to new talent.
See their YouTube channel here: TPx Communications
Onica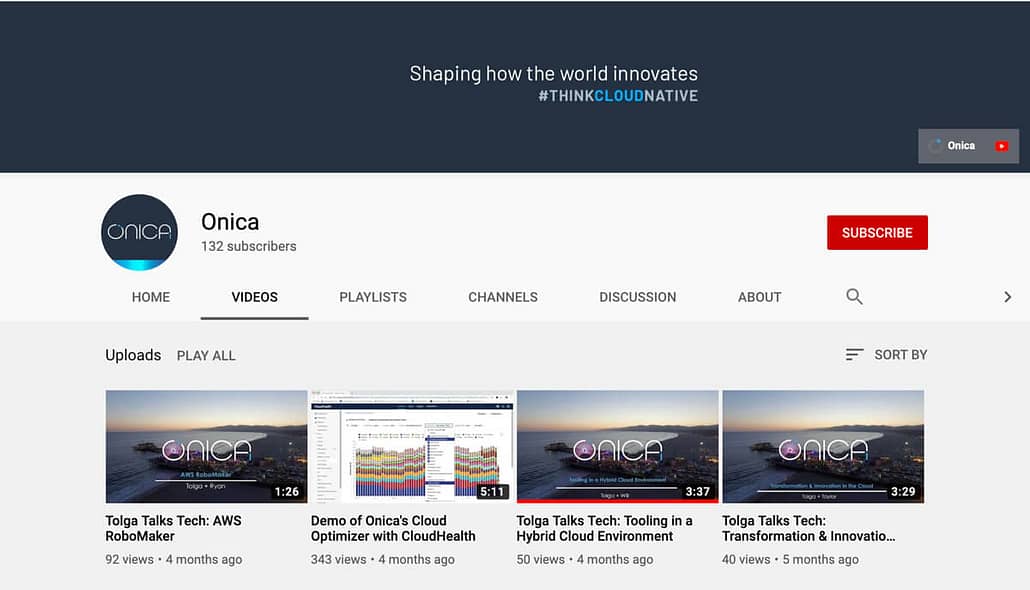 No surprise—another nominee we've seen before!
If you couldn't tell from their "About Us" video, this MSP has some real video chops. But, unlike many other MSPs, their videos are hyper-focused on their expertise — Amazon Web Services.
But despite their often high-tech topics, Onica's videos are produced with an injection of silliness and personality. When you see an Onica video, you know it's an Onica video.
Check out their "Tolga Talks Tech" series where the company's CTO interviews different people from the team to see what we mean.
See their YouTube channel here: Onica
Voting is closed
Voting closed on Sunday, February 9 at 5pm ET. Let's see who you chose to take home an MSP Oscar.
And the winner is…
Lawrence Technology Systems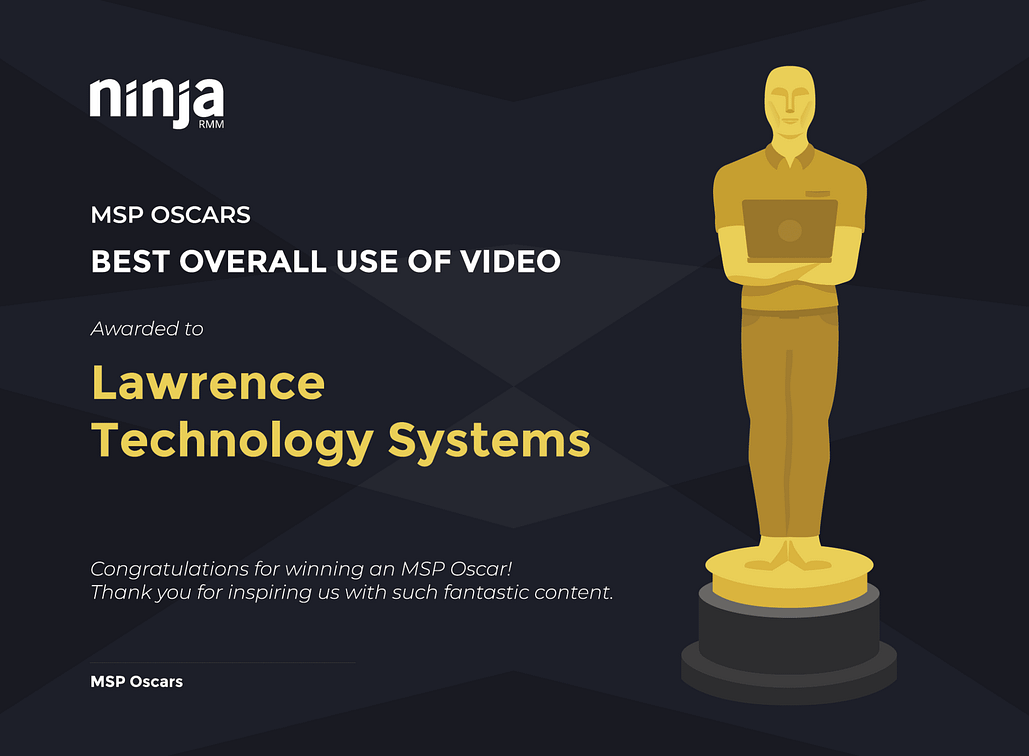 Congratulations to the nominees and the winners!
And thank you to everyone who participated in voting.