Owning an IT business isn't for the faint of heart. Risk naturally comes with the territory, but according to successful MSP veterans, there are several key things owners can do to mitigate their risk and give themselves stronger footing to grow — especially at the start of a new year. 
With 2021 winding down, it's the perfect moment for business owners to look back on the year's successes and failures while creating a plan for the year ahead. 
That's why, on a recent MSP Live Chat, we invited channel veteran Colin Knox on to discuss how MSPs can create an effective strategic growth plan for 2022. It's safe to say Colin knows a thing or two about strategic planning. His track record includes building and selling a multi-million-dollar MSP, founding and guiding the password management software Passportal through acquisition, and now launching his latest software company: Gradient MSP.
The live chat was packed with insights and practical advice on a variety of critical topics, from hiring and firing to planning for M&A and reverse engineering growth. You can catch the entire session here, but I want to hone in on three key takeaways in particular.
As we got deeper into the discussion on the Live Chat, our hosts identified that a big part of any strategic growth planning is accounting for risk. As Colin frankly put it, "There's being comfortable, and there's growing your business. They don't really coexist."
But while it may be true that in order to grow your stack of chips you need to place bets, there are also absolutely tactics you can use as an MSP owner to make sure you're in a better position to do so. Here are three in particular that came out of our conversation.
1) Build a war chest by better managing cash flow 🏦
Get your costs down to a science by making your agreement terms work for you. Start by transitioning as many clients as possible to managed service agreements. The end of the year presents a great opportunity to approach clients on this topic. Take this opportunity with the client to set clear payment terms so that you're paid for managed services provided up front on a monthly basis.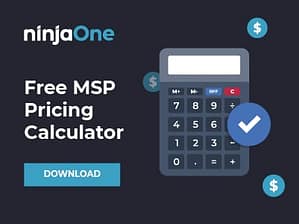 Don't forget to add your personal compensation to this cash flow calculation. Only you know the amount of money that's needed to cover your personal bills and expenses, but make sure that you're not taking more than that amount out during the early stages of your business.
By setting clearer payment terms, calculating your tech costs, and potentially scaling back on your personal payment needs over time, you can begin to develop a war chest. This bit of financial cushion can make you feel more comfortable operationally, and prepare you to take on the new business challenges of the year ahead. 
"It all depends on what your goals are and how convicted you are to achieving those, and what kind of pain or sacrifice you're willing to put up to get there." — Colin Knox Founder and CEO at Gradient MSP
2) Gain some leverage — do you take quarterly or annual payments? 💪
Getting paid in advance for your services at the beginning of each month can help your cash flow, but why stop there?
If you have clients you know are flush with cash, you can consider taking a page from our Channel Chief Advisor Tom Watson's playbook. When Tom was growing his MSP he offered an incentive to some of his biggest clients where if they paid for the entire year up front he would give them one month of service for free. That specific deal may or may not work for you, but if you have clients who are open to quarterly or even annual payments it's a way to generate an influx of cash that you can invest in hiring or growth initiatives for the coming year. 
See Tom and Colin discuss this tactic in the clip below:
3) Change your mindset around hiring costs 👨‍💻
Colin also sees a pattern among some early MSP owners where they potentially overemphasize the risk or costs associated with certain necessary investments, and use that as an excuse not to fully commit to growth.
A big example? Hiring much-needed help.
"Everyone always looks at total cost or total burden of a salary," Colin explained. "If you're looking to bring on a junior technician — let's say that's $40K a year. Chances are a lot of people... they're saying, 'I need to come up with $40,000.' No. You don't necessarily. That's $3,500 a month. Can you float $3,500 a month? You're not committing to a full year term with somebody where if it doesn't work out you have to pay them $40K no matter what. You're not paying $40K up front. It's like the perfect opportunity of having a payment plan with no interest where you can get out of the loan [at any time] if you're not happy."
Shifting to that kind of mindset and taking the plunge is easier said than done, of course, but Colin's point is that MSP owners need to step back and consider which path is actually more risky:
Scenario A: Introducing a high level of short-term risk that forces you to fully commit and bet on yourself.
Scenario B: Avoiding growth investments and boxing yourself into a situation that probably isn't sustainable in the longterm.
"When you got into business you took on a level of discomfort. You took on risk," Colin said. "It's the exact same thing with growth. You can't always wait until you have all the possible revenue to then hand off, because by that point you're probably so overworked you don't have time to create a job posting, review applications, interview candidates, and then bring them on, train them, and do all of that stuff. So you have to premeditate and be proactive about when you are going to need to bring people on, and be prepared for some discomfort. Whether that's not paying yourself for a bit, whether that's taking a pay cut, yourself, or whether you just use that as the extra fire in your belly."
Bonus - You can make credit work for you 💳
Interest rates are very low, and banks are more willing to lend now than at any time in the past decade. Banks have amassed tons of capital in the last two years to support the economy during the global pandemic, and some of those lagging effects still stand today. MSP businesses large and small with good cash flow and a high credit score should be able to secure sizable small business loans to invest back into the business. 
A business might pay 2-3% in interest on a loan and then invest that into the business through hiring or acquiring new tech and get 8-10% return on investment through a new client or revenue stream. Not all debt is bad; debt can make your business appear larger financially and even be good in the long run.   
It pays to be prepared
If the last few years have taught us anything, it has shown us the importance of preparing for the future and all the crazy situations that can occur. So ensure you're taking this valuable end-of-the-year time to set yourself up for success in 2022 and the years ahead! 
Don't miss our next MSP Live Chat
Recapping our Live Chats is fun, but they're even better live. Find out when we're hosting our next one, and be part of the conversation with your peers.
Next Steps
Building an efficient and effective IT team requires a centralized solution that acts as your core service deliver tool. NinjaOne enables IT teams to monitor, manage, secure, and support all their devices, wherever they are, without the need for complex on-premises infrastructure.
Learn more about Ninja Endpoint Management, check out a live tour, or start your free trial of the NinjaOne platform.
https://www.ninjaone.com/wp-content/uploads/2022/12/ninjaone-logo.svg
0
0
Team Ninja
https://www.ninjaone.com/wp-content/uploads/2022/12/ninjaone-logo.svg
Team Ninja
2023-03-21 13:57:10
How Risky is Being an MSP Owner? 3 Ways to Strengthen Your Position