2022 was an amazing year for NinjaOne and our partners. This year alone, we released three new products to general availability and delivered over 400 product enhancements and new features for our customers. Most critically, improvements crossed products, use cases, and users to deliver a better IT management experience for all our customers.
Let's take a look at how the NinjaOne unified IT management platform evolved in 2022:
Jump to: New Products | Device Management | Patch Management | Ticketing | Documentation | Backup | Platform and Security
New Products
In 2022, we released three new products to general availability: Ninja Data Protection, Ninja Ticketing, and Ninja Documentation. These new products have been adopted by thousands of customers already,  creating hundreds of thousands of tickets and backing petabytes of data.
Ninja Data Protection is our cloud-first backup solution designed to provide a final layer of defense and restoration capabilities in the event of a ransomware attack or loss. Our backup solution offers flexible backup plans, storage options, and restore plans, is incredibly easy-to-manage, and requires minimal ongoing oversight.
Ninja Ticketing is ticketing built specifically for the way IT teams work. Endpoint alerts and notifications create incredibly context-rich tickets with incident and device details making triage and remediation easier. Take action on an endpoint directly from a ticket, so you can reboot a machine, run a script, take remote control of an endpoint, or install an application without ever leaving the ticket.
Ninja Documentation allows you to securely and efficiently document environmental details, credentials, relationships, and processes directly in NinjaOne so your technicians always have access to the information they need. Ninja Documentation includes a full knowledge base to help you resolve issues faster and build standardized responses to incidents.
Product Enhancements
Device Management
New Script Library
We've added a library of over 50 new scripts that our partners can import directly into their NinjaOne script library, edit, and deploy to their endpoints. These new script templates cover use cases including user management, security, device monitoring, and more. By providing these script templates to customers in a format that enables customization, we're giving customers strong additional out-of-the-box functionality to manage endpoints at scale.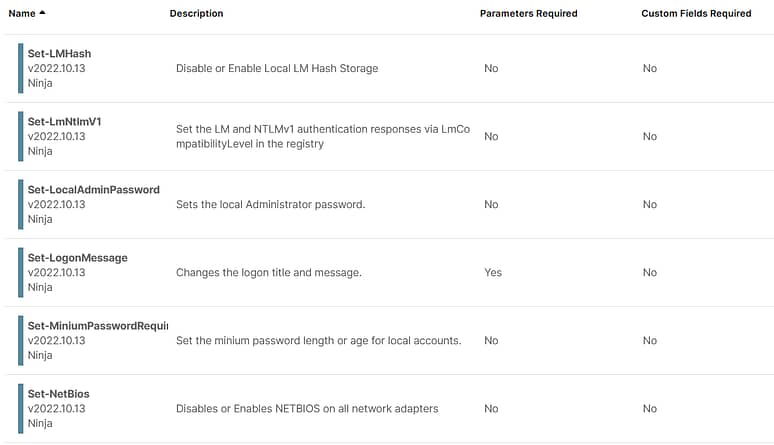 New condition templates and enhancements
We've added over 120 new condition templates to Ninja, providing the ability to import common monitors with a single click. New conditions include common backup, security, and server applications as well as security-related events. We also added several new conditions for device monitoring, including a monitor for whether a process or service exists and made many conditions closed loop for self-healing alerts.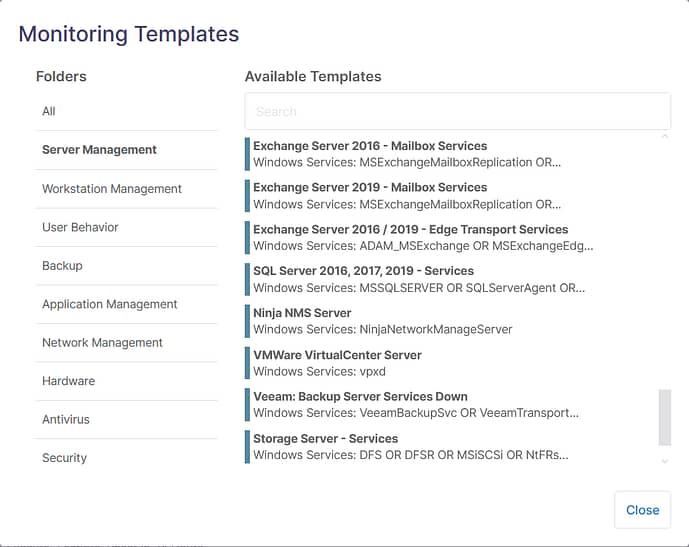 Notification channels
Our new notification channels feature allows you to push context-rich alerts about critical issues in your environment out to new channels for more proactive IT management. You can send notifications to Slack, Teams, or PagerDuty, you can create a custom channel via webhooks, or you can push notifications to email and text message.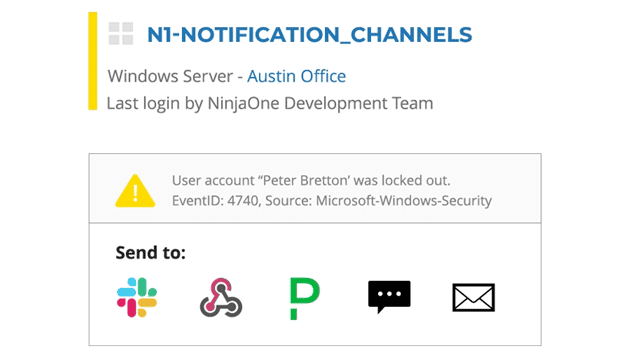 Additional enhancements include:
Script scheduling for offline devices: Users can now queue scripts on offline devices to run the next time a device comes online and checks in for easier mass script deployment.
New script schedules: We've extended the robust scheduling options we provide for script deployment, including ne options to deploy scripts on user login or device startup.
Scheduled reboots: Users can schedule ad-hoc reboots for future dates on individual endpoints.
End-user wake-on-LAN: As part of our self-service IT portal, end-users can now attempt to wake a device remotely so the endpoint becomes available for remote access.
GUI-based software deployment for Mac: Users can now leverage a built-in workflow for installing applications on MacOS devices.
Per-org system tray icon: The Ninja system tray is a self-service channel directly on endpoints for end-users. Customers can now create differentiated system tray icons for each organization.
Agent deduplication: Users can now opt to automate deduplication when a new agent is installed on an existing device. Deduplication merges the two records and keeps your dashboard cleaner when reusing devices.
Automated role assignment: A new advanced installer option allows users to automatically assign device roles and policies at agent installation.
Bios Version: Bios version details can now be seen directly on the device page.
64-bit CLI and Powershell support: Ninja's remote CLI and Powershell terminal can now be run using the 64-bit architecture.
Mac / Linux environmental variables: We've extended environmental variables (host name, user profile, etc) to Mac and Linux scripting for more dynamic scripting across OSs.
Patch Management
Mac 3rd Party Patching and Linux Patching Support
Ninja users can now patch Linux endpoints and hundreds of third-party applications including Adobe Acrobat, Safari, Dropbox, Google Chrome, Microsoft Office, Parallels, and Zoom on Mac endpoints. Users get policy-based control over scan and update schedules, approvals, and reboot options. Pending, approved, installed, and failed patches will show up in the patching dashboard for easy review.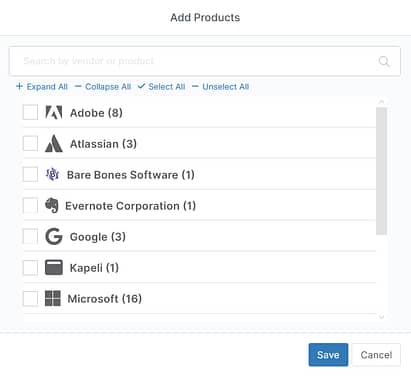 Windows Patch Management capability expansion
We've added more to NinjaOne's Windows patch management capabilities this year than in any year since the feature was first released. Key updates include:
Vulnerability data: In addition to the already available KB article information, Windows patches now include CVE bulletins with links to those bulletins and the associated CVSS score so you can better understand the criticality and impact of a patch on your security.
Patch rollbacks: If uninstallation is supported, users can now uninstall patches with one click across one or many endpoints.
Custom reboot notifications: Add a custom message for end-users after a patch has been installed and when a reboot is required for a better end-user experience.
Deploy scripts pre/post patch: Schedule scripts to automatically run before deploying patches and/or after patch deployment via policies to improve patch success rates.
Wake device for patching: Enable endpoints to automatically wake up devices for scheduled patch scans and updates so you get a higher first-pass patch compliance rate.
Preemptive approval / rejection: Globally override patch approval policies for specific KBs to quick address zero-days or block problem patches.
Ticketing enhancements
Quick action button on tickets
A quick action 'play' button has been added to tickets, allowing for one-click remote access, reboot, script deployment, and other actions directly from the ticket. Helpdesk technicians no longer need to navigate away from a ticket to take action on the device and begin remediation.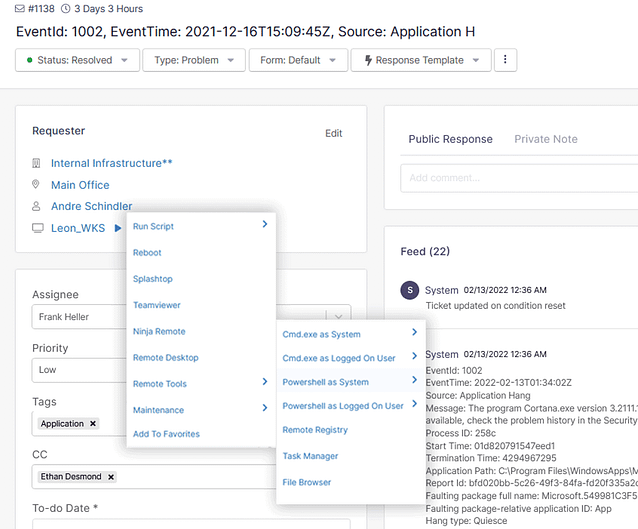 Organization- and device-level ticketing dashboards
We've added a ticketing dashboard for each organization and device in NinjaOne, providing a pre-filtered view of tickets and ticketing-related metrics at that scope. These dashboards help you better understand the health, performance, and support trends related to a given device or organization.
Additional ticketing enhancements include:
One-click create ticket from alert: Automatically generate tickets from policy and system activities (hardware changes, backup activities, user creation, etc) with one click.
Asset Owner: Assign contacts to devices and automatically assign tickets to that owner for device-associated tickets.
Automated device tagging: Devices are automatically assigned to tickets based on endpoint data and asset owner when created via automation.
Domain management: Map email domains to Ninja organizations to reduce friction – mapped domains can automatically assign tickets from domains to their organizations in Ninja.
Tag management: Add, remove, rename, merge, view utilization for, and centrally manage tags for ticketing.
Send emails from custom domain: Customers can now send ticket email replies from their custom domain ([email protected]).
Technician tagging: '@' tag technicians to include them in a ticket for improved collaboration.
Documentation
Automated documentation
Ninja users can now automate writing to organization-level custom fields for documentation purposes via the command line, terminal, and script execution. This new feature allows for automated documentation of critical environmental context.

Additional documentation enhancements include:
Revision management: Track changes to documentation and revert unwanted changes.
Related items:  Map devices, fields, organizations, and other objects relationally to other assets.
Knowledge base: Leverage a built-in knowledge base to ensure your technicians have clear instructions on how to solve common problems, reducing remediation times and standardizing service delivery.
Check lists: Build out interactive checklists to standardize processes and outcomes.
Backup
MacOS File and Folder Backup
Ninja Data Protection users will now be able to backup data on MacOS endpoints. Users can create backup plans to control what data they backup, how frequently they back it up, and how long they retain that data.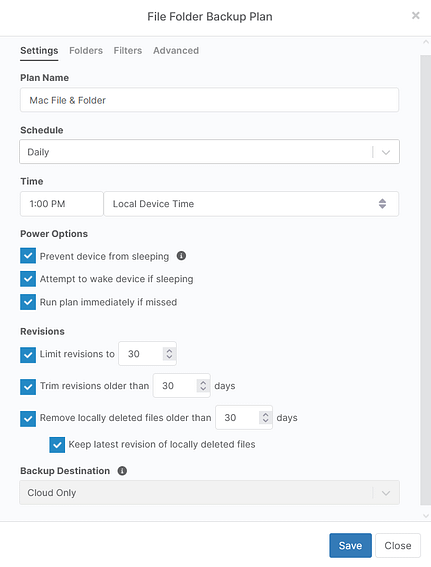 Additional enhancements include:
NAS consistency checks: Run automated or ad-hoc checks on network attached storage devices to ensure local backups will be successful.
Better operational data: We've added new data to our backup dashboard including backup destination, backup method, volumes backed up, and backup status to make dashboards more actionable.

Platform and Security
Updated report visuals
Reports in NinjaOne got a major overhaul in 2022, providing brand new visuals across report types. New graph-based report sections were added across report types and existing designs were updated to a more modern and presentation-ready view.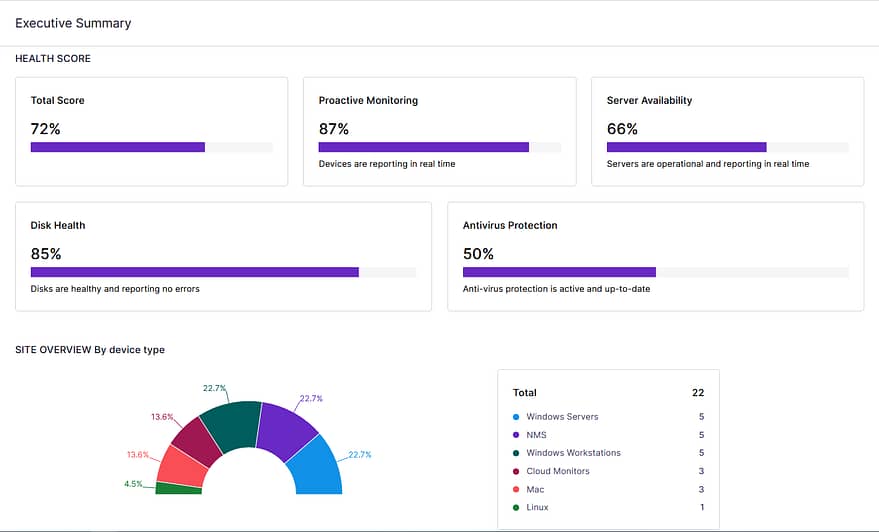 Role-Based Access Control
We have completely redesigned user permissions in Ninja, giving much more granular permission options and leveraging a role-based model that allows permission management to scale.
https://ninjarmm.zendesk.com/hc/article_attachments/4565578501517/Mar-02-2022_14-15-51.gif
SSO Support for SAML 2.0 IdP Providers
NinjaOne can now integrate with any IdP leveraging SAML 2.0 for single sign-on. This allows our partners to control access to Ninja via their identity provider and reduce login friction for technicians.
Additional improvements include:
WebAuthn support: Ninja now supports hardware-based login mechanisms including Windows Hello and Apple Touch ID for fast, secure login.
Breadcrumb navigation: Pages in Ninja now include breadcrumb-style navigation, allowing you to navigate more easily.
Imports and copying: To reduce friction, we've added the ability to import organizations, technicians, and contacts via CSV file. This new capability significantly reduces setup time for partners of all sizes. Organizations, scripts, and scheduled tasks can now be copied as well.
What a year! These are just some of the high-impact new products, features, and functionality we've delivered to our customers this year. We've got a truly massive list of enhancements and updates planned for 2023. You can see some of them on our roadmap at https://www.ninjaone.com/roadmap/; a more in-depth look is available to customers via the NinjaOne Dojo.
Thank you for spending 2022 with NinjaOne!