Note: The following is an excerpt from The Break/Fix to Managed Services Transition Kit, which includes a 4-step action plan making the switch to managed services along with bonus templates and tools you can use to get started right away.
There's no single right way to make the leap to offering managed IT services. Whether you're starting a new company or transitioning from a break/fix model, there are many different paths you can take to become profitable and achieve success.
No matter which path you choose, however, one of the first big decisions you'll need to make is what your services package will actually include. As we've previously written, a good baseline offering includes the following:
desktop/laptop maintenance + support
server maintenance + support
network monitoring
managed antivirus
managed firewall
managed backup
But considering those services have essentially become table stakes — four out of five MSPs offer a combination of them — you probably don't want to stop there. After all, that's a lot of competition more or less offering the same thing.
60% of MSPs we recently surveyed described their local IT services market as very or extremely competitive.
To differentiate, you need a strong, clear answer to the question, "Why you?" Building the right type of offering can help you address that question. Here are a few tips that can help.
Building a Compelling Managed Services Offering that Stands Out and Gets You More Customers
Tip #1: Specialize
Rather than try to be everything to everyone, many successful MSPs position themselves as the premier provider of a particular solution or for a particular industry. Think infrastructure-as-a-service or HIPAA-compliant solutions for healthcare providers, for example. This doesn't necessarily mean they offer strictly one thing and one thing only. It just means there's one thing they let the world know they do better than anyone else.
This approach may lower your overall quantity of prospects, but more importantly it can raise the overall quality of them, along with the likelihood they'll actually sign them and be a good fit.
If you're like the majority of IT services providers, chances are you may be informally specializing to some degree (whether you know it or not), already. After all, the primary way most IT service providers initially grow their business is through referrals, and customers who refer each other typically have something — industry, location, size, etc. — in common.
Tip #2: Focus on providing one standardized offering
While many MSPs utilize tiered or a la carte pricing structures to provide their customers a number of offering packages to choose from, there are clear benefits to developing one flat, standardized offering, instead. Not only does it keep things simple, it also allows you to fully commit and laser-focus your positioning. To each their own, of course, but in the words of Ron Swanson, "Never half-@ss two things when you can whole-@ss one thing."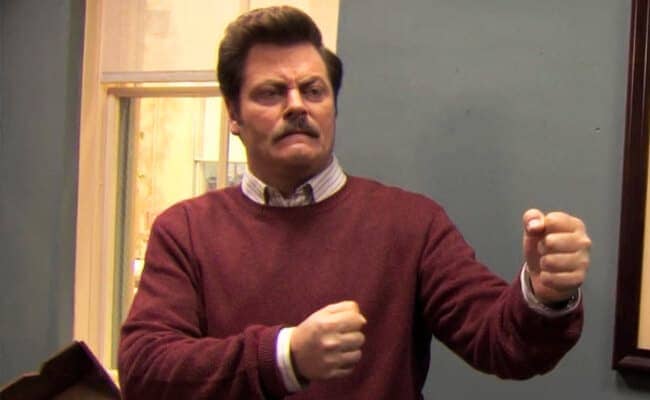 Tip #3: Consider what the ideal offering for your ideal customer would be
As you lay the groundwork for rolling out a standardized managed services offering, think about your best customers, or, if you're not in business yet, the ideal type of customer you want to be working with.
These are the customers who make you the most money, but they're also the customers you actually enjoy partnering with most. What are the most important things they need from you? What aspects of your services do they appreciate most? What do you need to to do differently or emphasize better in order to get more of those customers?
Ex: If you're doing well with healthcare providers, you might consider centering your offering more formally around HIPAA compliance, EMR management, and security.
Conversely, if the unifying theme across your customers is that they're local SMBs who highly value your availability and trustworthiness, you may decide to make the linchpin of your offering something more partnership-centric, like unparalleled response times, proactive support, and virtual CIO services.
Whatever the case, in addition to considering ways you can double down on the types of customers and services that are working well for you now, think about the areas you'd like to expand into that can make your business even more profitable.
What additional expertise can you develop to provide higher-tier services that you can charge a premium for? Security and devops are currently in extremely high demand, but keep an eye out for additional opportunities. One way to identify and prioritize additional investments is by revisiting prospects you may have previously lost out on due to lack of a particular service or skill set.
85% of SMBs plan to increase spending on managed security services over the next two years.
— Webroot's "How Security Services Fuel Growth for MSPs" report
Even if you don't plan on specializing in a particular vertical or technology starting out, you should at least have a clear idea of the ideal type(s) of clients you want to support with your offering. Are they subject to unique requirements? Do they have limited budgets? Are they hyper-focused on security? Knowing the answers will help you build an offering that's uniquely positioned to meet their needs.
Recap: Do's and Don'ts
DO spend time determining what sets you apart. With so many MSPs offering similar services, you need to identify and clearly promote your superpower/unfair advantage.
DON'T just offer the same basic services as everyone else. Think beyond traditional core offerings by specializing in high-demand technology and/or high-need verticals that can allow you to charge a premium for your services.
DO develop a clear definition of who your ideal client is. Then package your offering to appeal specifically to them.
DON'T shy away from talking with customers you might consider to be out of your league. Get a clear idea of what their needs are that you don't currently address and you've drawn yourself a roadmap for future investment.
If you're looking for more actionable advice on providing managed services check out our Break/Fix to Managed Services Transition Kit. It provides a 4-step action plan you can follow PLUS some additional templates/tools that can give you an easy jumpstart.