We're happy to announce that our Fall 2023 Release (5.5) is rolling out to all regions during the month of October. With a time-saving new integration with SentinelOne, greatly enhanced reporting capabilities and more visibility into critical vulnerabilities this release offers more security, flexibility, and convenience to our customers.
Here is what is included in the release:
NinjaOne's single-pane integration with SentinelOne's Singularity Complete and Control products is now available for you to preview.  With this integration, IT teams can automatically deploy SentinelOne agents to endpoints, ensure their fleet of managed endpoints is secure, and see threats detected by SentinelOne directly in NinjaOne. SentinelOne Singularity Complete provides next-AV, EDR, and threat-hunting capabilities all in one robust product. Threats detected and quarantined by SentinelOne are immediately displayed in NinjaOne dashboards, allowing for single-click access to the threat in SentinelOne to investigate and remediate threats. NinjaOne customers are invited to preview this new integration.
"Deploying SentinelOne with NinjaOne was extremely easy, a few clicks and it's done! Alerts coming through the dashboard make it much easier to identify the machine that needs remediation, and more importantly our technicians don't need to be bogged down with looking at additional dashboards. Now, they can see everything through NinjaOne, which slims our tech stack and ultimately makes our lives much easier."

Steven Brucato, Systems Engineer, Simplitfy
NinjaOne Mobile Device Management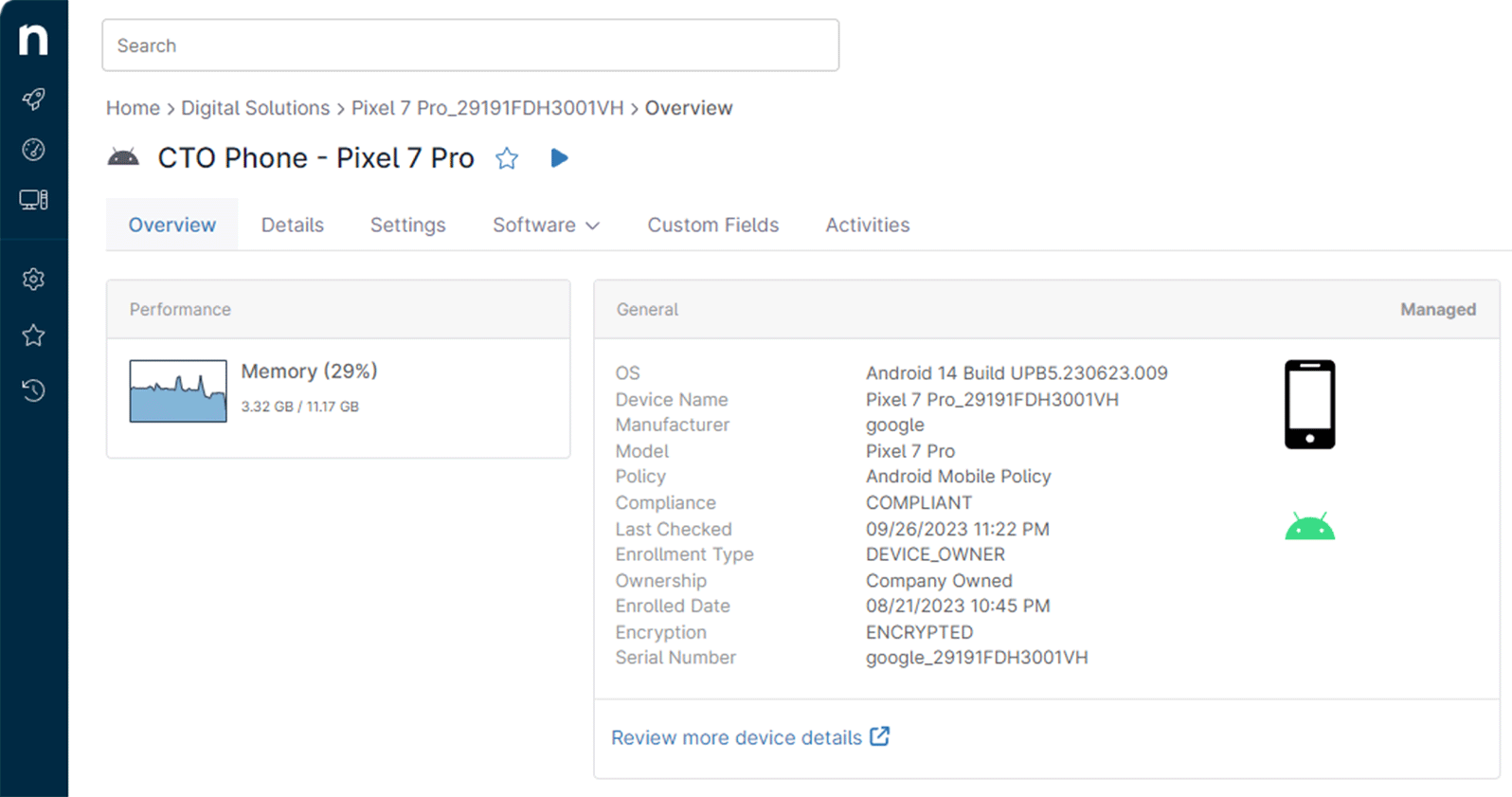 We are excited to invite our NinjaOne customers to the beta phase of NinjaOne MDM!
With NinjaOne MDM, IT teams gain comprehensive visibility and control over every endpoint device, regardless of platform. Supporting both Android and iOS for mobiles and tablets, it ensures seamless management for both BYOD and corporate-owned devices. We invite our NinjaOne customers to get an exclusive preview of MDM as we gear up for its official launch.
NinjaOne Reporting Redesign
Customers have told us for years that while they love NinjaOne, our reporting could use some attention. We're happy to announce the redesign of reporting in NinjaOne is now available in open beta. This comprehensive redesign elevates reporting from a recognized shortcoming to a top-tier feature. We're so confident in the reporting redesign that we've made it a core menu item in the main navigation.
We've received loads of suggestions on how we can improve our Reporting and are pleased to announce that some significant new capabilities are now ready for NinjaOne customers to beta test!
The new report template builder enables users to see report mockups, adjust reporting widgets, change content order, and iterate on the design of graphical reports in real time.
Data tables are a new report type that allows you to pull in a filterable, customizable Excel-like table of information into any report for more robust, data-centric reporting. Data tables can be downloaded as CSVs for easy manipulation.
To assist viewing and distributing of reports, users now can filter templates by organization, location, device group, and timeframe.
We've separated report distribution scheduling from report generation, allowing you to attach  multiple custom reports of different types for scheduled emails.
CVSS Scoring and Color Coding
NinjaOne has provided Common Vulnerability Scoring System (CVSS) scores and CVEs on all patches in our patching solution for over a year. With this release, we're color-coding CVSS scores for at-a-glance ranking of vulnerability criticality. For CVEs that have multiple vulnerabilities, scores reflect the most critical vulnerability included with details viewable with a single click.
NinjaOne Backup Improvements
NinjaOne Backup has a slew of new capabilities that will provide more flexibility and control over how you secure and protect your devices and data.
Customers can now choose automations to run before or after backup jobs – a highly requested feature. Start or stop a service, run a PowerShell script, or stop a backup job from running based on script output.
As a safeguard against unintended data deletion, two-factor authentication will now be required for all backup data deletions, and deleted backup data will be held for 72 hours before full delete in the event of accidental or unauthorized data removal.
We've added new API endpoints that return new information for Backups – start and end times, status, size, and backup type.
A new policy override warning is triggered if a policy is changed that will disconnect a device from backing up further. This mitigates the risk of unwanted stoppages of specific device backup plans.
You can now automatically set an added local storage device as the default storage location for local backups.
And we've added a few quality-of-life improvements that should make things easier all around:

Techs can now select or deselect all file/folder exclusions, making it easier to adjust backup settings without having to deselect dozens of options.
We've improved scan and upload speeds of file and folder backups, adding a device count, and alphabetizing backup devices.
We have added direct links to NinjaOne Dojo articles from errors to help provide quick solutions to specific issues, with more links being added all the time.
And a few other features of note that will save time and offer more flexibility include:
In NinjaOne, custom device groups are now shareable, simplifying the setup and customization experience for all customers. When creating or editing a Device Group technicians can share view, update, or full control access with other users, eliminating the need for redundant custom groups.
Organizations can now be edited in bulk, enabling remote access provider settings to be configured across organizations. A secondary configuration can be implemented to select which types of devices may use the remote access tool (Windows workstation, Windows server, or Mac) and whether end user confirmation is required for connection. There is also an overriding Nodes setting that controls whether devices can be automatically added, manually added, or rejected to organizations.
Details on all these new features, as always, are included in the NinjaOne Dojo Product Documentation.