For MSPs and IT pros, IT documentation is a priceless tool used to record, organize, and store the information they need to do their job efficiently. With IT documentation software, users can start to build a solid foundation of organizational knowledge that contains essential and accessible information for a modern, secure IT environment. Due to its versatility, IT managers are continually looking to use this software in their everyday work.
What is IT Documentation?
IT documentation is the recording and storing of key information for an IT environment. The details included in IT documentation can range from passwords and credentials to configurations, SOPs, and more. IT documentation software provides a means for IT Documentation to be accomplished quickly and efficiently.
Why IT Documentation is Important
The importance of IT documentation is difficult to overstate because of the sheer amount of knowledge needed to oversee IT environments. Every detail, big or small, can have a big impact on the operation of a network. For example, a forgotten password for an AD account that wasn't recorded could lead to time wasted and a potential security vulnerability whereas if the password was available in a centralized and easy-to-access location the issue could easily be solved.
The recorded information can also provide basic company SOPs or pertinent instructions for the operation of both individual devices and entire networks. This is important because this information is central to the responsibilities of IT providers. Those who take advantage of IT documentation also benefit from its use because of its simplicity and accessibility.
Types of IT Documentation
When it comes to IT documentation, there are different types of information IT pros may want to document that will contribute to their business success. This information can include documentation about devices, environments, processes, credentials, and incident response plans.
Device documentation
Recording the details of any given device allows technicians to get a quick look at the components of any device. These details typically include the External IP address, operating system, and the software on the device.
Environmental documentation
Overseeing many IT environments is a challenge, and it may be difficult to remember how different devices on any given network connect to each other. Environmental documentation may include a reference such as network maps, with information on how different devices interact and the reliance between them.
Process documentation
Process documentation is key to ensuring that SOPs are carried out correctly and efficiently. For any given goal or end result, it will typically detail who to go to, what the steps are to get it done, as well as who needs to approve it. This type of documentation is also beneficial when writing out how to acquire licenses.
Credentials documentation
IT documentation can also be used to store secure information. Credentials such as usernames and passwords as well as MFA information are essential to the operation of IT environments, so it is important to keep them in a location that is accessible but safe. IT documentation allows businesses to have a tool that does both.
Incident response documentation
Cyberattacks are an unfortunate reality of working in the IT space. Incident response documentation can provide recorded steps to identify how a breach occurred, what was affected in the breach, and how to respond to a breach. Having an incident response plan in place helps IT pros to feel prepared for cyberattacks that are sure to come.
IT Documentation Templates
Thanks to the creation of IT documentation templates, you don't have to reinvent the wheel. Templates can make documentation efforts more efficient by providing standardized and predefined text entry boxes for you to input specific details. They also ease the creation of records because they are repeatable and efficient. Technicians no longer have to spend extra time or effort trying to determine what particulars need to be recorded.
A variety of MSP and IT documentation templates are available to increase business efficiency. Here are some IT documentation template examples using the NinjaOne IT documentation tool that may be beneficial for your business:
Active Directory Documentation Template
For those who manage on-prem IT environments, Active Directory (AD) servers are a critical piece of infrastructure that you will interact with regularly. This large database manages identity and access, so making sure you have the proper information to access it is essential. Detailed AD documentation helps to ensure that if there's an issue, if changes need to be made, or if you need to interact with that server, you have everything you need in order to do so.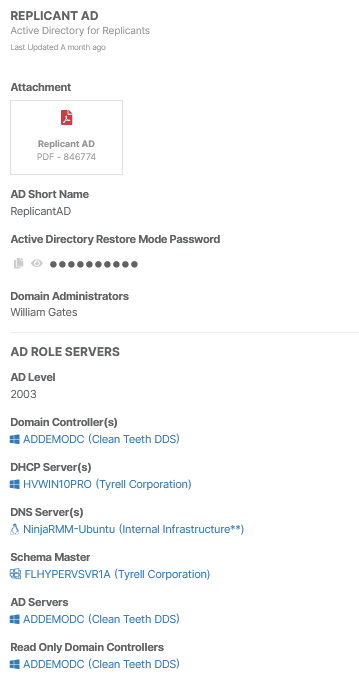 Billing Documentation Template
While billing information is typically managed using professional services automation (PSA), documenting customer billing information in the RMM can be helpful for technicians. Since technicians are the people doing remediation, they only need to be in the RMM and not the PSA. However, if a situation arises where a technician needs to reach out to the billing contact, research service level agreements (SLA), or know which particular services to provide, you can document that information in a billing section for an organization.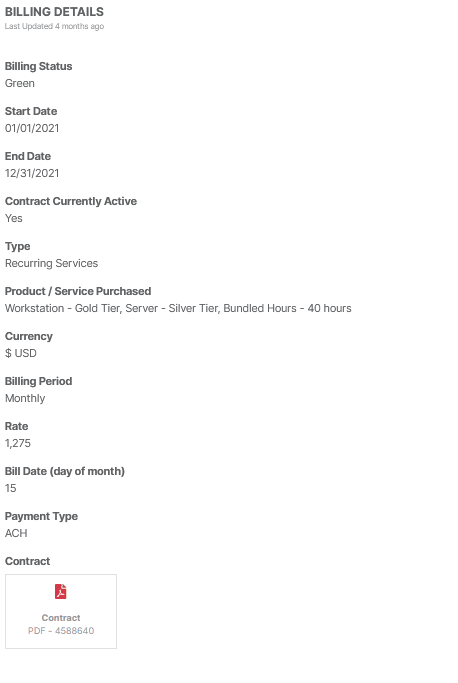 Key Contact Documentation Template
Documentation for key contacts is very useful when managing IT environments. Key contacts templates may include contact information for the people responsible for approving new employees, adding new services, or purchasing hardware or software. Having those key contacts provides a reference for who to go to for approval for particular actions.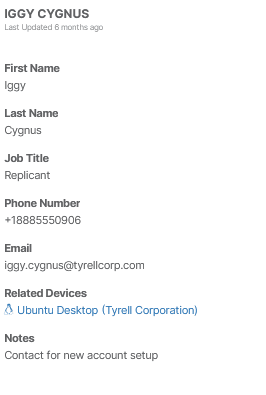 The full list of documentation templates that are available in the NinjaOne IT Documentation tool includes:
Active Directory documentation template
Application documentation template
Backup documentation template
Email documentation template
File Sharing documentation template
Network documentation template

Internet/WAN documentation template
LAN documentation template

Password documentation template
Printing documentation template
Remote Access documentation template
Security documentation template
Vendors documentation template
Virtualization documentation template
Voice/PBX documentation template
Wireless documentation template
IT Documentation Tools
IT documentation is obviously essential, especially in the world of IT pros and MSPs, but how do you effectively document your essential IT information? There are many tools that exist for documentation, but not all of them will work as an efficient IT documentation tool. Here are the varying levels of IT documentation tools:
No Documentation
The lowest level of IT documentation is no documentation, meaning that there is no tool or system in place to record important business information. When an IT business does not document details, it runs the risk of losing essential internal or customer information. The unorganized or undocumented information can unfortunately lead to inefficient business operations or losing business with customers altogether.
Documents and Spreadsheets
Writing business information on documents and spreadsheets is the next level of IT documentation. Fortunately, at this level, information is actually being recorded. However, individual documents are difficult to share company-wide. This isn't very different from a situation where employees write details down on a paper but few people have access to it.
Internal Wiki
The next IT documentation tool is an internal wiki, which is a place where internal business documents can be stored, viewed, and worked on by business employees. Internal wikis are an excellent tool for employees to collaborate together to find information, maintain records and content, and improve on documentation. When it comes to IT documentation, internal wiki software falls short because anyone can make changes and you can't keep information confidential.
IT Documentation Tool
The best documentation tool for recording IT information is a designated IT documentation tool. IT documentation tools make it easy and simple for you to record important information for your business. NinjaOne documentation is an IT documentation tool made specifically for MSPs and IT Pros. IT businesses benefit from a knowledge base created using IT documentation tools because the creators of those tools know what kind of information is needed, as well as how crucial it is to both maintain confidential information and increase business efficiency.
The Benefits of IT Documentation
The benefits of having IT documentation greatly outweigh the cost of the required upfront time commitment. Here are a few key benefits of having detailed IT Documentation:
Protect Key Information
IT documentation ensures that secure information, such as credentials to get access to the devices, are kept safe and confidential. This prevents you from having to write down critical information on paper or sticky notes. Additionally, IT documentation can grant access to employees who need access to certain information and restrict access to others.
Streamline Onboarding/Offboarding Processes
When employees leave the company, organizational knowledge and IT information also leave with them and new hires must spend more time learning processes that could have been documented. With IT documentation, information can be recorded and organized so that future employees have a resource to learn the necessary info. Additionally, when employees leave, you can cut off their access so they aren't able to see the information anymore.
Effective Work with Fewer Errors
Creating a record of all necessary information about an IT environment, in addition to descriptions of methods and processes, can provide a central guide for IT professionals. It can be referred to as often as needed to avoid mistakes or errors and make work more efficient.
Standardization
IT documentation helps you standardize your IT environments by ensuring important information for your business is documented. Standardization across your environments can also streamline business operations because it ensures you record the same information for any given element in your environments. One important consideration is ensuring the software or tools you're using are easy to use, intuitive, and unified or integrated across critical tools and processes since those features will make standardization much easier. NinjaOne IT documentation is an excellent documentation tool that has these characteristics.
IT Documentation Best Practices
Before diving in and recording any and all information about the devices in the environment you oversee, consider a couple of best practices for IT documentation. First, make a plan for documentation. Plan what information you will document and how you will document it.
Also, be sure to make documentation a regular part of your schedule. The more consistently you record this type of information, the quicker and easier it will become. For more tips and best practices, be sure to check out our full list of IT Documentation Best Practices.
Conclusion
With the assistance of IT documentation, IT pros and MSPs can render more reliable services for their customers. IT documentation examples and templates, in particular, can help IT service providers to know what details could be beneficial to include in their documentation. These tools can also make the process of updating documentation run smoothly. Keeping information and devices up-to-date is necessary to avoid IT tech debt.
NinjaOne is a cloud-based platform built for the purpose of IT management. Their software provides templates out-of-the-box that contain best practices for common use cases, or you are given full flexibility to change the templates to standardize your personal IT documentation. They also provide automated documentation by pulling in info from an agent. Visit NinjaOne to start your free trial today.