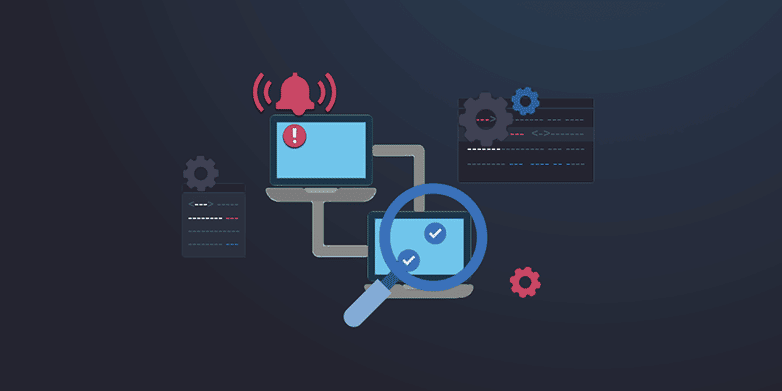 Looking to build your basic IT knowledge in 2023? In this post, we'll cover some general network monitoring and management best practices that MSPs and IT departments use to support their organizations.
Any discussion about IT is eventually going to lead toward network monitoring and management. All told, one of the most well-understood roles of an IT department or IT provider is that of keeping a business' essential systems up and running.
Network monitoring is a critical part of that role, ensuring that all networking components like routers, switches, servers, firewalls, and virtual machines are tracked, evaluated, and optimized continuously. Proactive monitoring can prevent network downtime or failures, and remote management reduces the time and resources needed to perform critical updates or make on-the-fly changes to an IT environment.
What is network monitoring?
Network monitoring systems give insight into devices and connections, allowing IT professionals to detect and report failures, plan remediation, and maintain compliance and security standards. Such systems have several important components, including:
Network device monitoring: When network devices fail, downtime, loss of productivity, or even security risks emerge. Hardware issues and errors can bring the entire infrastructure to a halt, while high CPU or network bandwidth usage can slow operations to a painful grind. A network monitoring system allows these trouble points to be quickly identified and addressed. Many network monitoring solutions also provide added value by automatically adding new devices, mapping network topology, and revealing malicious activity or possible breaches.
Alerting systems: When issues are identified by the network monitoring system, alerts are automatically sent to the IT staff to be evaluated. Once the issue is validated as a credible fault or threat, technicians can get to work on remediation.
Reporting: Most network monitoring software can generate reports on findings over time.
What is network management?
Network management systems go a step beyond watching over a network to actually controlling many aspects of it. Such systems can manage network devices such as switches, routers, access points, and wireless controllers from a centralized location or remote.
Remote access makes network management very simple, as devices, clients, and applications on the network send data to a central server with status updates or alerts. Network administrators or MSPs can monitor network operations by accessing this server, giving them a large amount of control without ever having to go on-premises.
Data collection is a large part of this process. Networking devices and network endpoints — everything from switches and routers to computers, smartphones, cameras, and printers, typically send data to the system in one of two ways:
SNMP: The Simple Network Management Protocol has been the standard network management protocol for decades. SNMP is used by most manufacturers of network devices and endpoints. The network management system uses SNMP to ping elements in the network causing them to send a status update to the system.
Telemetry: A software agent that allows for the automatic transmission of data in real-time. Telemetry is replacing SNMP in many IT environments, as it is more detailed and scalable. Additionally, telemetry can be used for network monitoring and other essential processes.
What is SNMP and how does it work?
Before we get into the nuts and bolts of SNMP, we should review a few more important terms. The following are integral to a full understanding of SNMP:
Object Identifier (OID): Think of an OID as a custom MAC address created by the MSP to monitor non-standard devices through an OID poller.
SNMP Polling: During regularly-scheduled polling, a network management station retrieves data for status updates.
Management Information Base (MIBs): The information created through SNMP polling is called an MIB. It contains critical performance metrics for polled devices — including those non-standard devices that have been assigned OIDs.
SNMP Traps: SNMP traps are automatic alerts triggered by certain events — such as drive failures or device overheating — which are sent to the SNMP management station.
Now that you're acquainted with these terms, let's explore SNMP in greater depth.
Simply put, you might think of SNMP as a way for different devices on a network to share information. It acts as a go-between or translator, allowing myriad devices to communicate even if they are different hardware and run different software.
SNMP is also a means by which network management tools identify devices, monitor network performance, keep track of changes to the network, or determine the status of network devices in real-time. There is, of course, no native way for this to happen. Without a protocol like SNMP, it would be unthinkable to manage and monitor so many different devices from afar.
Why do we need network monitoring and management best practices?
Business networks must support high-value operations that store private data, provide communication channels, and support every aspect of the organization. IT professionals must maintain high network service levels, tight security, and constant visibility into IT infrastructure. Thanks to widespread digital transformation, the modern enterprise network has become increasingly challenging for IT departments to manage.
Network monitoring best practices & techniques
A proper network management system will equip corporate IT departments and MSPs with the tools necessary for the care and optimization of enterprise networks without excessive manual intervention and high labor costs. Complex networks can be managed fully, from end to end, via integrated wired and wireless management capabilities.
Various network management solutions may not necessarily include all of the features we've discussed above, so be thorough when vetting the software options that may fit your needs. A modern remote management solution should enable the following network management best practices:
Clear visibility into the network: The IT professional should get a clear picture of all the connected devices in the network, observe the flow of data, and quickly identify and remediate issues that lower network performance and potentially lead to outages.
More efficient use of IT resources: Perhaps most importantly from the MSP or IT department standpoint, the tools in a network monitoring solution reduce the amount of manual work needed. This reduces labor costs and frees up technicians for more critical project work or other tasks.
Scaling and future infrastructure needs: Network monitoring systems show how network components have performed over a period of time, giving insight into the future. These reports can be analyzed to help anticipate when the organization may need to consider upgrading or implementing new IT infrastructure.
Greater protection against security threats: Network monitoring establishes a baseline of performance on a network. This makes it easier to spot unusual changes in network behavior, such as unexplained increases in network traffic levels. When IT can identify potential cybersecurity issues quickly, they can often intervene before the threat becomes costly. 
How to monitor network performance
Proactive monitoring of networks is a best practice and a cornerstone function of tools such as NinjaOne. Indeed, "proactive" is a watchword of the modern IT industry, which leans on their ability to address issues before they bring down a network as a major value proposition.
Proactive network monitoring is typically carried out through complex SNMP systems, giving tools like NinjaOne several important capabilities:
Real-time polling and monitoring
Hardware performance data
Device discovery and automated configuration
Netflow traffic data
Customizable alerts
How to manage a network: Necessary tools for MSPs
At the highest level of an MSP's software stack, you will typically find a PSA (professional services automation) tool. PSA tools are essential for managing clients, tracking service tickets, and generating invoices. Consider the PSA tool the central repository for labor allocation, clients, inventory, timesheets, and everything else related to the MSP's operation.
RMM tools sit alongside the PSA, serving as the tool for executing the work that's tracked through the PSA. These RMM tools are the workhorses of network management, used by MSPs to remotely connect to clients and complete work.
There are of course a wide variety of additional tools that MSPs utilize, with stacks growing and becoming more complex by the day. You can see a list of products
How to pick the right network monitoring and management tools
As we said earlier, the level of network monitoring and management best practices required in the modern, complex IT environment wouldn't even be possible without the help of automation and advanced network monitoring software and tools. This new type of essential system must be able to tackle numerous networking issues, real-time performance assessments, and remote management functions. With such an increased need for these types of solutions, many contenders have entered the market, leaving IT managers and managed service providers wondering which network monitoring and management tool is the best.
Remember that an effective network management system will include a detailed network monitoring tool and give you the ability to automate basic troubleshooting tasks. You should also consider the benefits of having features such as these:
The ability to visualize the entire IT infrastructure for proactive maintenance and predicting future IT needs for individual clients.
Active monitoring of network, server, and application performance to prevent downtime and reduce the risk of cyberattacks.
Automatic device configuration using predefined templates.
Advanced reporting features with customization for each client, as well as the ability to schedule automated reports that are instantly sent to the end user.
SNMP is a critical piece of the IT puzzle, so it comes as no surprise that several options for SNMP monitoring are available. That being said, it can be difficult to decide which is the best for your managed services business. Different tools offer different features, and what you need will vary depending on how — and with whom — you intend to use it.
There are some common features that you should look for in any SNMP monitoring tool:
Simple Alerts: You must be able to set up custom SNMP Trap alerts to ensure that you always have insight into your clients' networks and devices. The more you can tailor these alerts to the specific needs of your clients, the better.
Device Discovery: SNMP polling allows scanning of the network environment and identifying all devices — something that you can't do manually and expect the same level of accuracy and detail. SNMP scanners are able to scan the network to identify new devices that appear. You should be able to stay on top of anything new that's added to the network.
Fault Monitoring: Fault monitoring allows system administrators to quickly detect and resolve any issues that could put a network at risk. With the right SNMP monitoring tool, you can view the current node status and quickly identify how critical an error is.
These are just a few of the most important qualities you should look for in an SNMP monitoring tool.
NinjaOne's network management suite utilizes the Ninja NMS Agent to provide SNMP Monitoring that is easy to use.
Get single-pane visibility across all your SNMP devices — routers, switches, firewalls, printers, IoT devices, and more.
Our SNMP monitoring and management capabilities include:
Monitor all SNMP devices
Discovery wizard
Real-time polling and monitoring
SNMP hardware performance thresholds
Ping and latency tests
Port status, port map monitoring, and SNMP traps
Configuration backup and monitoring
Hardware performance data
Netflow traffic data
SNMP v1, v2, v3 support
NinjaOne's SNMP monitoring combined with our remote monitoring and management (RMM) platform, NinjaOne provides a centralized and actionable dashboard for your entire IT organization.
Your SNMP discovery tool is your lifeline to your clients' networks and devices. When it comes time to choose, choose wisely.
For a broader list of network monitoring solutions, including more robust and specialized tools, see our Ninja Guide to MSP Software.