I'm happy to report the NinjaOne team has been hard at work following through on our mantra of relentless innovation. Our latest major release, 4.2, is being rolled out today, and it includes some major new features and functionality that we're all very excited to deliver to our partners.
For starters, there's the addition of the following:
Cloud RDP: Makes it easy for NinjaOne users to establish seamless 1-click connections to remote devices using Microsoft's Remote Desktop Protocol technology.
Node approval: Provides another important layer of RMM security by adding an approval process before new devices can be added and gain access to NinjaOne.
Bitdefender integration: Eagerly anticipated, we're excited to confirm NinjaOne customers can now enjoy complete integration with leading endpoint security provider Bitdefender. And when we say complete we mean it. All configuration and management can be handled directly within the NinjaOne console.
Each of these is a powerful new addition to NinjaOne's increasingly robust feature set, but another new feature included in 4.2 stands to be an absolute game-changer — our new Credential Exchange.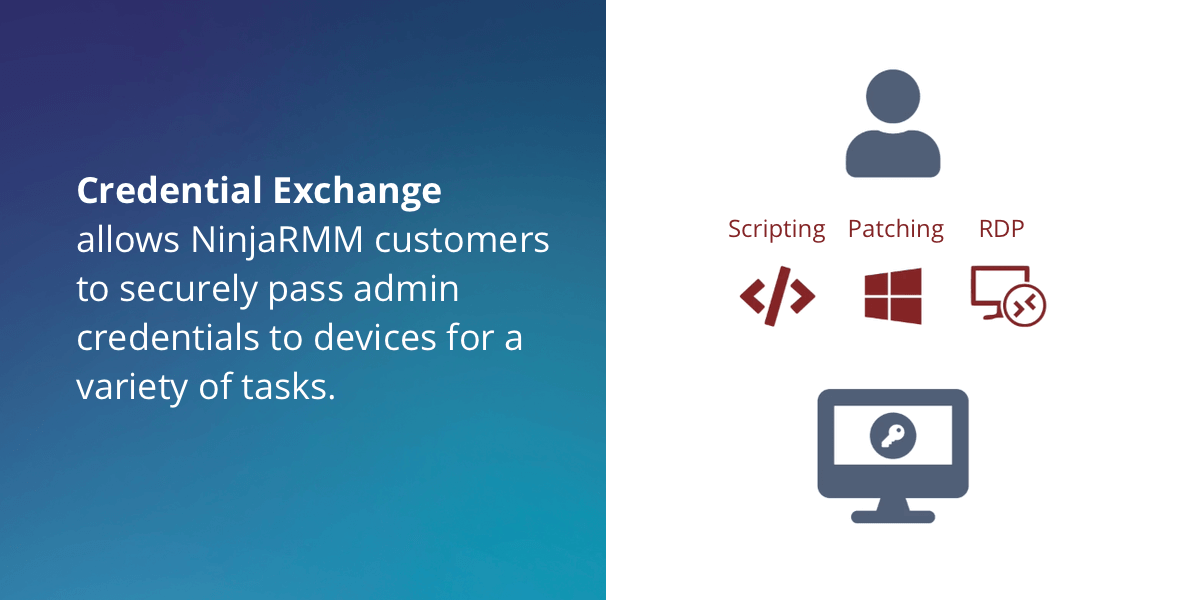 Credential Exchange allows NinjaOne admins to assign the use of privileged credentials to specific organizations, devices, and a wide variety of individual management tasks. As a result, it provides a more seamless, reliable, and secure way of running scripts, installing patches and updates, establishing remote connection sessions, and more.
Technicians are able to leverage the assigned credentials without actually seeing or having access to them, which addresses a major security pain point, especially for our largest MSP and IT partners. When you have over 100 technicians managing thousands of nodes, dealing with employee turnover and controlling who has access to what can be a compliance and regulatory nightmare. We're proud to announce Credential Exchange helps solve that problem by offering the most powerful and customizable way of managing credentials available from any RMM on the market.
Security is obviously a primary concern when working with privileged credentials, and we've ensured credentials are protected using encryption that meets the high standards applied to banking and finance operations (FIPS 140-2 Level 3). Because Credential Exchange reduces the need to expose credentials to technicians, it's another key feature that allows NinjaOne customers to position security as one of their key strengths and differentiators.
In addition to improving security, this new functionality is also all about improving efficiency and profitability. It allows customers to shave significant time off their day-to-day management work by making sure tasks get accomplished seamlessly and successfully the first time, without the friction of having to deal with failed attempts and permission issues.
Here are just a few of the practical use cases:
Patch management: Avoid failed Windows or 3rd party patches due to permissions issues by securely leveraging admin credentials.
Scripting: Run scripts flawlessly with a whole new level of control and flexibility.
RDP remote access: Experience a seamless 1-click connection to all devices using RDP.
In addition, what's even more exciting about Credential Exchange is the foundation it lays for expanding our capabilities in new features to come.
More on 4.2 and what's coming next
We're committed to making NinjaOne better than ever in 2019. The new 4.2 release is a great step in that direction, and we've got much more in store (here's a reminder of some of the things on our list).
For more info on all the major new features in 4.2 check out the video below. If you have questions or want to see these in action don't hesitate to reach out to your account manager or get in touch with our sales team.
Thanks to all our partners for your continued support and input. Looking forward to your feedback on this new release and already gearing up for the next one!