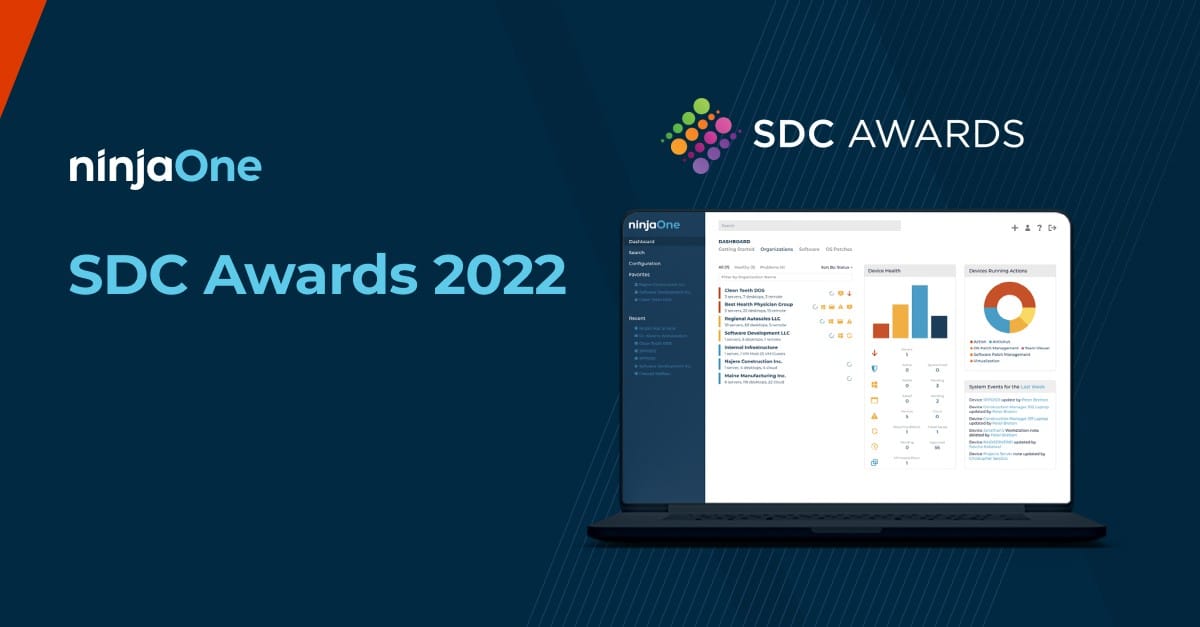 NinjaOne wins 3 categories at the SDC Awards in London!
The SDC Awards focus on recognizing and rewarding success in the products and services that are the foundation for digital transformation!
At the awards evening in London on November 24th 2022, NinjaOne were voted winners in 3 categories: Intelligent Automation Project of the Year (with customer We are Focus), Data Security/Compliance Project of the Year (with customer We are Focus), Excellence in Service Award for their MSP offering.
"NinjaOne is proud to have won 3 categories at the SDC awards." says André Schindler, GM EMEA & VP of Strategic Partnerships. "These awards are the result of the team's hard work and dedication, and is a great honor, and will encourage us to strive for even greater heights in the future as our IT management platform develops further. We are particularly proud of the Excellence in Service Award . This award confirms our commitment to providing MSPs and IT professionals with the support they deserve through transformational, not transactional support. In the future, we will continue to expand our products so that IT pros and MSPs have all the tools they need in a unified IT management platform."
NinjaOne driving innovation and MSP growth
Two categories, Intelligent Automation Project of the Year and Data Security/Compliance Project of the Year, were won in collaboration with NinjaOne customer Focus IT Managed Services.
Focus used NinjaOne to drive growth in their MSP. Focus IT Managed Services have had a 25% increase of the amount of endpoints, growing from approximately 1600 to 2000, they have added 10 new customers and welcomed three new technicians. Since switching to NinjaOne, they've had more incoming customers than ever before.
The team at Focus chose to implement NinjaOne's unified IT Management platform because the automation NinjaOne offers freed the time of their technical staff, allowing them to work on strategic projects by decreasing the ticket volume. As a result, Focus had more time to add value to their business and Focus could grow while keeping the high level of service to their customers.
Focus IT Managed Services is also an MSP that specializes in security, and therefore needs a solution that helps keep their customers secure. Thanks to NinjaOne, patch compliance for Focus' managed endpoints is now at 99.5%, a significant increase compared to their previous IT management system.
The SDC awards recognized the growth NinjaOne helped to drive at Focus IT Managed Services through awarding the Intelligent Automation Project of the Year and Data Security/Compliance Project of the Year awards.
Industry Leading Support
NinjaOne strives to provide customers with the highest level of customer service and satisfaction.
"At NinjaOne, our relationship begins with our first contact. We strive to ensure that every interaction is easy, refreshing and successful, so you're confident in your decision to become an IT ninja." Michael Shelton, VP of Global Product Support, NinjaOne
NinjaOne's industry leading service is based on quick and easy onboarding, refreshing technical support, and free and unlimited training.
If you're interesting in finding out more about NinjaOne's #1 rated support and service, and experience the NinjaOne difference, then sign up for a free trial.
NinjaOne: The Unified IT Management Platform
NinjaOne simplifies IT management, making MSPs and IT teams more efficient and end-users more productive. NinjaOne provides a range of tools for a variety of task's that MSPs and IT teams battle each day. From endpoint management and monitoring to patch management, IT documentation, and software deployment, NinjaOne provides support and automation capabilities. In addition, our partners can manage their IT asset management, backups, service desk, and proven remote access through NinjaOne.
First time learning about NinjaOne?
NinjaOne is the unified IT management platform that combines powerful, time-saving functionality with an intuitive, easy-to-use UI that MSPs and IT pros love to use. NinjaOne increases business efficiency by combining monitoring, alerting, patching, antivirus, backup, and IT automation, all within a single pane of glass. Learn more by visiting ninjaone.com or signing up for a free demo.