Understanding software deployment requires digging deep into practical applicability and troubleshooting potential hurdles that organizations might encounter, particularly within IT management. A conscientious approach not only bolsters IT operations but also knits a safety net, ensuring optimal functionality and maintaining a security stronghold within an organization.
This blog will take you through a comprehensive viewpoint on understanding software deployment, its practical use applications and how it addresses a plethora of challenges.
What is software deployment?
Software deployment is, essentially, a sequenced process involving stages like installation, configuration, testing and updating of software applications, meticulously spread across various devices within a network. It ensures uniformity in software versions, punctually applies security patches, and enhances functionalities through updates, thereby ensuring streamlined IT operations and fortified security.
NinjaOne provides IT professionals with a straightforward way to manage software deployment on a large scale, without needing a company network or VPN. With a user-friendly interface, it makes complex software deployment processes easier to navigate and manage across numerous devices. The platform does more than just deploy software; it also offers key IT management features like monitoring, alerting and patching, ensuring a unified and simplified method for maintaining and safeguarding broad IT environments. In doing so, NinjaOne not only executes software deployment but also seamlessly integrates it into an organization's wider IT management strategy, ensuring simplicity and efficiency in operations.
Practical applications in software deployment
In everyday tech environments, Software deployment plays an integral role in modern tech environments. By ensuring that every software version running across a network is consistent, secure, and functions as intended, it provides a uniform experience across all devices. This approach not only safeguards against potential technical glitches and security threats but also guarantees that every device within a network possesses the essential functionalities and protections for optimal performance.
This process is pivotal in creating a seamless digital experience. It ensures that all users, no matter where they access the network from, are interacting with a software version that is up-to-date, thoroughly vetted and approved. This not only bolsters the software's functionality but also significantly enhances its security, providing users with a trustworthy and efficient system.
Addressing challenges with NinjaOne's user guide
Dive into the Software Deployment User Guide to explore the wealth of options available for software deployment within the platform. The guide underscores the importance of automation and streamlined procedures to simplify this task.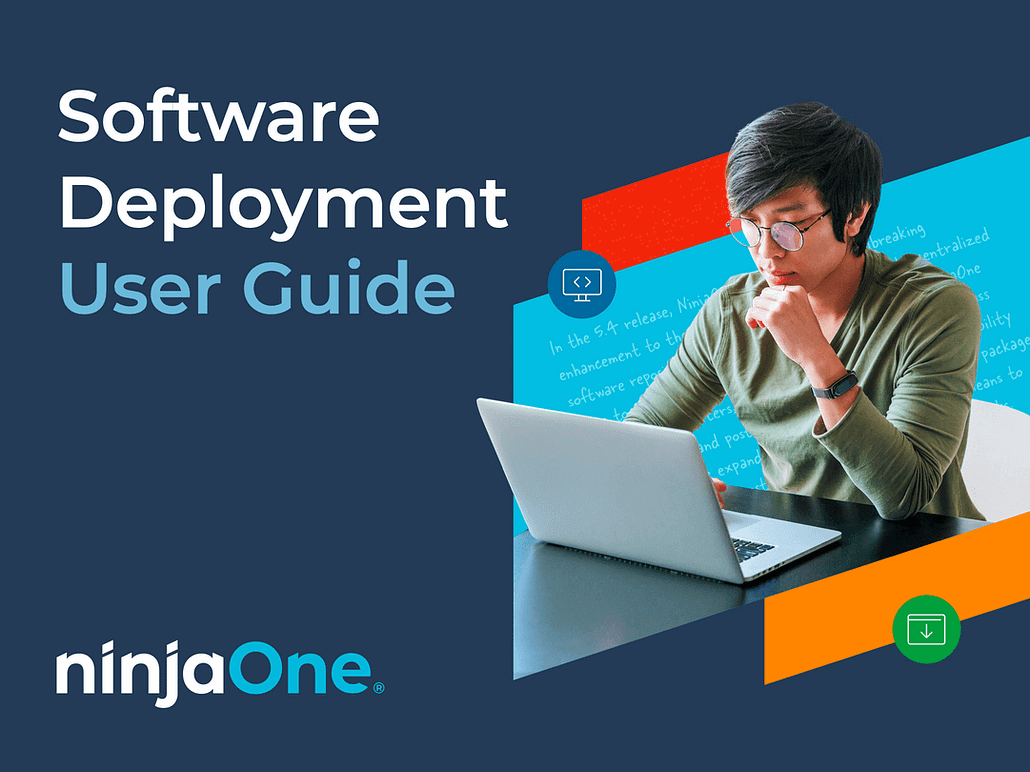 1. Centralized Software Repository: NinjaOne's centralized software repository allows users to create comprehensive software packages with predefined parameters, supplementary helper files, and options for executing pre and post-operations before and after package execution.
2. Ad Hoc Software Deployment: NinjaOne provides two main avenues for ad hoc software deployment – through the Device Search Grid or at the individual device level, ensuring flexibility and precision in managing software updates and installations.
3. Leverage NinjaOne's Policy Management: Incorporating conditions that trigger software deployment, ad hoc deployment, and planned deployment with scheduled automations is a breeze with NinjaOne's policy management, thereby ensuring an additional layer of automation in software management.
4. 3rd Party Patching for Software Deployment: The 3rd party patching feature of NinjaOne enables the installation of software on devices where it is not yet installed, during the deployment of patches, ensuring that all devices are running the necessary software versions.
NinjaOne in action: Real-world examples
NinjaOne has cemented its role as a pivotal ally for numerous companies, adeptly tackling a myriad of real-world IT challenges from seamless transitions to remote work frameworks to adeptly mitigating cybersecurity threats. Its widespread adoption across various industries demonstrates its prowess in not only simplifying software deployments and managing IT infrastructure but also fortifying cybersecurity, thereby amplifying operational efficiency and security.
This is exemplified in several use cases, notably during the COVID-19 pandemic, where Tessi Insurance, under the stewardship of Head of IT Infrastructure Guillaume Frank, had to pivot to a remote working model for its global workforce, managing over 1600 devices. Faced with technological hurdles like a disruptive software update, the need for a comprehensive IT management solution became apparent. The integration of NinjaOne provided a robust cloud solution that offered streamlined IT operations and nimble responses to cybersecurity threats, including a critical 'zero-day' event in January 2023. In a sector laden with sensitive data and amidst the prevalent remote work era, NinjaOne has been indispensable for Tessi, ensuring secure and efficient IT operations management.
"When I think about how we used to work, the time and efficiency gains with Ninja are substantial. My team now has more time to focus on process optimization."
Guillaume Frank, Head of IT Infrastructure and Endpoint Management
Similarly, The Sofia Group, navigating through a swift expansion across diverse retail sectors, encountered complex IT management challenges across its multifaceted franchises in France. Vincent Ramirez, overseeing their IT operations, identified a pressing need for an advanced IT management tool, particularly to navigate through expansion-related challenges like permissions and manual patch management. Integrating NinjaOne provided an automated solution that efficiently managed their extensive IT needs and strongly positioned them for upcoming growth.
"With NinjaOne, we have an intuitive and centralized solution that prepares us perfectly for the ambitious growth goals of the management."
Vincent Ramirez, Systems and Networks Administrator
Software deployment efficiency
Data derived from a comprehensive global survey by NinjaOne illustrates the remarkable efficiency that it brings to the table. Notably, 99% of respondents attested to saving time every month through automation, and 48% saved 5+ hours. In terms of patching devices, 62% saved 1-10 hours per week, while 32% saved 10+ hours. Impressively, 62% of technicians managed an increased load of over 100 devices, showcasing the robust capabilities of NinjaOne in enhancing operational efficiency.
NinjaOne not only navigates the complexities of software deployment with a user-friendly interface and streamlined functionalities, but also plays a pivotal role in overcoming challenges that organizations typically face in managing IT environments. It's a comprehensive solution for maintaining software uniformity, functionality and security across expansive IT landscapes. As we move towards a future where the digital realm will hold even more prominence, having a steadfast, reliable and efficient software deployment mechanism, and a guide on how to navigate it effectively, will be paramount in ensuring organizational success and security.