Remote Monitoring and Management (RMM) tools are invaluable for modern IT operations. An RMM software for MSPs is used to improve the performance of endpoint management workflows and expedite support capabilities, for endpoints located anywhere, as long as they have an internet connection. 
Most IT teams have to manage a wide variety of IT assets – servers, routers, access points, printers, workstations, laptops, and more. IT asset portfolios, particularly the networking component, can become increasingly complex as an organization scales up. This is further complicated by the requisite management of user accounts, access, software updates, and licensing. Today's trend of increasing off-site, remote, and field employees complicates this challenge significantly.
An RMM tool makes the management of all these IT assets and end-user considerably simpler by improving the visibility across the entire IT infrastructure from a centralized, often remote, location. Most RMM tools provide deep insights into everything from resource usage to security risks all consolidated in a single unified interface.
As the name suggests, RMM also allows for easier management of IT. Important tasks can be executed at scale by the IT department, often remotely and through the use of automation. This reduces the number of man-hours required and limits the risks brought on by potential human error. For IT departments managing multiple locations, this reduces the need for on-site visits and the associated travel expenses.
The most advanced RMM tools include other valuable features that IT managers can use to improve productivity and reduce downtime or critical failures. We'll take a closer look at these features and how they're used later in this article. 
Types of RMM Software for MSPs
RMM tools typically have two core components.
The first is the RMM platform itself -- the control center or interface by which the IT team accesses and monitors devices. The second component is the agent which is a small software application that is deployed on a device and gives IT control of the device and sends telemetry data to the console.
Some RMM solutions are cloud-based, while others are self-hosted using an on-premises server. Some use tiered "all you can eat" pricing, while others charge based on the number of devices, number of users, or number of agents.
There are even free open-source RMM tools available, but these are usually best left to small organizations with a few devices, simple networks, and basic device management needs. These options lack the support and refinement of proprietary, commercial RMM tools which are designed for fast deployment and ease of use.
How to Choose the Right RMM Software for Internal IT Departments
There is no shortage of RMM tools for IT departments to choose from. Each option offers its own benefits and drawbacks, so your best course of action is to compare the top RMM tools against your own unique needs.
Carefully evaluate feature sets and determine how they fit into your IT department's tasks both currently and in the future. (It's best to have an RMM tool that will grow with your organization rather than planning to switch sometime down the line.)
Core features of Good RMM Software for IT Departments
Selecting the right Remote Management and Monitoring software is key to making the transition from reactive to proactive IT management. RMM tools will improve efficiency, time to fix, and visibility in your organization's network, but not all tools are created equal. There are four key features that you need to have in your RMM solution:
Comprehensive Patch Management
Patch management is one of the most important functions of RMM. IT teams need the ability to patch and report on operating system updates and third-party software -- everything in use by the organization. Patching is critical for security and risk mitigation, and your RMM should be able to handle the update requirements across the entire IT landscape.
Robust patch management works every time, for every patch. The tool should make it easy for the IT professional to approve a patch, as well as give accurate reporting. Some RMM tools can even test patches prior to deployment to prevent conflicts, crashes, or downtime.
Remote Access
Secure remote access with complete information is vital to your ability to troubleshoot and remediate IT issues. At a minimum, your RMM tool should clearly display CPU, processes, memory, and last errors on the system. Premium RMM platforms give the IT department the ability to fix systems without taking over the device/workstation or requiring the user to be present.
Alerting
A good alerting feature will keep you informed of problems that arise within the system prior to someone on the staff calling to let you know they've experienced a problem. Look for an RMM tool that allows you to customize alerts based on your preferred thresholds.
Reporting
Some IT departments miss out on the importance of reporting. Organization leaders need to stay in the loop when it comes to IT, and monthly reports help to demonstrate the value provided by the IT department and the amount of workload they're experiencing. This data can be very useful when discussions about budgets or manpower land on the table.
Scripting
Scripting is a very useful feature of advanced RMM tools. Additionally, if your IT department is managing multiple locations, the ability to reliably run remote scripts is critical. Some RMM tools come with a script library which can be quite useful. It's also beneficial to have the option to code your own scripts for any special use cases you encounter.
Selecting the Best IT RMM Software for More Efficient Technicians
Remote monitoring and management (RMM) solutions represent one of the two central pillars of MSP software. They power many aspects of client service and support, including proactive monitoring, maintenance, and troubleshooting. RMMs allow MSPs to streamline and automate these tasks, and in turn provide more efficient, scalable services. Many RMMs also integrate with backup, security, remote desktop, and other solutions in order to provide MSPs with the ability to manage everything from a single pane of glass.
Below you'll find an RMM ranking list from our 2021 MSP Software Guide. The guide compiled ratings of RMM software from the most widely used IT software review sites — it offers a good picture of how these solutions stack up against each other in areas that matter the most to MSP owners, technicians, and customers alike.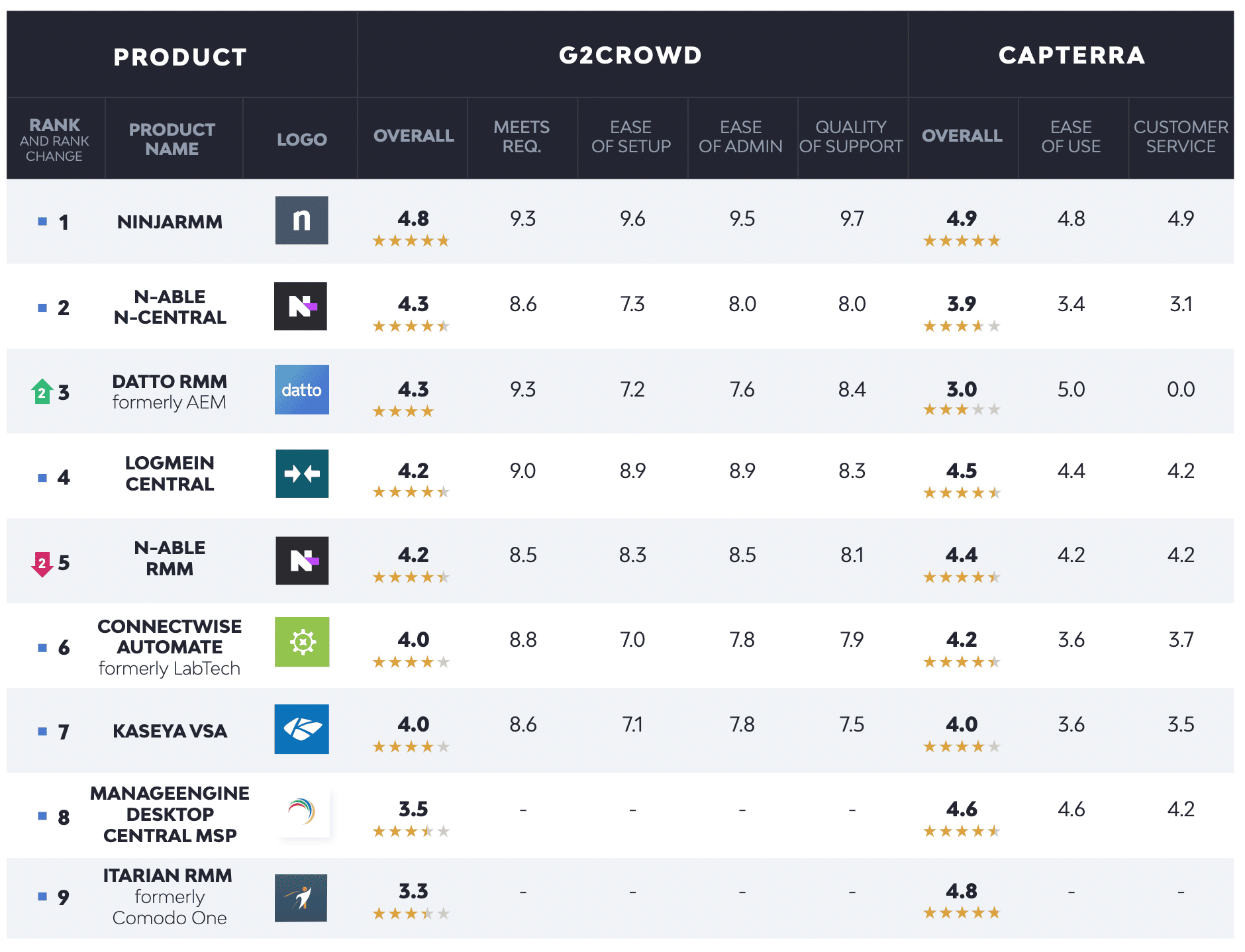 NinjaRMM for IT Operations
NinjaRMM is an all-in-one RMM platform that combines time-saving functionality with an easy-to-use platform that IT departments actually love to use. NinjaRMM increases your operational efficiency by combining monitoring, alerting, patching, antivirus, backup, and IT automation all from a centralized location.
NinjaRMM was named a Leader by G2Crowd and rated the #1 RMM across 8 categories, including ease of use, product direction, quality of support, and overall satisfaction.
Next Steps
Building an efficient and effective IT team requires a centralized solution that acts as your core service deliver tool. NinjaOne enables IT teams to monitor, manage, secure, and support all their devices, wherever they are, without the need for complex on-premises infrastructure.
Learn more about Ninja Endpoint Management, check out a live tour, or start your free trial of the NinjaOne platform.
https://www.ninjaone.com/wp-content/uploads/2022/12/ninjaone-logo.svg
0
0
Team Ninja
https://www.ninjaone.com/wp-content/uploads/2022/12/ninjaone-logo.svg
Team Ninja
2023-06-02 18:41:43
RMM Software for MSPs: A Complete 2021 Reference